Parents of Oxford High School shooting victims plan to appeal after court says employees can't be sued civilly
OXFORD, Mich. (FOX 2) - Parents of Oxford High School shooting victims say they are appealing after a judge ruled that school employees could not be sued civilly last week.
"Four kids were murdered and everybody gets to throw their hands up in the air. How effed up is that?" Buck Myre said.
Buck's son Tate was one of four students murdered at the high school on Nov. 30, 2021.
A judge cited governmental immunity as the reason school employees can't be sued, despite arguments that they may not have done enough to prevent the shooting.
"Governmental immunity, a system that was designed to protect the government and its employees from being held liable in a civil courtroom like everybody else across the country," Attorney Ven Johnson said.
More: Ex-Oxford School Board members allege district 'failed to take action' 
Johnson says it's a law put in place by politicians to protect the government but not the people.
"It's unfair. It's unconstitutional," Buck said.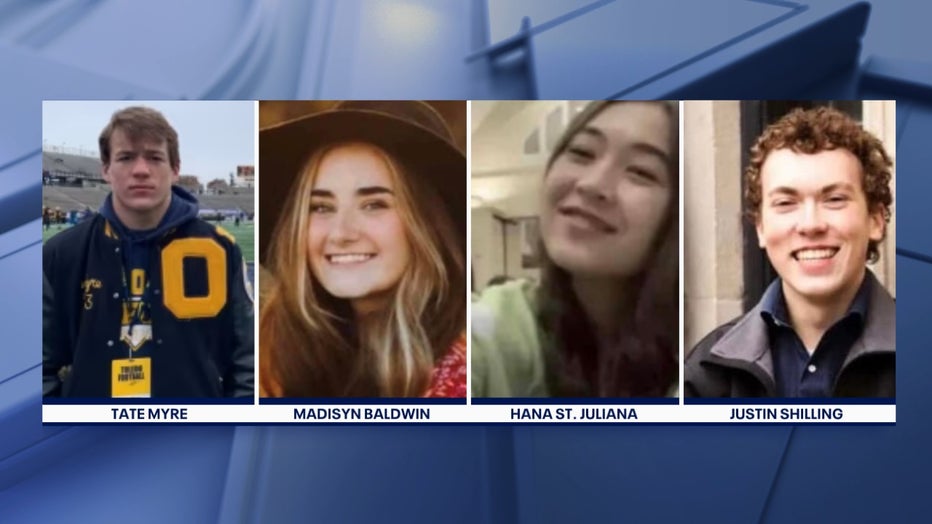 Tate Myre, 16, Hana St. Juliana, 14, Madisyn Baldwin, 17, and Justin Shilling, 17, were shot and killed inside Oxford High School on Tuesday, Nov. 30.
It's a move that has upset victims' parents.
"In my opinion, we're saying your lives don't matter, you're not protected. This is fundamentally wrong," said Jill Soave.
Jill's son, Justin, was also killed in the shooting.
Attorneys say the appeal process could take 12-16 months. It will likely then head to the Michigan Supreme Court, which could take another six months to 1 1/2 years.
"We're looking at a long road ahead in the appellate court, where these families are going to have to deal with the pain they just explained to you so clearly that governmental immunity has inflicted upon them, following the trauma that was inflicted upon them by Ethan Crumbley and the various negligent and grossly negligent actors here," said Chris Desmond, a chief appellate attorney.
While they spoke, a hearing was underway to determine if Ethan's parents, James and Jennifer, should stand trial for the actions of their son, which has yet to be decided.
Read: James, Jennifer Crumbley have hearing to determine if couple should stand trial
"Hell yeah. They bought a gun for their kid, right? And he used it - murdered our kids. Man, yeah, absolutely. I don't care if there's not a law out there," Buck said. "I'm not going away - we're not going away."
The parents and attorneys say they will keep fighting.
"Everybody involved will be held accountable, as they should be. It's not just one person who contributed to this, many people, so absolutely, yes," Jill said.
Fighting for accountability, fighting governmental immunity, and vowing to keep fighting.
"They are standing up to an entire government, an entire system of laws that have been wrong for so long," Johnson said.
It's a fight Jill says she won't back down from.
"I don't care how long this takes - I'm going to keep fighting for Justin because his life mattered and this is wrong," she said.