Poor air quality continues • Child accidentally shoots baby brother • Inside child predator task force
THURSDAY NEWS HIT - Another air quality alert is in effect for Southeast Michigan. The index will range from unhealthy for sensitive groups to unhealthy for all levels, so limit outdoor exertion. The goal is to limit the amount of outdoor air you breathe in.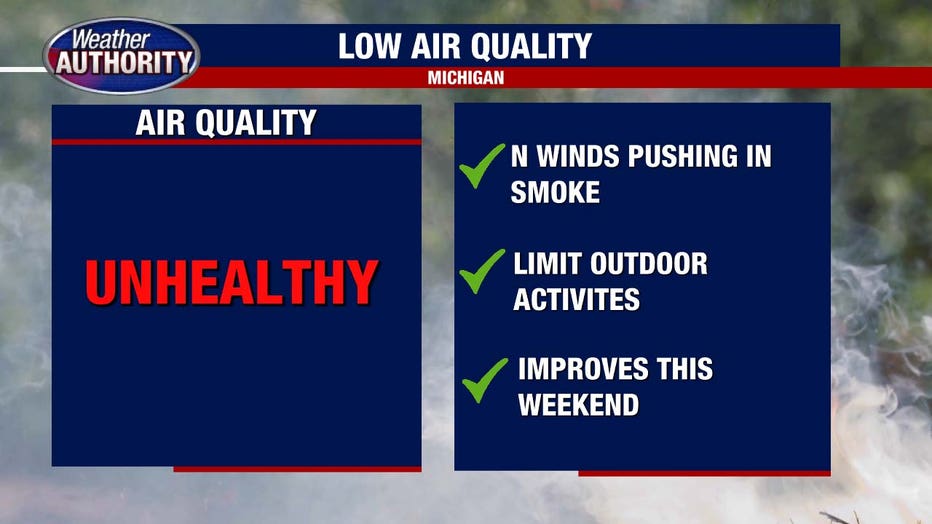 Today will also be our 20th dry day in a row, so elevated fire concerns remain. We'll add to that streak through the week as it's not until the weekend that we see the chance for rain. 
Saturday will be mostly or totally dry with a better chance for showers on Sunday.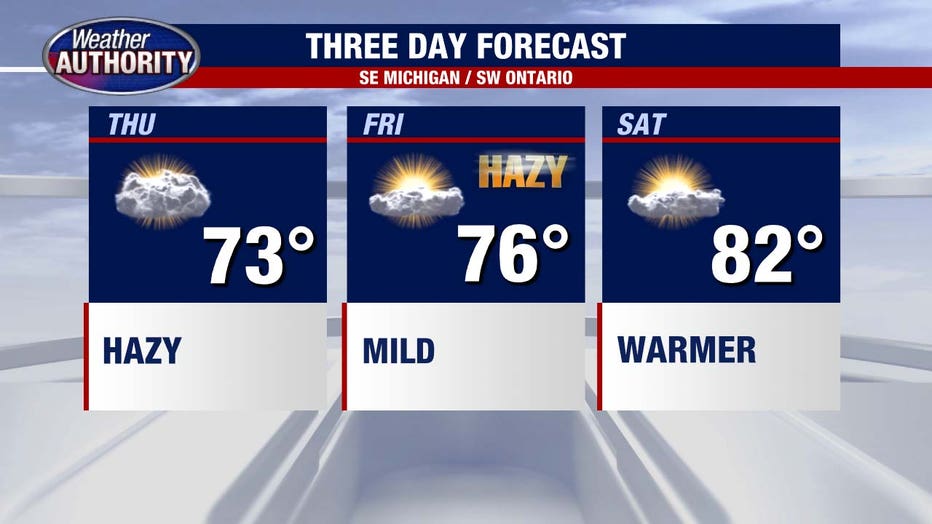 It looks like wet weather lingers on Monday as our system becomes cut off from the strong atmospheric winds that move the systems along. Rain totals look to range from half an inch to a full inch. Temperatures stay limited in general with the 80s showing up on Saturday. 
The smoke creating issues for Metro Detroit is from wildfires burning in Quebec and other parts of northern Canada, sending particulate matter that is small enough to be breathed in but big enough to cause inflammation in the lungs. 
Some of those particles are also small enough to get into the bloodstream, making it an issue for those with respiratory and circulatory health problems like asthma and high blood pressure.
The best thing to do is to stay indoors if you struggle with breathing problems and wear a well-fitted mask when you go outside. 
6-year-old accidentally shoots baby brother in Detroit
A baby was shot twice after his 6-year-old brother got ahold of an unsecured firearm and accidentally fired it late Wednesday night on Detroit's east side.
The baby was struck in the cheek and shoulder but is expected to survive. The gun, which was also found to be unregistered, was found by the child while his father was outside working on a fence while his mother was down the street in the 600 block of Tennessee.
Police said the shooting was "100% preventable." 
"Here we go again," said Asst. Chief Charles Fitzgerald with the Detroit Police Department. "We are very fortunate the child is still with us. It's a baby, in his bouncy and another family member gets ahold of a gun and shoots his sibling not once, but twice."
Inside the task force tracking down child predators
When 37-year-old Travis Sanders wandered into a hotel to meet with a teenager, he wasn't aware a law enforcement group was there waiting for him. The latest suspect to be apprehended by Genesee County's GHOST program, FOX 2 was there when he was busted.
It was one of more than a hundred arrests that Sheriff Chris Swanson has overseen as his team works to root out predators looking to hook up with minors. 
"We joke that GHOST is Batman," the sheriff said. "If it's happening here and American men and European men are 99% of the customers, then we have to have predators in Genesee County and that was the moment," Swanson added.
We also got a look at technologies that police have at their disposal that help enable them to trick predators into meeting up with police. 
Detroit mother of 2 battles kidney disease
The last time Teana Williams spoke to FOX 2, she was in need of a kidney transplant. The mother of two still needs one.
"My port up here (motions to her chest) had gotten infected and the lady wasn't supposed to do dialysis, but she did it anyway," said Teana. "That day I was feeling super sick and I had to be rushed to the hospital."
Her 8-year-old son Cortez says he's trying to make sure his mom is okay. But witnessing her struggle with failing kidneys hasn't been easy. She's on peritoneal dialysis, which helps remove waste from her body when her kidneys can't.
According to the National Kidney Foundation: The average life expectancy on dialysis is five to 10 years. However, many patients have lived well on dialysis for 20 or even 30 years.
Anxiety of guns in schools continues building
On Wednesday, Eastpointe High School was on lockdown after a reported social media threat against the school. It was found to be not credible and no weapon was ever found. But if there was, the school would be under no legal obligation to report it to parents.
The anxiety around firearms at schools continues to heighten for parents and students.  A sign of that tension played out in Harper Woods when parents became aware of a firearm that was at the high school but was never reported to them.
One therapist says schools need to be more transparent about threats like these because it can open room for dialogue between parents and students about being safe. 
"I think sometimes there can be this line, or unbeknownst division, because parents aren't in the building all day long. But they're still a major part of school community," Aisha Cunningham said. "I honestly just think it starts with initiation. Initiating the conversation. There's no right or wrong way, as long as we are coming from a place of genuineness, which most of us are."
Live on FOX 2
Daily Forecast
Temperatures will be below average Thursday with us only likely to eclipse 70 degrees by the mid-afternoon. Air quality will continue to be poor.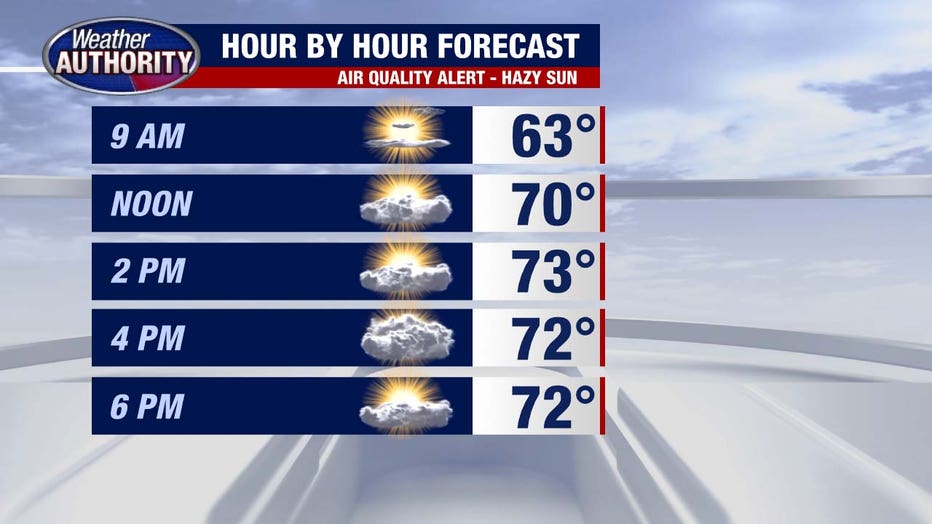 What else we're watching
Several Taylor Swift fans got the opportunity to score merchandise ahead of the singer's big concert when Ford Field opened its gates early Thursday. You may have seen the long line of fans standing outside Gate B.
The Wayne County Prosecutor is expected to announce charges in a recent Detroit gas station shooting after a clerk opened fire at patron over a stolen item. The police chief said the shooting was not justified.  
Mountain Dew ice cream is apparently a thing and you can get it by cone or by a larger quantity at a Redford creamery. Learn more here.
USPS workers are trying to spread awareness about the pervasive issue of dog bites among their industry. The Brightmoor Station in Detroit will hold a press conference to discuss more.
Treatment complications are growing at cancer centers who are low on chemotherapy supplies. It's forcing doctors to switch medications and delaying care for some people, the National Comprehensive Cancer Network says.
Jay Johnston, 'Bob Burgers' actor, charged in Jan. 6 Capitol riot
An actor known for his roles on the comedy television shows "Bob's Burgers" and "Mr. Show with Bob and David" was arrested Wednesday on charges that he joined a mob of Donald Trump supporters in confronting police officers during the U.S. Capitol riot, court records show.
Jay Johnston, 54, of Los Angeles, was arrested there on charges including civil disorder, a felony. He is expected to make his initial court appearance in California on Wednesday. An attorney for Johnston didn't immediately respond to a telephone call and text message seeking comment.
ideo footage captured Johnston pushing against police and helping rioters who attacked officers guarding an entrance to the Capitol in a tunnel on the Lower West Terrace, according to an FBI agent's affidavit. Johnston held a stolen police shield over his head and passed it to other rioters during the attack on Jan. 6, 2021, the affidavit says.