Residents sound off on hazardous waste shipments • Video shows wrong-way driver • Heartwarming dog rescue
FRIDAY NEWS HIT - Local and federal leaders faced questions after toxic liquid and soil was shipped to a Metro Detroit dumping ground. The toxic waste and soil came from the Norfolk Southern train derailment in East Palestine, Ohio.
Audience members with numerous questions about their own safety before a panel of lawmakers, environmental officials and Norfolk Southern big wigs.
"How can we continue to operate such a horrible facility and trust that it's going to protect this community?" said one woman. "Because I do not trust that facility in my neighborhood."
All of this in the aftermath of the shipped liquid to the Romulus Republic deep injection well and Van Buren location for soil that came from the Norfolk Southern train derailment in East Palestine Ohio back in early February. 
"The first responders in the communities here in Michigan like Van Buren, Romulus, Wayne, the other communities, I  want to make sure that they have all the funding that they need to respond to a problem like this," said one man.
Local members of Congress including Democratic Reps. Debbie Dingell and Rashida Tlaib hosted the forum at the Wayne County Community College District to give information and answer questions.
They addressed the public concerns regarding the transport and storage of hazardous waste at the Republic Industrial and Energy Solutions facility in Wayne County.  
Officials from Republic addressed the crowd.
"They have begun to change the way that they process the material both in terms of time, the size and quantity, they've installed odor control systems - we're now doing daily odor surveys in the community," said a representative of Republic.
Wayne County officials as well as state leaders sounded the alarm in a Friday night press conference back in February after learning the toxic waste from the derailment was being shipped to Metro Detroit.
"We all paid a great deal of attention when Wayne County Executive Warren Evans and myself, Rashida and Shri (Thanedar), and.the governor found out that some of the East Palestine waste might be headed this way," Dingell said. "That got us asking a lot of questions."
Last month local members of Congress urged state regulators to reopen public feedback for the renewal of the operating license for Republic's hazardous waste site in Romulus.
It's one of many reasons why so many people are sounding off, including elected officials who are also pushing for reform at the federal level to better protect the environment during derailments - if not prevent derailments altogether.
"We're all coming together and saying what can we do? First they halted the shipment right away but the bigger problem still remains," Tlaib said. "Hazardous waste is traveling through and into our communities with little oversight or transparency and too often the corporations responsible do cut corners or seem willing to sacrifice our residents' well-being to make a few extra bucks."
Vinyl Chloride was the chemical contained in the liquid, diluted with water when it was transported to Michigan, that is known to cause lung inflammation, and tumors and is a carcinogen. Officials say that safety mechanisms were in place for the transport.
Video shows wrong-way driver on I-696
Police spent hours Friday morning cleaning up a wreck on I-696 after a wrong-way driver crashed head-on into a passenger vehicle. Footage from above showed debris strewn across the westbound lanes.
It's unclear what the extent of injuries were in the case, but the impact led to closures on I-696 for hours. Commuters were forced off at Gratiot and back on at Groesbeck. Video posted online shows a vehicle traveling the wrong way on I-696 before the sun had come up. 
The suspect vehicle was seen traveling in the westbound lanes. According to Michigan State Police, calls started coming in around 3:30 a.m. of a wrong-way driver near Coolidge Highway. Troopers located the vehicle at Dequindre Road and followed the suspect, attempting to alert the wrong-way driver. 
Moments later, it struck a Chevy SUV head-on, killing the driver. The driver of the wrong-way vehicle is suspected of having been intoxicated. They suffered minor injuries. The investigation is ongoing.
Abandoned dog seen wandering Detroit with stuffed toy rescued
An abandoned dog is preparing for a new home after animal rescue groups spent days trying to find her when she was spotted wandering Detroit with a stuffed toy. Named Nikki by the community after being spotted, her owner had recently died. It left her to wander the streets with her favorite toy. 
Once her story was posted online, people with It Is Pawzable, South Lyon Murphy Lost Animal Recovery, Sugar Mutts Dog Grooming, Almost Home Animal Rescue, and others came together to find the German shepherd by showing photos of her to nearby residents. 
One neighbor who had been feeding Nikki while she was homeless is now working with the rescues to find the dog a home. Sadly, Nikki is heartworm positive, so she will need to undergo four weeks of treatment. 
"It (heartworm) can be prevented by giving your dog a pill every single month. So, now she has to get injections which it's kind of a pesticide right it has to kill the worms and the dog has to be super calm and can't do anything for a while, just leash walks, and it's painful," Katrina Weaver, owner of Pawzable said.
Sentencing in case of toddler's murder on highway
The two men convicted in the fatal shooting of a 2-year-old boy who died after being mistakenly targeted on the freeway in 2021 are expected to be sentenced Friday.
Darius Lanier, 19, and Eugene Hubbard, 21, will be sentenced in Third District Court during a scheduled conference around 9 a.m. The two men were bound over for court in October 2021 and were convicted in December. 
The tragic shooting happened in June 2021 when a family of four were driving home from basketball practice around 9:40 p.m. when the father heard multiple gunshots before the vehicle began to malfunction. When he pulled over, him and his wife realized both of their sons had been shot. THe 9-year-old was struck in the arm and the 2-yera-old in the head. 
The toddler, identified Brison Christian, succumbed to his injuries in the hospital. Police arrested the two men two days later. 
Detroit police seeking info on gunmen who robbed victim on 7 Mile
Detroit police is asking the public for information about a pair of armed robbery suspects from two weeks ago. On Saturday, April 22, 2023, at 8:40 p.m. the 44-year-old victim exited a liquor store located in the 16300 block of W. Seven Mile Road when two armed suspects robbed him after getting out of a dark-colored Chevrolet SUV.
The suspects got back into their vehicle, which appeared to be an Equinox, and fled westbound on Seven Mile Road with the victim's iPhone and an undisclosed amount of cash. No injuries were reported.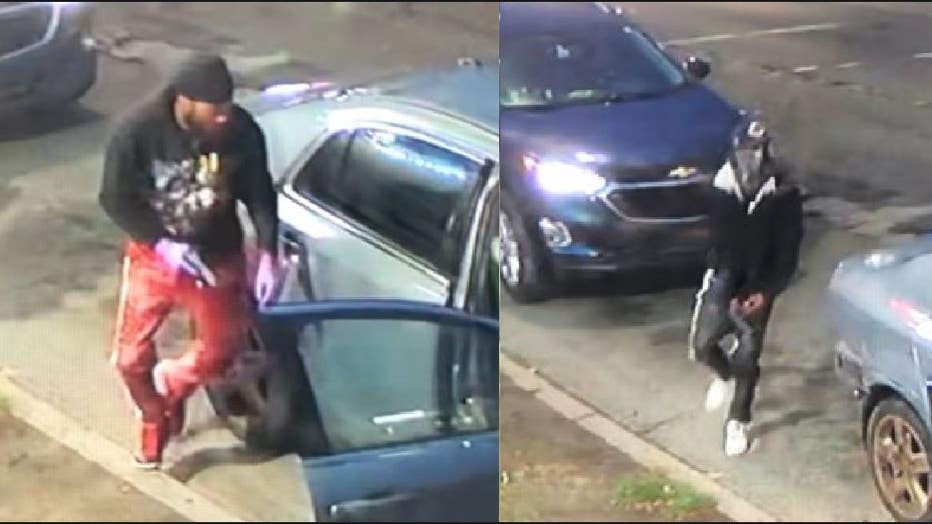 Photo credit: Detroit police

Both suspects were males. One of them was wearing all-black clothing. The other one was wearing a black hooded sweatshirt, and red jogging pants with white lines on it.  

If anyone recognizes these suspects, the vehicle, or has any information regarding the crime, is asked to call the Detroit Police Department's 8th Precinct at 313-596-5840 or Crime Stoppers at 1-800-Speak-Up.
Live on FOX 2
Daily Forecast
The return of beautiful weather to Metro Detroit gets even better this weekend with temperatures in the mid-60s and even low 70s, plenty of sun, and a potential overnight storm.
What else we're watching
Chief James White and the Detroit Police Department chaplain corps will gather for the 50th Interfaith Memorial service, which starts in Campus Martius Friday morning. It will conclude at Old St. Mary's Church.
The Detroit Regional Chamber will host all three county executives during their Friday morning meeting.
It's 'Decision Day' for Loyola High School which is hoping to be their 13th consecutive year of 100% college acceptance among the school's seniors.
Blue Cross is hosting a community baby shower event and health fair for new moms and moms-to-be to learn more about pregnancy care and caring for newborns.
Amazon has donated $100,000 to Forgotten Harvest.
AI-powered cruise control can stop 'phantom traffic jams' before they start
The only thing worse than being stuck in a traffic jam is being stuck in a traffic jam that shouldn't be there. "Phantom Jams" are those backups that occur on highways for seemingly no reason, then dissipate as mysteriously as they appeared.
They're usually started by drivers who suddenly brake or change lanes in dense traffic, which is followed by a wave of bad decisions made by the drivers behind. It escalates as more cars arrive at high speeds and have to slow down abruptly.
The accordion effect is frustrating for drivers, potentially unsafe and leads to more fuel being burned than when traffic is flowing smoothly. So, what if computers were doing the driving instead of humans?