Rookie pilot's emergency landing • Manhunt underway in Detroit for rapist • Income tax cut
THURSDAY NEWS HIT - It was Friday at the Oakland County International Airport in Waterford and a 21-year-old rookie pilot was getting ready for her third solo flight.
"Pre-flight the aircraft as normal, I checked that everything was good, did an exterior check and everything looked great," said Taylor Hash. "I got in the plane, started the engine up, called on the radio and asked for clearance to taxi to the runway. Everything was perfectly fine."
Everything was great - until it wasn't.
Another pilot getting ready for take-off noticed something was wrong. He radioed air traffic control, who in turn radioed Hash.
"Diamond 8 Charlie you lost your front nose gear tire on rotation and that's definitely how it appears out the window," the operator told her.
And then another calming voice - that other pilot who noticed the problem.
"Taylor this is Chris, my daughter's name is Taylor, and I taught her to fly," Chris Yates said over the radio. "We're gonna be just fine kiddo."
Yates, a veteran pilot from out of state suddenly became Hash's guardian angel.
"Just having someone to have a conversation with me, and not be so official with the aviation language - it was just calming. It was perfect and just what I needed in that moment," she said.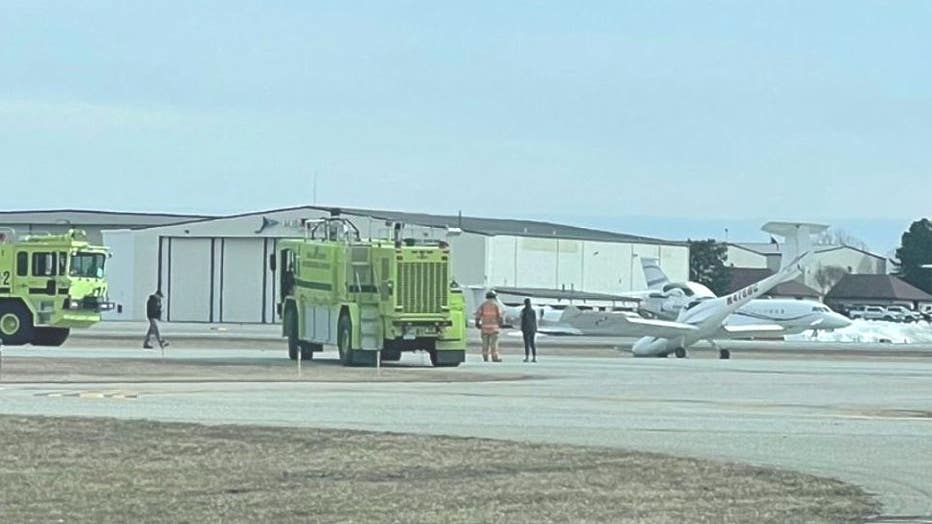 Through the radio Yates gave Hash instructions on how to land the plane without that front wheel, all while asking her questions and cheering her on.
"I'm going about 67 knots right now," she said on the radio.
"Perfect, hold it, you look good, you're doing great kiddo," Yates said over the radio.
"Those couple minutes were intense - my most important landing to date was that one and probably will be my most important landing ever," she said.
"That's it kid, nice job, the nose is gonna come down, you're ok, you're ok, talk to me kid, proud of you," he said over the radio.
She said she feels a flood of emotions from the incident.
"When I go back and listen to it, I cry. It was an emotional day to say the least."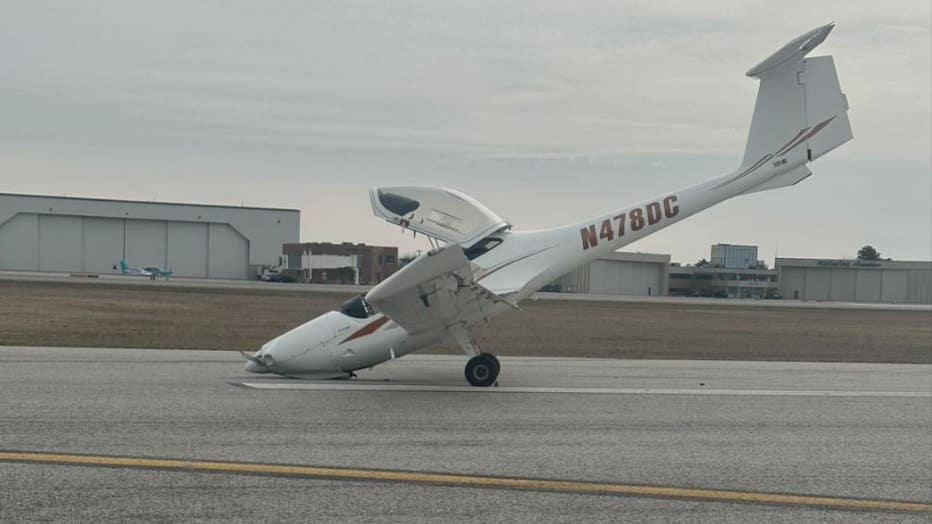 FOX 2:  "The million-dollar question is, are you going to fly again?"
"Yes 100 percent," she said. "I tell everyone, when I was in the air, though all that, I told myself I'm done, this is it. I'm not doing this again. But as soon as I got on the ground and I realized everything was okay, and I was okay, I realized, you know I'm meant to do this."
Activists, DPD search for accused rapist
Both activists and Detroit police went door-to-door Wednesday as part of a manhunt for an alleged rapist accused of sexually assaulting an elderly woman. Chief James White was among the officers on the streets this week searching for the suspect.
As was Pastor Maurice Hardwick and other community advocates. "You are no longer allowed or will be accepted on these streets," Hardwick said. Investigators believe the suspect lives somewhere near the Southfield Freeway and I-96 on the city's west side. The attack happened off of Memorial Street.
The attack happened after an unknown man offered to help an 80-year-old woman carry her packages. After she declined the help, the suspect forced himself inside her house asking for food and money. He then dragged the victim outside, before assaulting her. 
If the individual is spotted by the public, they're asked to call 911. 
Tax cut will yield about $50 per resident in Michigan
The Michigan treasury department has confirmed a tax cut triggered by the state's budget surplus will go into effect next year. The income tax will decrease from 4.25% to 4.05%. According to the state treasurer Rachel Eubanks, it's the lowest income tax rate since 2007.
It'll amount to $650 million being returned to Michigan residents - about $50 per taxpayer. "Michigan's strong economic position has led to a reduction in the state income tax from 4.25% to 4.05% for 2023," Eubanks said in a statement. "When Michiganders file their 2023 state income taxes in 2024, they will see the rate adjustment in the form of less tax owed or a larger refund."
The tax cut is the result of a 2015 law that required the rate go into effect if Michigan's general fund grew faster than the rate of inflation beginning in 2023. The state's massive budget surplus left over from pandemic-era federal funds triggered the tax cut.
The attorney general said this week the tax cut will only be temporary. It went into effect Jan. 1.
2 charged in Metro Detroit bank robberies
Two men were charged on March 29 for their involvement in three bank robberies. According to investigators, Collin Carl Love Jr., 24, and LaRonte Hill, 22, committed the robberies in Redford, Harper Woods, and Grosse Pointe Woods.
During a robbery at the Community Choice Credit Union, one of the suspects brandished a note demanding $20,000 and threatening the teller with a firearm. The suspect was given $4,000 before fleeing on foot. 
Police managed to track down the suspect after seeing the note had been written on the back of a paycheck stub that could be traced back to Love. While the agency that distributed the paycheck was no longer in service, police still found fingerprints that connected them to the suspect.
Both men have been charged in federal court with bank robbery and conspiracy to commit bank robbery. 
Renewed push to allow alcohol sales at Michigan college sport events
There's a renewed push in Lansing to open college sporting events up to alcohol sales. After bipartisan bills introduced last summer failed to drum up enough support in the legislature, many expect to see more success this year. 
Both the University of Michigan and Michigan State University are outliers in the Big Ten conference when it comes to sales of booze at football, basketball, and hockey games. While some, including Michigan's governor have been skeptical that more drinking at schools, Gretchen Whitmer told FOX 2 this year that she would sign a bill if it made its way to her desk.
The beverage industry hasn't always supported the legislation amid fears it would eat into profits that bars and other restaurants enjoy during big games. The bills would only allow for the sale of alcohol one hour prior to the game, during the game, and 30 minutes afterward. 
While officials have said opening up college campuses to more booze, making it legal to purchase could actually lessen the rate of binge-drinking since rules against consumption would be less restrictive.
Live on FOX 2
Daily Forecast
Thursday will start off cool before warming into the 40s with plenty of sunshine. However, it's rain that's expected overnight that will kick off a series of storms that bleed into the weekend.
What else we're watching
A massive apartment fire left a three-story vacant dwelling in Detroit a total loss Thursday morning. Smoke and flames could be seen for miles from the west side spot.
Opening Day is nearing in Detroit as the Tigers hope to see more success after a long off-season and spring training. The Major League Baseball season officially starts today with the Tigers facing off against the Tampa Bay Rays.
Oakland University is partnering with Easterseals MORC to help address a shortage of social workers and behavioral health experts in Michigan. With demand on the rise, the school wants to help narrow the gap between the number of new job postings and the number of available workers. A press conference is scheduled for late Thursday morning.
A new downpayment assistance program in Detroit is expected to be announced Thursday. It's part of a larger affordable housing action plan that was introduced last summer.
Shelby Township police are investigating an incident at Eisenhower High School after an image of a firearm was sent to a number of students. The perpetrator has since been identified and could be charged.
Pope Francis improving since hospitalization with infection, Vatican says
Pope Francis rested well overnight and was "progressively improving" Thursday after being hospitalized with a respiratory infection, the Vatican said.
The 86-year-old pontiff, who had part of one lung removed as a young man, ate breakfast, read the newspapers and was working from his hospital room at Rome's Gemelli hospital, according to a statement from Vatican spokesman Matteo Bruni.
"Before lunch he went to the little chapel in the private apartment, where he gathered in prayer and received the Eucharist," the statement said.