Shots fired during Warren school brawl • Your mosquito and tick forecast • Grand Prix's boon for business
TUESDAY NEWS HIT - A scary scene outside a Warren school sent students fleeing after someone pointed a gun up and started firing amid a brawl near the bus drop-off area Monday afternoon.
Footage from the incident was posted on social media, showing several students fighting next to a school bus. At one point, a male wearing a gray t-shirt fires six shots in a row. 
Police don't believe the individual attended Warren schools, but do say he likely knew some of the students involved in the fight.
"We're extremely lucky," said Capt. Charles Rushton of the Warren police department. "As I said there were at least three bus loads of students right there and six shots fired."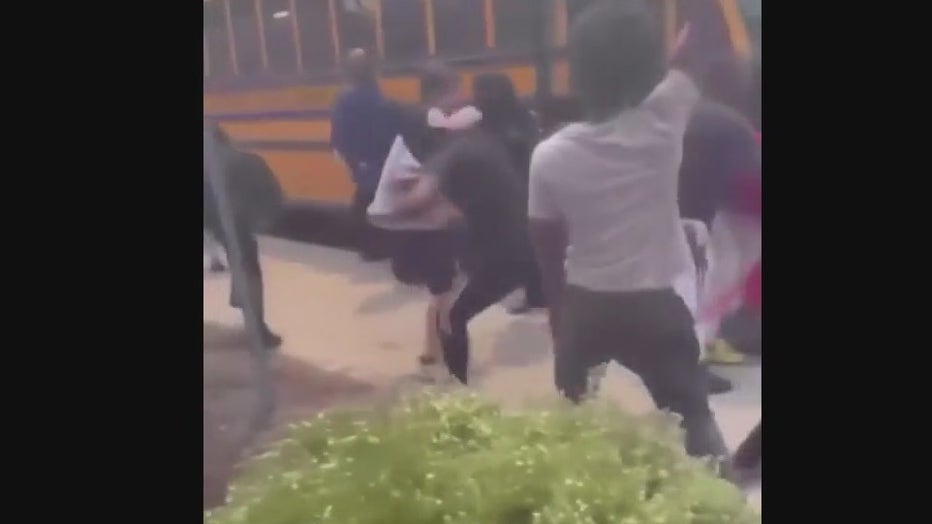 A student pointed a gun up and fired six shots amid a brawl outside a Warren-area school. 
"It was scary for us, scary for the parents. The one thing I can mention is reviewing the videos, original shots fired was 2:39 (p.m.)," said Rushton. "Our first car was in the parking lot at 2:40."
The fight broke out shortly after school had ended outside Michigan Collegiate High School, near Ryan and 13 Mile Road. 
Earlier in the day, multiple students had been suspended from class. They allegedly returned to the school where a fight broke out. 
A clip posted online by MetroDetroitNews showed several students fighting before shots rang out. 
Police are currently searching for the individual involved, saying they are looking out for a red Chevy Impala or a blue Ford Focus. 
Why the bugs won't be so bad this year
The warm, dry spring we've had, could mean fewer biting pests like mosquitoes and ticks this summer. Mark Vanderwerp, FOX 2's unofficial bug nerd and resident researcher for discussing insects says it really has to do with how hot it gets and how wet it gets.
We just went through a very mild March and April, which would lend to the theory that mosquitoes will return in force this year. But not so fast - if there's not enough moisture in the air, then that potential boom for bugs falls apart.
"These are really complex systems when we're talking about mosquito lifecycles and disease transmission cycles, so by just changing one factor is not really clear what will happen," Vanderwerp said.
We just wrapped up our fifth-driest May ever. Wet weather won't return until mid-June. "Mosquitoes, the larvae need that standing water puddles to reproduce in, and ticks people don't realize, actually need high humidity environments to survive because they actually dry out pretty quickly," said Vanderwerp.
Watch Vanderwerp's interview here. 
Return of Detroit Grand Prix to downtown boosts business
The Detroit Grand Prix was back on downtown streets for the first time in 32 years - and businesses could not be happier after a big weekend. "We had great music down here. The crowd that the Grand Prix brought was excellent, we couldn't ask for better people to be down here," said Dan Finley at Tin Roof Detroit.
That's exactly what the team at Tin Roof Detroit across from Comerica Park was looking for, going into Detroit Grand Prix Weekend. "There were so many people, like even my own father - it's been years since he had seen the Grand Prix in the city," said Finley. 
A similar impact was felt at Greektown's Golden Fleece Restaurant. "You could hear the roaring of the cars, they had it playing on some of the speakers, a lot of out of towners." said Jose Alvarez, manager. "It was really busy. A lot more than usual so business is picking back up. I'm glad to see that."
Race organizers tell FOX 2 they projected a $20 million increase in economic spending over previous years with the race back on the streets - on top of the $55 million in revenue generated when it was on Belle Isle.
Former Michigan congressman backs new political party
Fred Upton, the former west Michigan Congressman who previously served in office longer than any other representative before retiring in 2020, is backing the "No Labels" party.
Upton is working to not only push the party into relevancy but also get it on the ballot ahead of the 2024 election. His biggest motivator? Giving someone else to vote for other than President Joe Biden and former President Donald Trump.
"About 70% of the American voters say 'we don't want a rematch between Biden and Trump'," he said. "We have identified funding resources. In Michigan, you need 45,000 signatures. The number of folks in Michigan I think will be very welcome to try and help."
Third party runs often don't fan out in the way their backers hope - and typically they only spoil one party by peeling off voters from one ideology. Upton says there's polling that shows supporters of both parties could lose voters if the effort makes it far enough. 
Metro Detroit fan joins 'Swiftie' lawsuit against Ticketmaster
There's a new chapter between Taylor Swift fans and Ticketmaster - and this time lawyers are involved. "I've been to every single Taylor Swift concert since Fearless," said Beatriz, Aguilar. But when Aguilar tried to get tickets through Ticketmaster for Taylor Swift's upcoming Era tour in Detroit she feared that she might not make it.
"And I put in my code that Ticketmaster had texted me and I see this big red letter saying 'error' and saying that my code is invalid," she said. "And I'm like why?"
It's the same question that many "Swifties" are asking, as they experience challenges trying to purchase Taylor Swift concert tickets from Ticketmaster. Attorney Jennifer Kinder believes the culprit is the merger between Ticketmaster and Live Nation. 
"It's 100% intentional - since the merger Ticketmaster has become a model of a monopolistic company that determines ticket prices, they control the artist," she said. The suit was filed based on concepts of antitrust and fraud, the attorney said. 
Live on FOX 2
Daily Forecast
Another dry day will come with more sun after the morning haze clears up in Southeast Michigan. Wildfires have been distorting the view. We'll hit a high of 77 today.
What else we're watching
The fire risk is no less severe but camping has reopened outside Grayling in northern Michigan following a weekend wildfire that torched close to 3,000 acres.
In political news, several committee meetings will review significant bills in Michigan, including those on allowing school to start before Labor Day, expanding the statute when prosecutors can charge offenders in criminals sexual conduct cases, and banning conversion therapy. 
The University of Detroit Mercy has a new simulation tool that helps nurses, doctors, and other health care workers entering the workforce get a first-time experience inside a hospital. The hands-on training will help prepare them for the real thing.
The Shelby Township is opening its Commerce Center Tuesday. A ribbon-cutting ceremony is scheduled for 10 a.m.
A special meeting is scheduled in Wyandotte to address a judge's ruling to not pause the building of a cell tower over the school building. 
Apple unveils sleek 'Vision Pro' goggles, bringing together virtual and real worlds
Apple on Monday unveiled a long-rumored headset that will place its users between the virtual and real world, while also testing the technology trendsetter's ability to popularize new-fangled devices after others failed to capture the public's imagination.
After years of speculation, Apple CEO Tim Cook hailed the arrival of the sleek goggles — dubbed "Vision Pro" — at the the company's annual developers conference held on a park-like campus in Cupertino, California, that Apple's late co-founder Steve Jobs helped design.
"This marks the beginning of a journey that will bring a new dimension to powerful personal technology," Cook told the crowd.