Southfield police giving out steering wheel clubs to Hyundai owners due to vehicle thefts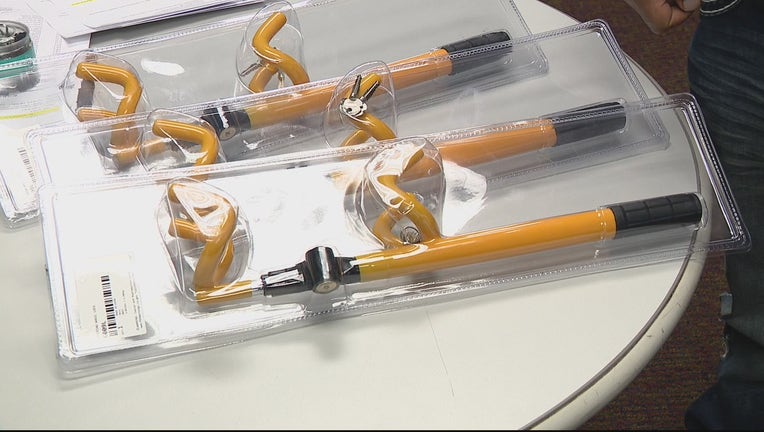 article
SOUTHFIELD, Mich. (FOX 2) - Owners of certain models of Hyundai vehicles can get free steering wheel clubs from Southfield police.
Hyundai vehicles with keyed ignitions lack an immobilizer. This makes them easy to steal with a USB cable, leading to a spike in thefts. Automaker Kia has also been targeted by this design flaw, with juveniles who call themselves the "Kia Boys" stealing vehicles and posting the crimes to social media.
Read: Police warn Kia, Hyundai owners to stop leaving USB plugs in cars
Southfield police have been provided with 112 steering wheel locks from Hyundai. Owners of the below models can get a free lock from the police department at 26000 Evergreen Rd. on a first come, first served basis when they show their ID and vehicle registration.
Models included:
2017-2020 Elantra
2015-2019 Sonata
2020-2021 Venue
2018-2022 Accent
2011-2016 Elantra
2021-2022 Elantra
2018-2020 Elantra GT
2011-2014 Genesis Coupe
2018-2022 Kona
2020-2021 Palisade
2013-2018 Santa Fe Sport
2013-2022 Santa Fe
2019 Santa Fe XL
2011-2014 Sonata
2011-2022 Tucson
2012-2017, 2019-2021 Veloster
According to the National Highway Traffic Safety Administration, the missing security feature impacts nearly 3.8 million Hyundai vehicles and 4.5 million Kia vehicles.
The automakers have also finally rolled out a fix for the problem – software updates. 
This updates the theft alarm software logic to extend the length of the alarm sound from 30 seconds to one minute and requires the key to be in the ignition switch to turn the vehicle on.
Hyundai's updates began last month, starting with a million model year 2017-2020 Elantra, 2015-2019 Sonata, and 2020-2021 Venue vehicles. The software upgrade is scheduled to be available for the remaining eligible vehicles by June.