Suspect crashes, swallows heroin after fleeing Warren police during drug ring investigation
WARREN, Mich. (FOX 2) - A chase spurred by a drug investigation ended with a suspect in the hospital after he swallowed heroin, Warren police said.
Warren Police Commissioner Bill Dwyer said investigators were conducting a meth, fentanyl, and heroin bust and had been surveilling two houses when the suspects left and met at a gas station in the area of 10 Mile and Hoover on Thursday around 9:10 p.m.
"These two individuals met, and we were fortunate enough to see the transaction happen,"  Warren Police Sgt. Craig Bankowski said.
Investigators followed the suspects, who fled from police at the gas station in two vehicles. One vehicle eventually stopped, but a man kept going.
"One of the individuals who had an occupant did stop, it was my direction to have our K9 unit conduct a stop on that individual, they did comply and stop and were cooperative in the investigation at the traffic stop. The other individual fled," Bankowski said.
A Michigan State Police chopper followed him until he crashed at Chalmers and Whittier on Detroit's east side.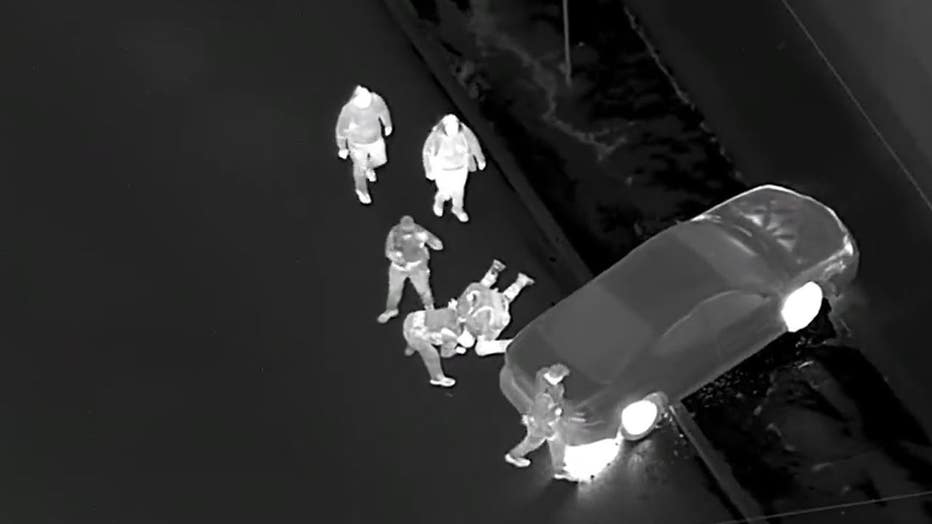 Before police could get to the man, he swallowed heroin he had with him, Dwyer said. 
He was taken to a hospital. His condition is unknown.
Police said they recovered fentanyl, crack cocaine, and meth from the vehicle that stopped. 
The investigation led to the arrest of eight people from Warren and searches at two homes Police said they found sizable amounts of methamphetamine, fentanyl, crack cocaine, and manufacturing materials in the houses, along with several thousand dollars.
"We're watching you, we know who you are, and if we didn't get you yet, you're on our radar, and if you're not yet, you will be," Bankowski said.
A tip through the city's People Against Illegal Drugs (P.A.I.D) initiative led to the investigation. 
The initiative gives tipsters $500 if they provide information that leads to an arrest or drug seizure.
"The P.A.I.D. initiative is a successful program which produces significant results. Many of the drug, gun, and money seizures and arrests made by the SID unit started with a simple tip made to the P.A.I.D. hotline. I applaud the dedicated efforts of the officers and investigators who follow up on these tips and involved in narcotics activity," Dwyer said.
The P.A.I.D. hotline is 586-574-4887.
"From the last quarter of last year to this year it's been over 130% increase not only in tips but also in closure rate and arrests made from those tips made with sometimes minimal information, just a residence or a location," Bankowski said.