Teens charged in Walled Lake crash that killed 13-year-old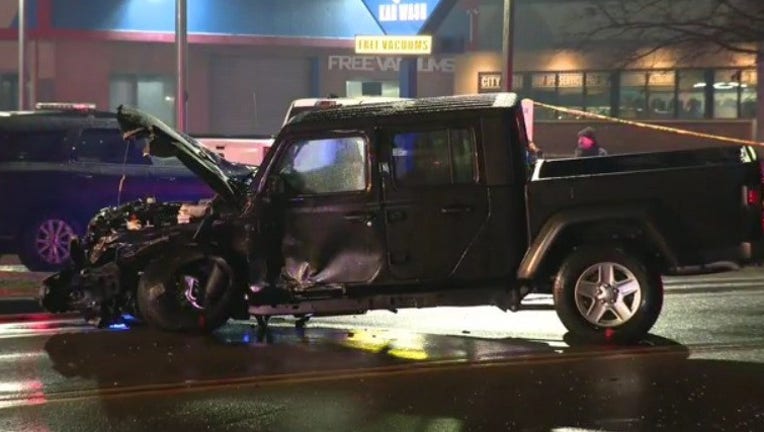 article
WALLED LAKE, Mich. (FOX 2) - Six weeks after a 13-year-old girl was killed in Walled Lake, two teenagers have been charged with multiple felonies for the crash that resulted in her death and injuries to many others in the car.
According to the Oakland County Sheriff's Office, the two friends who were believed to have been driving a 2023 Jeep Gladiator that hit two cars were both charged with first degree fleeing charge and fleeing charges.
The teen driving the SUV, a 15-year-old, was not identified due to his age. However, 19-year-old Gavin Kassab, was identified. Both are facing felony charges of fleeing and eluding plus a misdemeanor charge of leaving the scene of an injury accident.
Police said that an officer tried to stop the Jeep around 7:45 p.m. on March 22 for running a red light when the driver sped off. The Jeep ran a light on Maple near Decker and hit a southbound 2020 Chevy Equinox driven by 43-year-old Constance Lancenese, who was with her 10-year-old son. Both were treated and released from the hospital.
The Jeep also hit a 2010 Honda Fit driven by a 51-year-old Commerce Township woman who was with her daughters, 10-year-old Cora and 13-year-old Piper. Ten-year-old Cora was ejected from the car. Piper had to be removed from the Honda and was rushed to the hospital where she was later died. 
The day after the crash, which littered the road with debris from both cars, authorities released surveillance video of the two teens as they ran from the scene but authorities already had an idea of who they were looking for.
Both teens were arraigned. The older teen is held on a $250,000 bond and is due back in court later this month. The younger teen is being at Oakland County Children's Village.