The Downtown Detroit Markets and Cadillac Lodge are back for the holiday season
DETROIT (FOX 2) - It's beginning to look a lot like Christmas in Downtown Detroit.
Holiday festivities are kicking off. With that comes the return of the Downtown Detroit Markets and Cadillac Lodge.
From now through Jan. 7, local vendors will be selling their products on Wednesdays through Sundays. Find everything from food and drinks, to clothes, to toys, and more. 
The Cadillac Lodge will also be open, featuring a place to warm up and get snacks and drinks.
Vendors:
Bags to Butterflies – Fashion with a social mission, Bags to Butterflies puts the "purpose" in "repurpose." The brand empowers and trains formerly incarcerated women to craft luxurious, sustainable bags out of repurposed wood. The cross-bodies, handbags and other accessories reflect the stories and transformations of the women who skillfully handcraft them.
Two Stix 5 Stones – With a focus on texture and color, Two Stix 5 Stones specializes in funky-chic knitwear for people and pets. Each freehand design uses the highest-quality and ethically sourced wool, cashmere, silk, merino, cotton, rayon and alpaca. The hand-crafted knitted accessories include hats, shawls, headbands, gloves, mittens, scarves and pet sweaters. Two Stix 5 Stones has been featured by Detroit Institute of Arts as part of the "30 Americans" exhibition.
Halie & Co. – Using solid gold and sterling silver, designer Halie Conyers handcrafts high-quality (and budget-friendly) jewelry such as rings, necklaces, earrings, and—if you're not afraid of commitment—permanent bracelets sized and welded to fit each customer. But it doesn't stop at jewelry and gemstones…Halie & Co. also offers hand-poured candles, diffusers, and other home décor.
The Brave Wimp – The Brave Wimp is here to help you find pride in being YOU! Their handmade, eco-conscious, pop art wearables and home goods incorporate empowering messages and imagery to celebrate diversity, inclusivity and community. From graphic T-shirts, to handcrafted wood jewelry and all-natural candles, some of the messages include: "Empowered Women Empower the World," "There is Power in Kindness," and "Be Kind. Be Brave. Be You."
Ariya's Apparel and Accessories – Ariya's Apparel and Accessories is a boutique that caters to women 35+ with modest and modern fashion. With a personal desire to dress demure, yet stylish, owner Akeya Muhammad carefully curates each item including dresses, tops, bottoms, sets, outerwear, scarves, jewelry and handbags. Her goal is to provide her humble, haute designs to women across the country.
ASTOURI – Born out of the love of where we live, ASTOURI apparel and accessories feature iconic and artistically licensed photography. With a focus on community pride, femininity and functional style, more than 90% of ASTOURI products, including scarves, eye masks, skirts, ponchos, kimonos, dusters, dresses, sweatshirts, wraps and shawls are made in the U.S. by female-owned-and-operated manufacturers.
Verbatim – Inspired by poetry, art and style, Verbatim's apparel is designed to validate the Black and female experience, educate others, start conversations, and break barriers—all while keeping customers looking fresh. The Royal T collection includes T-shirts and sweatshirts with empowering messages such as, "…I am worthy to be loved," "Ballroom history is Black history," and "Compromise…for what?" The brand also sells beanies, scarves, and other accessories.
Kids Like Mine – With the mission of inspiring children to embrace and love their true selves, Kids Like Mine owner LaTashia Perry writes diverse and empowering children's picture books featuring Black and brown characters in stories such as, "Skin Like Mine," and "Hair Like Mine." She also sells merchandise including socks, lunchboxes, pajamas, backpacks, tote bags, T-shirts, and puzzles that are all custom-made and gender-neutral.
Janna Kay Charcuterie Boards and Boxes- Whether it's a full spread or a charcuterie box to-go, Janna Kay Charcuterie Boards and Boxes is a one-stop shop for hosting an event. The catering company serves both private and corporate clients and sells charcuterie accessories, stemware and other home goods necessary for entertaining as the host(ess) with the most(est).
FOLK – Located in historic Corktown, FOLK offers biodynamic wines, specialty coffee, catering, and a private event space. FOLK sources from minority creators and spotlights high-quality food, beverages, and giftable items such as candles, beanies, tote bags, books, tableware, linens, jams, honey, oils, cookies, chocolates and treat nuts.
Konjo Me – Konjo Me is a pop-up restaurant that serves authentic Ethiopian cuisine and other Ethiopian-sourced goods like spices and coffee. "Konjo" means "beautiful" in Amharic, one of the many languages of Ethiopia. As the only shop in Michigan that sells authentic Ethiopian goods, Chef Helina is proudly bringing the taste and culture of Ethiopia to downtown Detroit.
Waffle Cabin – If you have a sweet tooth, this one's for you! Waffle Cabin is a food truck that specializes in (you guessed it!) authentic made-to-order Belgian dessert waffles with toppings including chocolate, caramel, ice cream, marshmallows, cookies, candy and more. They will also have soda and water for sale, along with waffle swag like stickers and T-shirts. The aroma of the fresh waffles, however, comes free!
Crummy's Cake Supply & Studio – Whether you want to pick up a cake or bake it yourself, Crummy's Cake Supply & Studio is the place to go! Not only does the shop bake all its authentic southern desserts (pound cake, sweet potato pie, bread, cookies, etc.) from scratch using recipes passed down for generations, but it also offers cake supplies, cake classes, and a rental kitchen. Crummy's is the first Black-owned cake supply store in Detroit.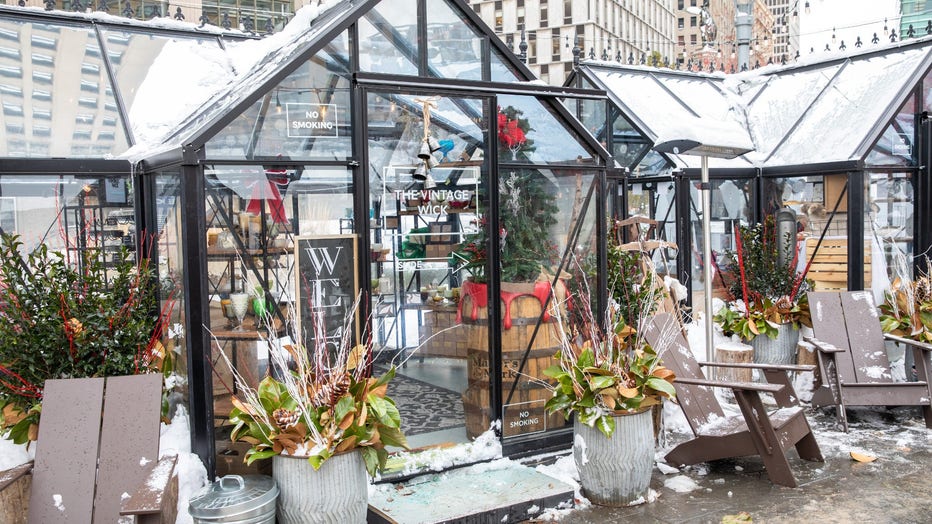 Opal Grove Games – Do you want to play a game? Well, Opal Grove Games has just about every type of game imaginable, with a mission to build the most fun, inclusive and inventive board game store ever. They carry party games, board games, card games, tactics games, role-playing games and all the necessary accessories. Additionally, owners Aisha Blake and Ben Lippi love teaching, and offer gaming workshops and open game nights.
Speedcult – A metal art fabrication company, Speedcult has been licensed with Ford, General Motors and Fiat Chrysler Automobiles (FCA) to create home, garage and business décor using their official logos. They also specialize in original art featuring skulls, critters, monsters, aliens, hot rod and rat rod lingo, all things Detroit and far beyond. In addition to the metal art, the shop also sells T-shirts, blankets, hats and beer koozies.
Rosemarine Textiles – With sustainability at the forefront of everything they do, Rosemarine Textiles is a home goods and accessories brand. All their products are created in their Detroit studio using natural fibers, low-waste production methods, food waste materials, plant dyes, and love. Some of their items include velvet throw pillows, silk scrunchies and ribbons, cotton socks and bandanas, linens, bucket hats, clothing and more.
MG Studio – MG Studio formulates and manufactures 21 plant-based and biodegradable haircare products for all hair types. MG studio offers an array of products including shampoo, conditioner, leave-in conditioner, styling products, oils and treatments. Owner Nicole Grant is a cosmetologist of more than 25 years who noticed many haircare products on the market contained damaging ingredients like silicones and copolymers, so she became a self-taught chemist to create her own natural line.