"Thought I was seeing things": Oakland County woman who's played million dollar scratchoff hits jackpot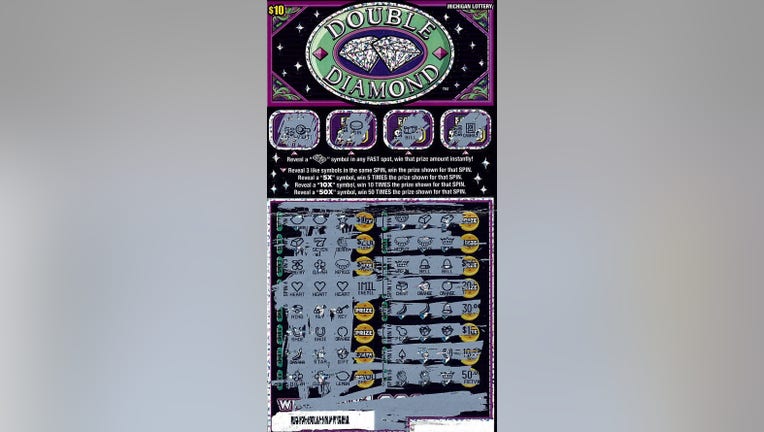 article
SOUTHFIELD, Mich. (FOX 2) - An Oakland County said she's been playing the popular Double Diamond scratch-off game from the Michigan Lottery since it came out. She recently picked up some Double Diamond tickets and carried them around in her purse for a day. She had no clue she was carrying a million dollar winner.
The 59-year-old woman, who chose to remain anonymous, bought the winning ticket at the Shell gas station at Greenfield Road and 10 Mile in Southfield. She said she picked up the tickets and was going to wait to scratch them off when she got home.
"I've been playing Double Diamond since it came out and have been very lucky on it, so I had a feeling I would win big," said the player. "I stopped and purchased some tickets in the morning and then put them in my purse to scratch when I got home later that day."
READ NEXT: Detroit man wins $2 million on Michigan Lottery scratch-off ticket
When she got home that night, she sat down with her tickets and saved the $10 one for last.
"I was sitting in my living room scratching my tickets that night, and I scratched this Double Diamond ticket last. When I revealed the $1 million prize, I jumped up and started hollering! I had my husband look the ticket over because I thought I was seeing things."
She recently claimed her prize as a lump-sum of$693,000 and plans to pay bills and save everything else.
"I recently retired, so this prize will provide a nice financial cushion for retirement," the player said.
Players have won more than $24 million playing Double Diamond which launched in August. More than $28 million in prizes remain including another $1 million prize.
Teen's early Christmas gift turns into $613,848 Michigan lottery jackpot