UAW Stand Up march, rally through downtown Detroit showcases unity on day 1 of strike
DETROIT (FOX 2) - The UAW faithful from all around Metro Detroit, and the nation took their beef with the Big Three marching from the shadows of the Detroit Auto Show and passing the GM Renaissance Center.
The large scale Stand Up rally had political heavyweights and a show of unity downtown Friday.
"It's been a long time. It's a long time coming," said Michael Metcalf.
Metcalf is known as "Superman" at Ford Michigan Assembly plant in Wayne, says the strike is simply about doing right for the people who make our wheels possible.
"Everybody's trying to make things better for us so that we can have a legacy for our children, so we're ready to do what it takes which is Stand Up and wait for something better that we deserve," he said.
The UAW workers are holding firm on their demands - double-digit wage increases, an end of pay tiers, cost of living adjustments, among more.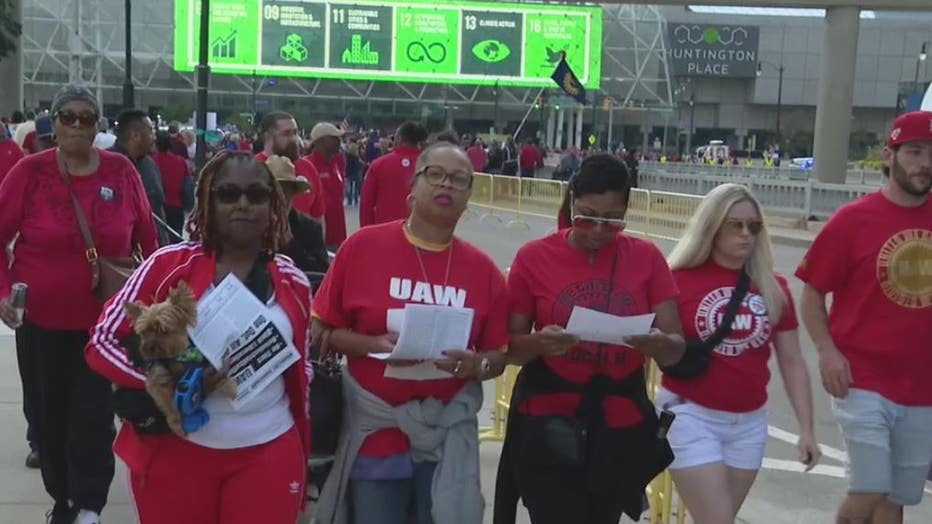 Retirees in attendance at the demonstration say that history is repeating itself.
"I was in the business when a lot of this was happening, when the two tier wage started, when Ford Motor Company did the Visteon, the parts plants going off into Visteon, into the ACH," said one man. "People losing seniority, loss of pay, second tier, third tier workers, without benefits and stuff like that. And I see a lot of this right here is going back to those times."
The March capped a rally that felt like an convention, as affluent donors attended the Charity Preview, labor leaders and their political allies rallied for change.
Among the speakers included former presidential candidate, Sen. Bernie Sanders (I-Vermont) who had a message for the CEOs - including GM boss Mary Barra.
"Since you became CEO eight years ago you have made over $200 million dollars in total compensation," Sanders said. "And I say to Mrs. Barra, do you have any clue what it's like for one of your workers to try to survive on $17 an hour? Which is the average starting wage of an automobile worker, $17 dollars an hour."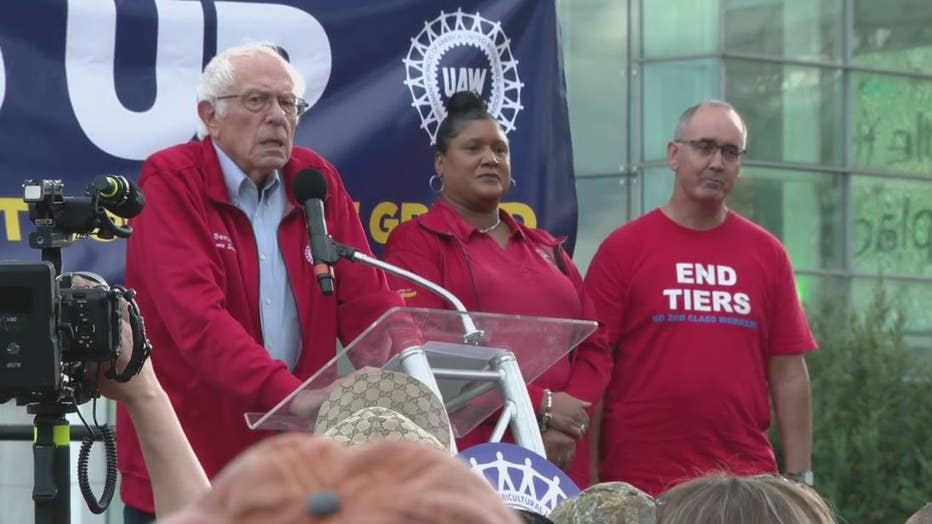 Governor Gretchen Whitmer also took the stage.
"Michigan was built by the working people right?" she said. "Number 2, unions built the middle class. And we all do better when we all do better. Amen?"
Related: 
It was UAW President Shawn Fain who got the last word, addressing Detroit and national media. FOX 2 asked him about the numbers.
FOX 2: "Will you come down from 35 percent (increase)? Is there a number you will come down to, like close to 30 or 25?"
"When we get to where we feel we need to be, when we can take an agreement to our members, we'll do that," Fain said. "The thing is, this is up to the membership. They vote."