Covid test positivity rates fall below 5% in Michigan, the first time since October
LANSING, Mich. (FOX 2) - Michigan's coronavirus numbers are trending down to their lowest levels in months, giving state officials a big enough window to reduce restrictions associated with the pandemic.
Test positivity for COVID-19 has fallen to 4.9%, the lowest rate of new infections tracked by Michigan health officials since October when the state was successfully mitigating the spread of the virus.
The metrics of hospital capacity and overall case rates also show encouraging results, which are good enough to lift rules on contact winter sports competitions and practices. Play will resume next Monday, Feb. 8.
"As a parent and former student-athlete myself, I get how important athletics are to our children's physical and mental health. However, parents and athletes need to understand the risk involved with contact sports if they choose to participate," said Chief Medical Executive Dr. Joneigh Khaldun.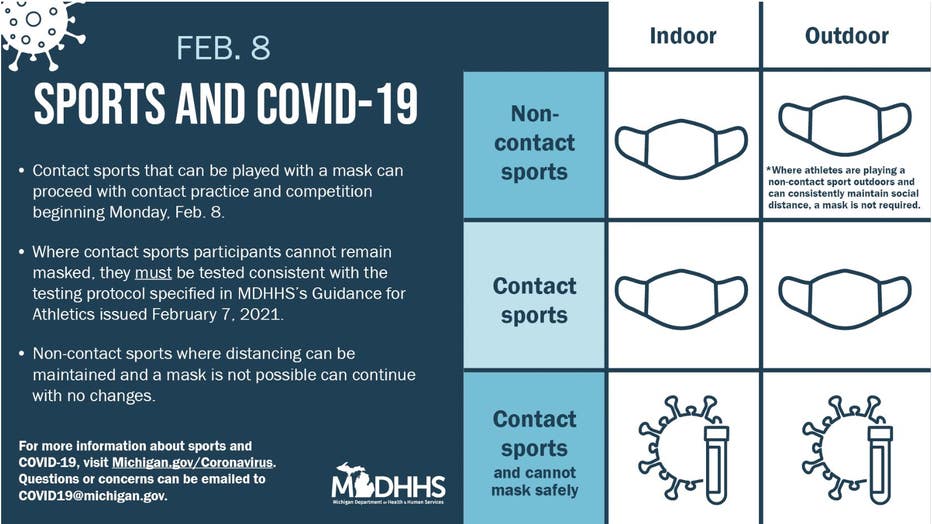 For sports that can be played with a mask, competition can resume. For sports that cannot be played with a mask, the state is mandating consistent testing of athletes and sports personnel. 
Earlier on Thursday, MDHHS Chief Elizabeth Hertel signed an updated epidemic order that lifted the restrictions on high school sports two weeks before they were expected to do.
During a press conference, she cited encouraging numbers displayed from Khaldun who demonstrated how falling trends in COVID-19 meant it was safe to restart sports. 
Gov. Gretchen Whitmer has defended the continued closure on winter sports over the past few weeks and stated she's concerned about new, more contagious variants of COVID-19 which were found in Michigan in January, primarily in Washtenaw County and around the University of Michigan campus.
The governor also said the availability of vaccines that will come to Michigan has become more predictable and made the allocation of the Pfizer and Moderna treatments easier. The state hopes to have 70% of its population over the age of 16 vaccinated by the end of the year. 
At the current rate of vaccine distribution, it would take until the end of 2021 to reach that benchmark. However, Hertel said she was hopeful that could change.
As more vaccines become available, the state plans to use the Centers for Disease Control and Prevention's Social Vulnerability Index to better allocate where doses should go. Among growing groups getting the jab are essential workers like those employed in public transportation and at grocery stores, as well as educators in K-12 environments. 
The state's seven-day case average has dropped to 1,711, from 2,471, over the past two weeks. Its per-capita rate is fifth-lowest among states. The seven-day average positivity rate is 4.5%, down from 6.4% on Jan. 19.