State confirms at least 17 known cases of new more contagious COVID-19 variant
LANSING, Mich. - The new COVID-19 variant working through Michigan has now been detected in 17 residents, health officials said Monday.
Michigan's chief medical executive warned that while the B117 strain doesn't appear to cause more severe symptoms after it's been contracted, it is more contagious.
As of Monday, there 13 cases of the more infectious variant confirmed in Washtenaw County and another four in Wayne County. Oakland County Executive Dave Coulter also said the variant is likely already spreading there as well.
"There are likely more cases that have not been identified and there's possibly spread of the variant happening right now," said Dr. Joneigh Khaldun.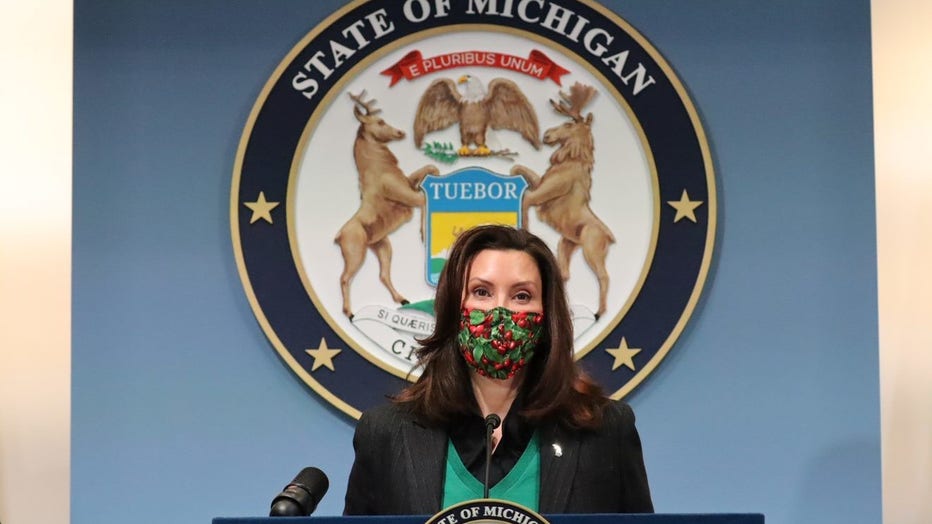 Gov. Gretchen Whitmer speaks during a press conference (Michigan Governor's office.)
The introduction of the new case is among the greatest emerging concerns for Michigan health officials that see the variant as an obstacle to achieving herd immunity in the months down the road.
Michigan's number of daily cases is down to 203 cases per million people, while test positivity has fallen to 6.1% and hospital bed capacity dedicated to COVID-19 patients now sits at 9.2%.
Most of Michigan's counties in the southern third of the state are reporting decreasing daily totals of new COVID-19 cases. Oakland, Wayne, and Macomb Counties are all reporting declines in daily cases by the dozens. 
Declines in those trends are encouraging enough that state officials are asking schools to reopen in-person learning and greenlighting restaurants and bars to reopen at a reduced capacity with curfew limits.
Whitmer says the state's objective is to be vaccinating 50,000 people a day so 70% of the population over 16 is protected by August. Currently, it's doing closer to 29,000 vaccinations a day - putting the state on a timeline to be completed by next year.
Much of the blame for a bottleneck in available vaccines have been pointed at the federal government. Whitmer says she hopes for a smoother rollout when the Biden administration begins distributing doses.
RELATED: Michigan wanted 70% of state inoculated by August. At current rate, it wouldn't finish for a year
Also of note, Michigan's Department of Health and Human Services is getting a new director after Robert Gordon resigned from the position on Friday. 
Filling in will be Elizabeth Hertel, who was formally operating as senior chief deputy director for administration at MDHHS.