Detroit City FC men's 2022 schedule revealed -- See it here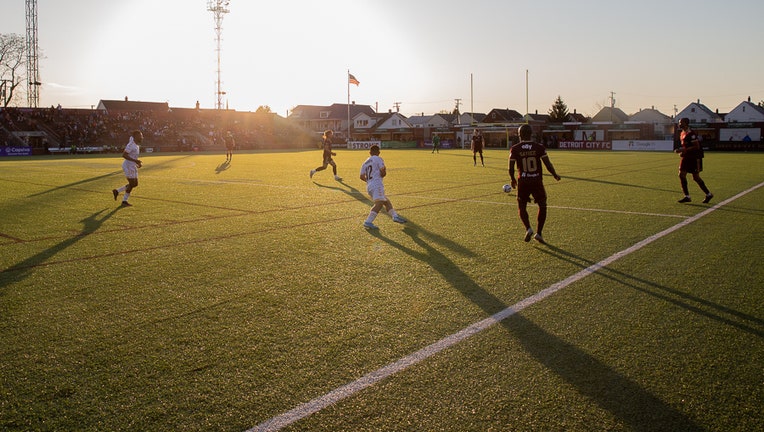 HAMTRAMCK, Mich. (FOX 2) - The 2022 Detroit City Football Club 2022 United States Soccer League Championship schedule includes 34 regular season matches.
See the full schedule below.
The season starts on the road when they play San Antonio FC on March 12 before heading home to Keyworth Stadium for the home opener against Charleston Battery on March 19.
Related: Ruth Ellis Center gets $50,000 from DCFC Prideraiser
Nearly all the season's games will be on Saturdays. Five games will be on Wednesdays, and four of those are away games.
"This is certain to be a very special season," said CEO Sean Mann. "We'll bring the highest level of competition to Keyworth to date, week in and week out, and our supporters will have the opportunity to experience a true road environment in some of the best soccer venues in the country."
(Photo by Amber Ainsworth/FOX 2)
The regular season wraps up Oct. 15 in Hamtramck.
Season tickets start at $150, and include entry to both the men's and women's home matches. Buy them here.
This season is the soccer team's deputy in the USL Championship.
DCFC is one of 14 clubs competing in the USL Championship's Eastern Conference. The Western Conference includes 13 clubs. 
Every team will play each of its conference foes twice – once at home, once away. For Eastern Conference clubs, the remaining eight games will be against interconference opponents – four at home, four away.

At the conclusion of the regular season, the top seven teams in each conference will qualify for playoffs. The first overall seed in each conference will receive a bye to the conference semifinals. 
DCFC 2022 regular season schedule:
San Antonio Fc Vs Detroit City FcSaturday, March 12 At Toyota Field, San Antonio, Texas

Detroit City Fc Vs Charleston BatteryHome Opener - Saturday, March 19 At Keyworth Stadium

Detroit City Fc Vs Pittsburgh RiverhoundsSaturday, March 26 At Keyworth Stadium

Detroit City Fc Vs Memphis 901 FcSaturday, April 2 At Keyworth Stadium

Atlanta United Fc 2 Vs Detroit City FcSaturday, April 9 At Fifth Third Bank Stadium, Kennesaw, Georgia

Detroit City Fc Vs Birmingham Legion FcSaturday, April 16 At Keyworth Stadium

Hartford Athletic Vs Detroit City FcSaturday, April 23 At Dillon Stadium, Hartford, Connecticuit

Detroit City Fc Vs New York Red Bulls IiSaturday, April 30 At Keyworth Stadium

Fc Tulsa Vs Detroit City FcSaturday, May 7 At Oneok Field, Tulsa, Oklahoma

Detroit City Fc Vs Loudoun United FcSaturday, May 14 At Keyworth Stadium

Miami Fc Vs Detroit City FcWednesday, May 18 At Riccardo Silva Stadium, University Park, Florida

Detroit City Fc Vs Atlanta United Fc 2Saturday, May 21 At Keyworth Stadium

Pittsburgh Riverhounds Vs Detroit City FcSaturday, June 4 At Highmark Stadium, Pittsburgh, Pa

Detroit City Fc Vs Sacramento Republic FcSaturday, June 11 At Keyworth Stadium

Detroit City Fc Vs El Paso Locomotive FcSaturday, June 18 At Keyworth Stadium

Memphis 901 Fc Vs Detroit City FcSaturday, June 25 At Autozone Park, Memphis, Tennessee

Las Vegas Lights Fc Vs Detroit City FcSaturday, July 2 At Cashman Field, Las Vegas, Nevada

Detroit City Fc Vs Hartford AthleticWednesday, July 6 At Keyworth Stadium

Indy Eleven Vs Detroit City FcSaturday, July 9 At Lucas Oil Stadium, Indianapolis, Indiana

Monterey Bay Fc Vs Detroit City FcSaturday, July 16 At Cardinale Stadium, Seaside, California

Detroit City Fc Vs New Mexico UnitedSaturday, July 23 At Keyworth Stadium

Tampa Bay Rowdies Vs Detroit City FcSaturday, August 6 At Al Lang Stadium, St. Petersburg, Florida

Detroit City Fc Vs Oakland Roots ScSaturday, August 13 At Keyworth Stadium

Birmingham Legion Fc Vs Detroit City FcWednesday, August 17 At Protective Stadium, Birmingham, Alabama

Detroit City Fc Vs Louisville City FcSaturday, August 20 At Keyworth Stadium

Charleston Battery Vs Detroit City FcSaturday, August 27 At Patriots Point Soccer Complex, Mount Pleasant, South Carolina

Detroit City Fc Vs Indy ElevenSaturday, September 3 At Keyworth Stadium

Colorado Springs Switchbacks Vs Detroit City FcSaturday, September 10 At Weidner Field, Colorado Springs, Colorado

Detroit City Fc Vs Tampa Bay RowdiesSaturday, September 17 At Keyworth Stadium

New York Red Bulls Ii Vs Detroit City FcWednesday, September 21 At Msu Soccer Park At Pittser Field, Montclair, Nj

Detroit City Fc Vs Fc TulsaSaturday, September 24 At Keyworth Stadium

Loudoun United Fc Vs Detroit City FcSaturday, October 1 At Segra Field, Leesburg, Virginia

Louisville City Fc Vs Detroit City FcWednesday, October 5 At Lynn Family Stadium, Louisville, Kentucky

Detroit City Fc Vs Miami FcSaturday, October 15 At Keyworth Stadium