Icy conditions could persist throughout Southeast Michigan as warmer temperatures and winds move in
(FOX 2) - An icy and dangerous start to your Thursday. 
The bulk of the ice storm has exited the region leaving behind anywhere between .2 and .6 inches of ice. The National Weather Service describes anything over half an inch of ice as "crippling". We certainly saw that in many spots! 
The roads are slick, especially in neighborhoods where the ice quickly thickened up. Tree branches and power lines are weighed down by the heavy ice and numerous power outages are affecting us here in Southeast Michigan. Be careful!
Throughout the day today we will thaw slightly as a warm front lifts north. Questions about how far north it will travel exist - I am forecasting a pessimistic 41-degree high temperature which will allow plenty of melting. 
RELATED: Hundreds of thousands without power after ice storm
Some models have us climbing even warmer than that which would be wonderful! The question becomes, will the ice melt before the winds pick up (which they're expected to do this afternoon).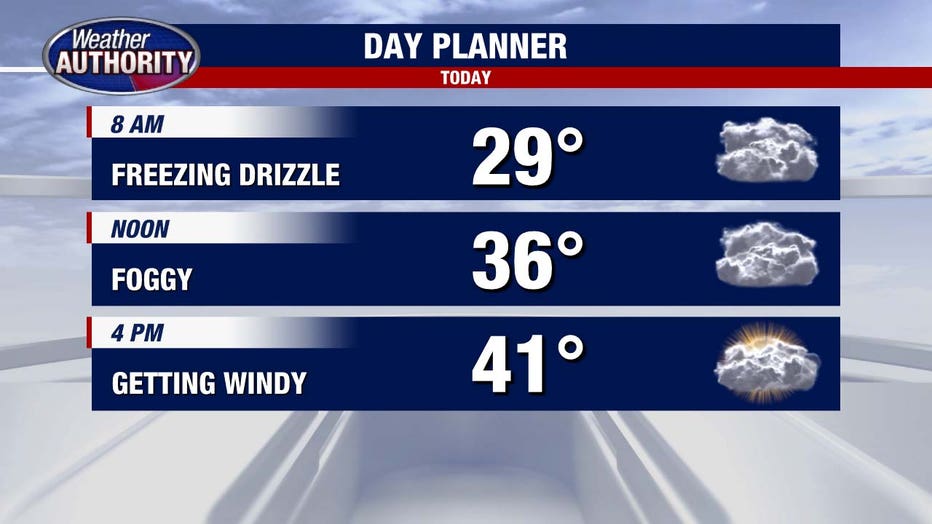 Winds will start gusting after 3 p.m. up to 35 mph. 
Temperatures at this point will be in the upper 30s or low 40s, so any remaining ice on tree branches could possibly snap them. Winds will stay strong overnight as we fall down to 18 degrees, but the wind chill will be close to 7.
Friday begins frigid and will only warm to 26 degrees. A snowflake or two is possible, but accumulation won't happen.
MORE: Detroit family's two dogs die from downed wire in backyard
We do warm-up more as we head into the weekend as temperatures on Sunday will return to the 40s.