11 hospitalized after massive fire breaks out in west side apartment in Detroit
DETROIT (FOX 2) - The glow from a massive structure fire on Detroit's west side could be seen for miles.
A total of 20 people have been displaced with 11 being hospitalized for injuries suffered during the fire. 
"We knocked on doors. Some couldn't get out because they were on the top floor so they had to let the ladders up and go in and break the windows out," said Cedrick Gill.
Gill lives on the first floor of the apartment, which is located at LaSalle Boulevard and Davison. He spoke to FOX 2 against the backdrop of his home on fire. 
The blaze broke out around 3:30 a.m. before expanding to the entire structure, which is about five stories tall. 
It's considered a total loss.
"As you can see, we're extinguishing this fire. We're making sure everyone is out. We do have 20 residents displaced and will have warming bus for them," said Detroit Fire Department Chief James Harris. "We do have the situation under control. But like I said, it is a huge structure, a five-story apartment building."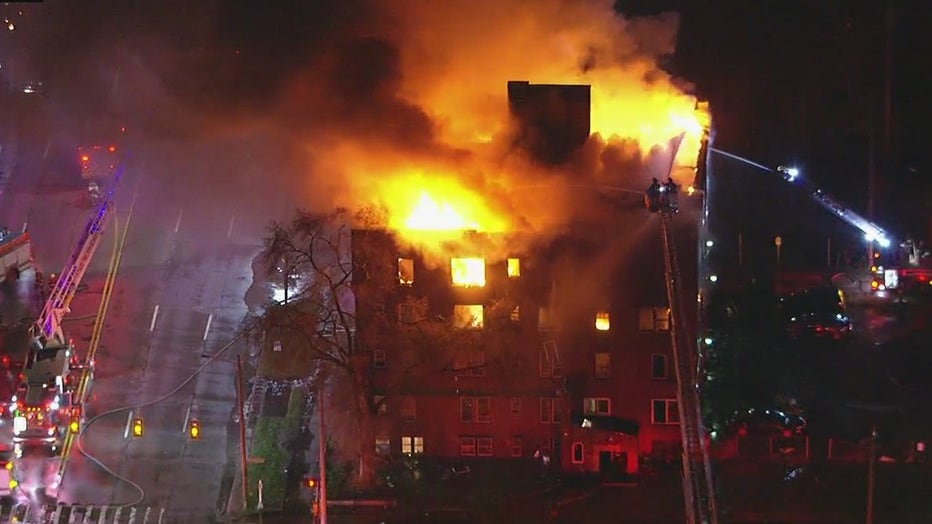 According to Detroit Fire, seven people were taken to Henry Ford Hospital, three to Sinai Grace, and one to Detroit Receiving.
The structure has 35 units in total.
MORE: Berkley police seize guns, marijuana, pills after impaired woman runs red light
As firefighters fought the blaze, booms could be heard from inside the building. Emergency crews said that it was the sound of the structure collapsing from the inside. 
This is a breaking story. Check back later for more details.