2 juveniles injured in violent weekend • Detroit's dangerous EMS shortage • Mother gave narcotics to child
MONDAY NEWS HIT - It was another violent weekend in Metro Detroit with police responding to close to a dozen shooting incidents over the weekend.
Among those calls that police responded to was an accidental shooting involving a 5-year-old who was struck in the hand. The child is expected to be okay but suffered severe damage to his hand. 
It was one of many poor decisions made this weekend, Chief James White said. It was also the 18th time that someone under the age of 17 has been struck by gunfire in the city this year. That total would rise to 19 after another gunshot injury sustained by a teen on Sunday. 
 The Detroit Police Department head admonished those who were careless with their weapons.
"At a time when a kid should be getting up, eating cereal, and watching cartoons, he's being rushed to the hospital because he's been shot - I mean, we have to do better," White said. "We just have to do better with these guns."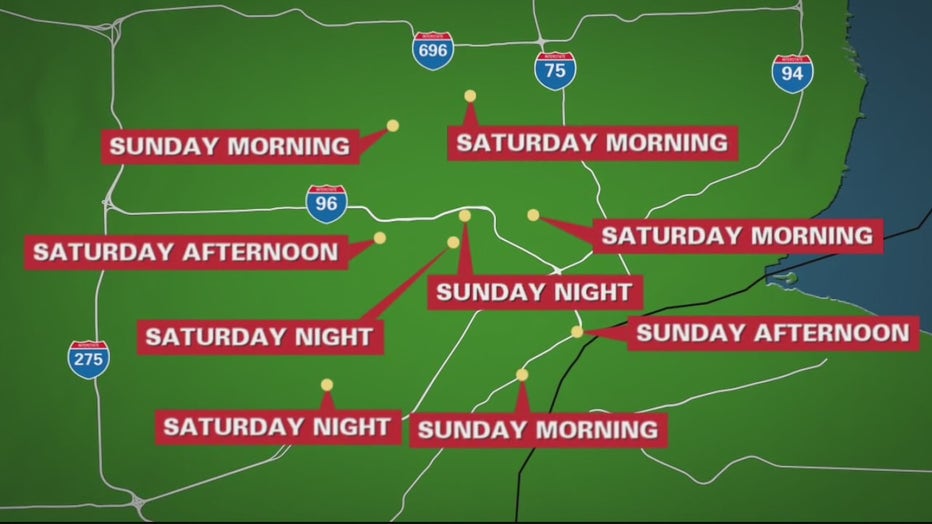 The incident happened Saturday morning in the 2900 block of Burlingame on Detroit's west side. 
The child either got ahold of the unsecured gun or it went off when someone else was handling it, striking the child. 
While the shooting was accidental, the adults in the home are continuing to be prosecuted for being careless with their guns. The weekend also reflects the reasons behind a recently-passed law that mandates adults who have minors in the home to secure their weapons. 
MORE: Hyundai owner blames 'Kia Boyz' for her stolen car, found totaled
Police also confirmed with FOX 2 that a 15-year-old male was walking with another person in the 12400 block of Mendota when an unknown suspect in an unknown vehicle fired shots in the area, striking him. He's now in stable condition. 
A 38-year-old man was also injured by gunfire after an attempted robbery in the 9100 block of Dearborn. 
Read more about the weekend violence here.
Detroit's dangerous EMS shortage
In late 2022, the city of Detroit's firefighters and emergency medical services combined their roles into a single position to help meet the demand of 911 calls. At the time, the city was short 200 firefighters and 100 ems workers. 
Unfortunately, things haven't gotten better. The emotional toll on too few workers responding to too many incidents is making it hard on those still employed. For one responder named Austin Tederington, he hung up his hat after eight years in service. 
"I love that city. My family has worked for the city for over 100 years," he said. "I had to put an end to it because mentally I couldn't do it anymore." Detroit loses about two medics a month, creating unsafe working conditions and putting more stress on responders.
The issues have also rippled into the community, where it's taking longer for some crews to respond to scenes. While the city does have more paramedics in the pipeline, finding enough to even apply has been a struggle. In total the Detroit Fire Department is looking for at least 70 new employees in July. Learn more here.
Mother charged after 4-year-old son dies of fentanyl
The mother of a 4-year-old who died after coming into contact with fentynal has been charged, the Wayne County Prosecutor's Office said Monday. Chavon Caprice Boone, 40, of Detroit turned herself in on May 19 and told police that she had given her son narcotics, which caused him to go into cardiac arrest and die. 
She was arrested and charged with felony murder and child abuse. She was arraigned over the weekend, Kym Worthy said. 
"There was an unexpected turn of events that brought to us to these charges. Everyone deserves not to be forgotten. This child is no longer a cold case statistic, we will bring justice to Anthony and his family," Worthy said.
Police were originally called to the home on April 10, 2022 after receiving a call of an unresponsive child. It was unknown at the time how drugs got into the child's system.
Gas prices rise 23 cents ahead of Memorial Day
After several weeks of relaxing gas prices, AAA reports that costs bounced back up 23 cents from a week ago. Michigan drivers are now paying $3.57 per gallon average. It amounts to about $53 for an entire tank of gas.
The price of oil rose thanks to "growing market optimism" about energy demand in the world, especially in China, which is recovering faster than originally expected following the lift of its Covid restrictions. 
Along with the demand increase, Michigan is also seeing a spike in prices ahead of Memorial Day Weekend, where 1.1 million travelers are expected to hit the roadways. 
"While Michigan drivers are seeing a double-digit increase in pump prices compared to this time last week, prices have held steady over the past few days," said Adrienne Woodland, spokesperson, AAA "If gas demand increases ahead of Memorial Day weekend, drivers could see pump prices move higher."
New bill targets train back-ups in Metro Detroit
Maybe it's the Fort Street crossing that drivers in Trenton know to hate. They can also travel west into Woodhaven and find an equally dreadful experience on Van Horn near Allen Road. Meanwhile, residents of Ferndale can find themselves stuck at the Nine Mile and Hilton crossing while en-route to the highway. 
There's no end to the list of examples of train crossings derailing our commutes. One downriver lawmaker wants to change that by helping fund bridge and underpass projects at busy train intersections.
"Not only is it annoying, but it's also a public safety problem," said state Sen. Darrin Camilleri (D-Trenton). "I've had constituents tell me they've had a house burn down because a fire truck got stuck behind a train.
While he's been discussing a solution for years, Camilleri believes he finally has the ingredients to remedy some of the worst back-ups in Metro Detroit that are caused by trains. Many of them happen in southern Wayne County, where industry and residential communities often live next to each other.
Live on FOX 2
Daily Forecast
The weather is entering more of a summer-feel with dips in temperatures falling less and less. Expect mostly sun and conditions in the 70s the next two days.
What else we're watching
There was more weekend crime news that included an ATV rider who crashed into a Detroit police cruiser before the man fled. He was arrested after being tased.
FOX 2 is getting a sneak peak of the Boys & Girls Clubs of Troy where renovations work has been ongoing. The unveiling of the new teen center will be tomorrow.
Grace West, a 19-year-old from Michigan, is one of the five finalists on the singing competition show "The Voice." From growing up in Canton and singing in her church, it's been quite the ride for the singer.
Some major road closures are coming in on I-96, I-696, and on I-275. Plan accordingly. 
The City of Pontiac is also launching a new Home Repair Program for its residents. The $37.7 million allotment from the American Rescue Plan will appropriate $3 million for those funds. 
Debt ceiling: Biden, McCarthy to hold pivotal meeting
President Joe Biden and House Speaker Kevin McCarthy are set to meet at the White House at a pivotal moment as Washington works to strike a budget compromise and raise the nation's borrowing limit in time to avert a devastating federal default.
The meeting Monday afternoon between the Democratic president and the new Republican speaker will be critical as they race to prevent a looming debt crisis. After a weekend of start-stop talks, both men appeared upbeat as they face a deadline, as soon as June 1, when the government could run out of cash to pay its bills.
Biden and McCarthy spoke by phone Sunday while the president was returning home on Air Force One after the Group of Seven summit in Japan. "It went well, we'll talk tomorrow," Biden said in response to a shouted question upon his return late Sunday.