Two juveniles among several injured in another violent weekend in Metro Detroit
DETROIT (FOX 2) - It was another violent weekend in Metro Detroit with police responding to close to a dozen shooting incidents over the weekend.
Among those calls that police responded to was an accidental shooting involving a 5-year-old who was struck in the hand. The child is expected to be okay but suffered severe damage to his hand. 
It was one of many poor decisions made this weekend, Chief James White said. It was also the 18th time that someone under the age of 17 has been struck by gunfire in the city this year. That total would rise to 19 after another gunshot injury sustained by a teen on Sunday. 
 The Detroit Police Department head admonished those who were careless with their weapons.
"At a time when a kid should be getting up, eating cereal, and watching cartoons, he's being rushed to the hospital because he's been shot - I mean, we have to do better," White said. "We just have to do better with these guns."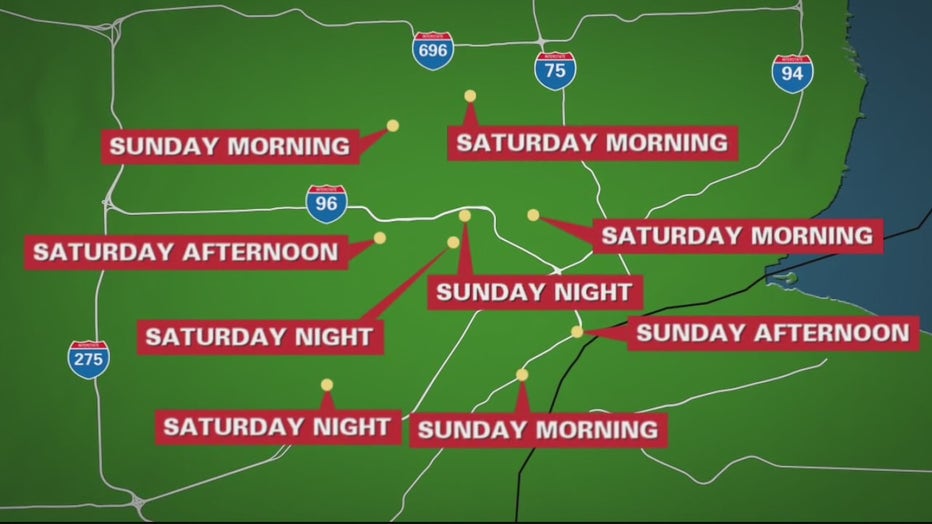 The incident happened Saturday morning in the 2900 block of Burlingame on Detroit's west side. 
The child either got ahold of the unsecured gun or it went off when someone else was handling it, striking the child. 
While the shooting was accidental, the adults in the home are continuing to be prosecuted for being careless with their guns. The weekend also reflects the reasons behind a recently-passed law that mandates adults who have minors in the home to secure their weapons. 
MORE: Hyundai owner blames 'Kia Boyz' for her stolen car, found totaled
Police also confirmed with FOX 2 that a 15-year-old male was walking with another person in the 12400 block of Mendota when an unknown suspect in an unknown vehicle fired shots in the area, striking him. He's now in stable condition. 
A 38-year-old man was also injured by gunfire after an attempted robbery in the 9100 block of Dearborn. 
Two fatal shootings
Unfortunately, it wasn't the only shooting that police found themselves investigating this weekend. In Royal Oak Township, police found a deceased female at Eight Mile and Wyoming in what police called a domestic homicide. 
Michigan State Police said as authorities responded they observed a 40-year-old female from Sterling Heights laying in the parking lot with an obvious fatal gun shot wound. Several spent shotgun casings were also found t the scene.
A 43-year-old male from Oak Park later turned himself into one of Detroit Police's precincts. Police said the victim and suspect share a child. 
Detroit police responded to a second fatal shooting around 12:20 am. Sunday in the 18300 block of W. Seven Mile after getting a shot spotter alert. 
Police standoffs in Detroit, Brighton
Police were also forced into barricaded gunman scenes in Detroit and in Brighton over in Livingston County in two separate standoffs.
In Detroit, a man surrendered in the 94 block of Parkwell after police received a call about shots being fired inside a home. After the man surrendered peacefully, they did a sweep of the home and found a high-powered rifle and multiple spent casings.
In Brighton, a man is dead after being in a standoff with police for several hours. It started in a Meijer parkinglot on Grand River near I-96 after authorities spotted a U-Haul that was reported stolen out of Roseville. 
The man eventually took his own life, police said. A woman who was also with the suspect was uninjured.