25 missing children recovered in SE Michigan • UAW's brewing battle with Big 3 • Life sentence reversal effort
THURSDAY NEWS HIT - A first-of-its-kind nationwide operation ended with the safe recovery of 25 missing children throughout southeast Michigan, thanks to the US Marshals and several other agencies.
"Some of the kids have been missing for up to three years," said Deputy US Marshal Robert Watson.
The Marshals' Missing Child Unit in the last three months, has recovered more than two dozen children in an operation called "We Will Find You."
"We found that when we recovered them that nobody cared about them," Watson said.
These missing children cases are considered some of the most challenging in terms of recovery – based on indications of child trafficking, sexual abuse and mental health issues.
Watson said the ages ranged from babies to 17 years old - and the scenarios that led them to be considered missing and endangered vary.
"A child that maybe had an argument with her parents, but we found to be in the company of someone quite older," he said.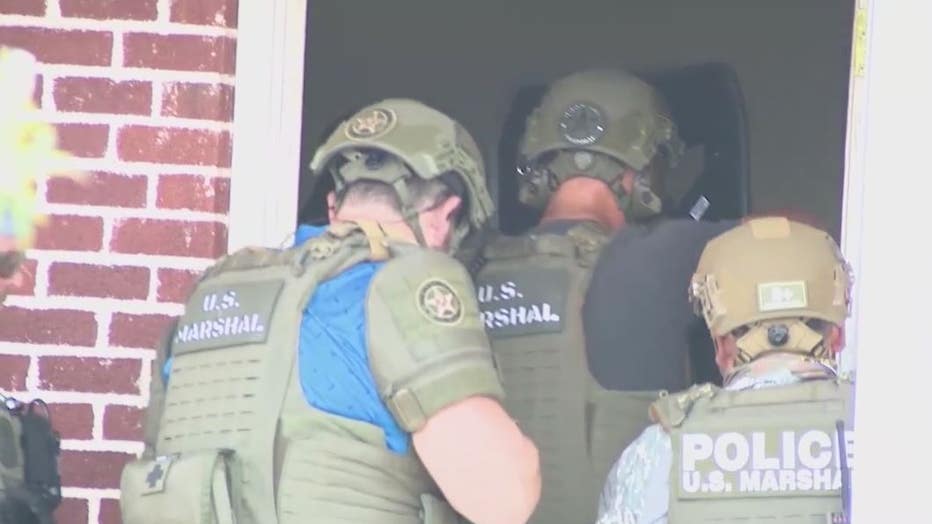 Still taken from file video
Other situations involved custodial issues.
"This child was estranged from their father, he had no custodial rights, and he was able to transport this juvenile down to Tennessee," Watson said. "He had been involved with methamphetamine and all kinds of  ... his criminal history was abysmal."
This is one of many future operations to come for the Marshals and partnership law enforcement.
"Time is of the essence," he said. "The quicker that you can get someone involved in finding these children, the better and quicker the return." 
UAW's coming face-off with Big 3 automakers
The United Auto Workers' contract with the Big Three is set to expire in September. The newly-elected president of the UAW is already gearing up for what he says will be the fight of a generation. He took to Facebook Live on Wednesday to lay out what is at stake.
President Shawn Fain gave a pledge to those watching on the UAW International Facebook page Wednesday evening. When it comes to a new contract, he wants to be on the offensive.
"Companies like GM, Ford, and Stellantis have made a killing," Fain said. "If there's one piece of data from all of this I want you to know is this: The Big Three have made almost a quarter of a trillion dollars in profits in North America over the past 10 years."
Despite the company's profits, the UAW leader said members still have to work eight years to make top pay, don't have retiree health care or pensions, while inflation continues to hit their paychecks.
Read more about the sticking points here.
Oakland County Prosecutor wants murder conviction tossed
The Oakland County Prosecutor is asking a judge to throw out a first-degree murder conviction but the timing may seem a bit odd as the man who admitted to killing his nephew 13 years ago has been tied to campaign contributions to the Oakland County Prosecutor.
Hayes Bacall, 63, was sentenced to life in prison for the 2010 murder of his nephew, Jameel, at a BP Gas Station in Troy. At the time, investigators said Bacall admitted to killing his nephew because "he owes me $400,000." Today, the prosecutor's office is asking for Bacall's conviction to be thrown out in exchange for conviction on a lesser charge.
Bacall's defense team is arguing he deserves a new trial partially because of findings of prosecutorial misconduct during the trial a decade ago. Witnesses have also changed their story, which prompted the Conviction Integrity Unit to investigate. 
But some are questioning the timing after revelations from reporting in the Detroit News that Bacall's family and business community donated to Oakland County Prosecutor Karen McDonald's campaign. Williams said it had nothing to do with starting the investigation.
Read more about the case here. 
Oakland County's big ambition for 3D printing
Oakland County wants to build the world's largest network of 3D printers. Using money from the American Rescue Plan Act, the county has funding for 250 printers. It hopes to disseminate those to 40% of the area's small manufacturers. 
It's part of a larger effort to reinvigorate manufacturing in Michigan and transition the state's economy into something that produces more and consumes less. 
"Project Diamond phase 2 is the definition of making things in America," said Board of Commissioners Chair Dave Woodward. "Making certain that our manufacturing sector which built the middle class, is able to flourish regardless of the challenges of the economy on the horizon."
3D printers could become integral components of our future supply chains - a new facet of a rapidly-changing economy.
Read more about the industry here.
Ex-police officer, second man charged in gun incident at Wyandotte bar
A former Westland police officer and a second man have been charged in a bar incident involving a handgun in Wyandotte.
Former police officer Shawn Dennis Davidson, 52, of New Boston, and Gregory Jay Title, 53 of Carleton, have been charged in the case which happened in the 110 block of Oak Street on April 22. Tittle was charged with carrying a concealed firearm under the Influence of alcohol and reckless use of a firearm. Davidson was charged with carrying a concealed firearm under the influence of alcohol and trespassing.
Investigators claim that night at 6:30 p.m.Tittle and Davidson had been told to leave by staff but they refused. Tittle took a loaded handgun that was in Davidson's waistband and allegedly pointed it at Davidson's head.  Tittle was arrested at a different bar nearby.
They were arraigned on May 23, 2023, in 27th District Court, and given $30,000 personal bonds with an alcohol tether. A pretrial is scheduled for June 1, 2023, at 8:30 a.m. before Judge Elizabeth DiSanto.
Live on FOX 2
Daily Forecast
Temperatures will stay a bit cooler Thursday as a high pressure system keeps things colder. The wind won't be as big a factor but we won't see that glorious spring weather return until the weekend. After that, things only get warmer. 
What else we're watching
If you're worried about the endless construction bogging down your Memorial Day travel - the orange barrels will be moved ahead of the holiday weekend thankfully. MDOT plans to open lanes on major highways back up to help ease travel.
The Detroit Grand Prix is only two weekends away. The city will give an update on the event Thursday that will come with a special proclamation in addition to some of the high brass of the city showing their faces.
A preliminary examination hearing in the case of a murdered jeweler in Oak Park continues Thursday following explosive testimony that arrived two weeks ago when a witness alleged a mafia connection was present in the murder-for-hire plot.
Population loss in Michigan, which has been a driving undercurrent exasperating many of the state's inequities blew into the spotlight this month when it was revealed Michigan was the state with the second-lowest growth rate in the country. The governor is likely to pivot toward the population loss in her second term.
What do you think of the Ohio billboard put up in downtown Detroit? It reads "The Heart of it All" - but what it really means is Ohio sees Michigan as a great state to poach more of its workforce.
Indiana doctor who provided abortion for 10-year-old girl to face discipline hearing
An Indiana board is set to hear allegations Thursday that an Indianapolis doctor should face disciplinary action after she spoke publicly about providing an abortion to a 10-year-old rape victim from neighboring Ohio.
The Medical Licensing Board's hearing comes after Indiana's Republican attorney general accused Dr. Caitlin Bernard of violating state law by not reporting the girl's child abuse to Indiana authorities. She's also accused of breaking federal patient privacy laws by telling a newspaper reporter about the girl's treatment.
Bernard and her attorneys maintain that the doctor followed Indiana's child abuse reporting requirements as the girl's rape was already being investigated by Ohio authorities. Bernard's lawyers also say she didn't release any identifying information about the girl that would break privacy laws.