Attorney chides city after DDOT driver kept job • Severe weather strikes • Grade scandal brews at UofM
FRIDAY NEWS HIT - Newly obtained video shows Detroit Department of Transportation bus driver's fatal crash killing a Metro Detroit man in 2015.
Just as passenger Joey Davis leaves the bus to get his bike off the rack on the front, the driver hits him. Geraldine Johnson who was behind the wheel, immediately realizes what happened and begins screaming.
Fast-forward eight years and the same DDOT driver, Geraldine Johnson, is charged with hitting and killing pedestrian Janice Bauer.
This, despite Johnson's horrific driving record that includes seven previous crashes dating back to the other fatal accident in 2015.
"The court does find you to be a danger," the judge said.
The question everyone is asking is why was Johnson allowed by the City of Detroit to keep her job as a bus driver after hitting and killing Joey Davis.
Attorney James Harrington represented Davis' family in a lawsuit against the city,
"It's absolutely unacceptable, it should not be tolerated, and this should have been prevented," said Harrington, of Fieger Law. "She should have been taken off the road after the Joey Davis incident, had the city done its job."
The City of Detroit settled the case out of court for $4.5 million.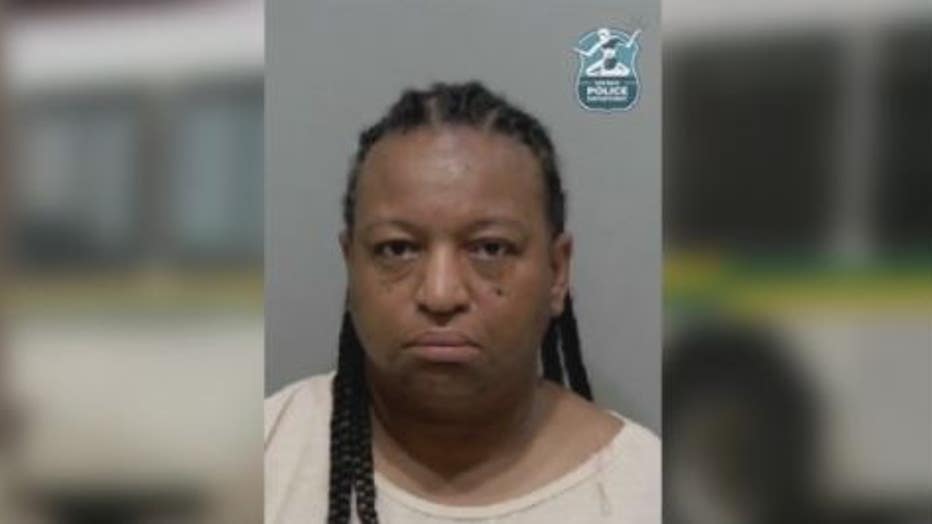 Which takes us back to Geraldine Johnson and her driving record — in the years following Davis' death.
"There have been crashes either with a bus or a personal vehicle - 2018, two in 2019, one in 2020, one in 2021, one in 2022, and then we have this matter today," the judge said.
Johnson is now charged with a moving violation causing death which is only a misdemeanor. 
The City of Detroit declined repeated requests for an interview. It instead chose to release a statement saying Johnson has been fired:
"Since this terrible accident occurred two weeks ago, we have been engaged in a full review of Ms. Johnson's record and of all related department policies and procedures. Once that review is completed, we will be better positioned to respond to questions about her driving and employment history with DDOT. Following the accident, Ms. Johnson was terminated."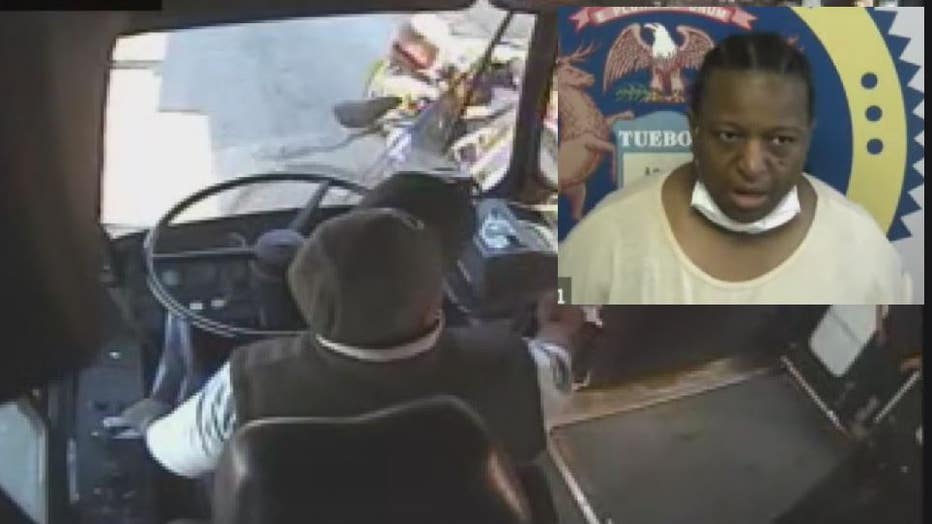 Screenshot from 2015, inset: Geraldine Johnson mugshot
"What we have seen in this case is an absolute failure and a betrayal of trust that we place in government," Harrington said.
Bauer's family has declined comment. 
Severe weather wallops Southeast Michigan
By Friday morning, the subtle hum of generators was the dominating sound throughout Monroe County after severe weather did a number of some southern Michigan communities. Thursday evening's storm brought torrential downpours in Wayne County, golf-ball sized hail in Livingston County, and a tornado touchdown in Monroe County.
It also knocked out power for hundreds living along Lake Erie whose neighborhoods were covered in debris.
By Friday morning, there were several hundred outages around Metro Detroit. In the south in the Baycrest Beach, Detroit Beach, and Woodland Beach neighborhoods near the city of Monroe, there were more than 700 outages.
The National Weather Service confirmed a tornado touched down in Frenchtown Township in Monroe County. They plan to have more updates on the damage from the storm Friday.
Striking instructors sound off on UM grade scandal
University of Michigan grad students sounded off at a Board of Regents meeting over a fake grades scandal that's rocked the major institution of higher education.
"Regardless I got to say that the fact that you systematically faked thousands and thousands of grades is wild," said one graduate student at the podium. "People are going to be telling their grandkids about this and of course, you're the villains of the story. But you don't care."
It only ramped up from there. U-M is under investigation by a key accreditation board looking into allegations that administrators forced the heads of departments to falsify grades. It allegedly happened when graduate-level teachers were walking the picket lines in a battle over pay and other sticking points.
Some University officials responded…by appearing to talk more about the ongoing labor dispute itself. The university says they will respond to the complaints received by the accreditation review firm and will respond within 30 days. 
Eight Mile businesses impacted by construction
Some Detroit business owners say they've had to close for nearly two weeks because road work is blocking their entrances. "(Gov. Gretchen Whitmer) said to fix the damn roads, you need to fix everything," said Menyet Jackson. "Do it quick, but don't do everything at the same time. It's been terrible."
The construction in Metro Detroit is rampant. From I-275 to I-696, and then there's the Woodward road work and the I-75 construction as well. The Michigan Department of Transportation is well aware of the pain.
"While it is a major inconvenience, and we know that because we all drive the same roadways, once it is done it is going to be worth it," said Diane Cross of MDOT. "It's going to be easy to drive down Eight Mile, easy to access these businesses. And we're also rebuilding the driveways for these businesses at no cost to them."
Some of these business owners say, since construction started along Eight Mile Road, they have seen their profits impacted.
A Detroit cold case is reopened
Seven years after a double murder on Detroit's east side, a family is hoping for answers in the case that police believe was a result of mistaken identity. 
Martinus Wilson, 20, and Nathan Mosby Jr., 28, and another person were sitting in a vehicle in the area of Rohns and Gratiot talking on June 15, 2016, when two people fired at least 20 rounds at them. The two men were killed, and the other person was hurt.
The case eventually went cold, and it had been years since Patrice Wilson-Graham heard from the detective on her son's case. Police recently reopened the case files. "It was five years until I called the cold case detective, and then I heard from somebody yesterday," she said. "This is my only son, my firstborn, and he was innocent."
Police believe the murders were a case of mistaken identity. Now, Wilson's family remembers their son as they wait for a break in the case. "Only thing that I can do now is fight for justice for my son," his father Terrance Graham said. "We'll continue to seek justice, we'll continue to knock on doors, we'll continue to return to the DPD, to Crimestoppers."
Live on FOX 2
Daily Forecast
We're looking at a much easier Friday after Thursday's storm with dry conditions and temperatures in the 70s. It'll get a bit warmer but not much will change over the weekend. 
What else we're watching
The governor officially signed the CROWN Act into law Thursday. It bans discrimination based on hairstyles, expanding the Elliot-Larsen Act.
The state of Michigan revoked the license of a mid-Michigan marijuana grower and processor after they found several jars and pots for of weed that hadn't been entered into the state's tracking system.
The race for U.S. Senate in Michigan is heating up figures from Romulus and Berrien County throwing their name into the ring. Meanwhile, Haley Stevens has endorsed Elissa Slotkin.
Human I-T, which specializes in e-waste recycling, is opening its first a new store where their repurposed tech can be sold back into the community. They'll be open at Seven mile in Detroit.
Polar bears, grizzlies and wolves will all be the recipients of some animal-friendly pizza coming to the Detroit Zoo this Friday.
Who is Eminem's daughter Alaina Scott? A look at her wedding and life
Alaina Scott may not be a name many know, but after her recent wedding on June 9 in Detroit, she is making headlines because she's the daughter of rap superstar Eminem.
Scott married Matt Moeller, and she posted photos from her ceremony on her Instagram page. The Grammy-winning rapper walked his daughter down the aisle, and Scott's sister Hailie Jade was her maid of honor, Billboard reported. 
Eminem is the father of three daughters, Hailie, Alaina, and Stevie Scott. Hailie is his only biological daughter and Alaina and Stevie were adopted.