Detroit man charged with assaulting 2 women while out on bond for shooting
DETROIT (FOX 2) - A Detroit man already facing charges for a shooting late last year is facing more charges after authorities say he beat two women while out on bond.
Torrion Hudson, 22, was charged Thursday with one count of assault with intent to do great bodily harm, one count of unlawful possession or use of harmful devices causing injury, one count of domestic violence, and one count of assault and battery.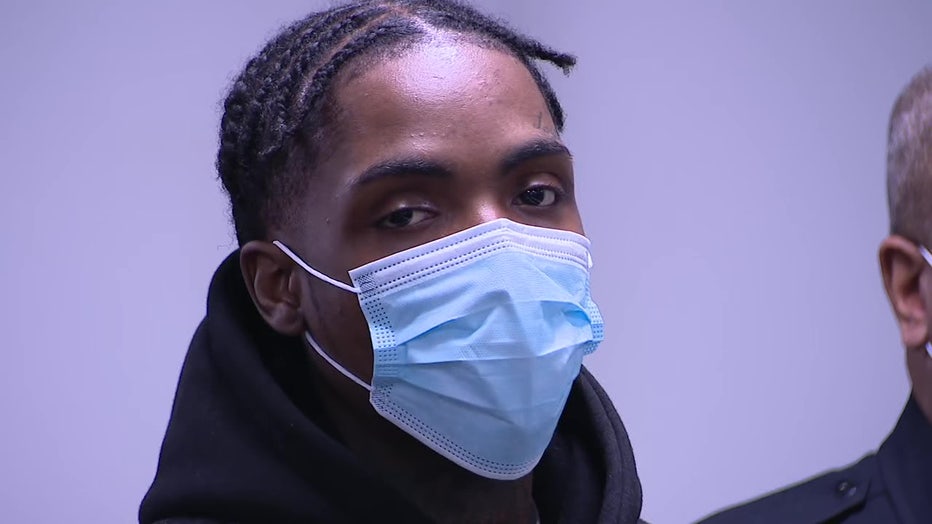 Torrion Hudson appears in court for an emergency hearing on bond. He was arrested after police said he shot a 19-year-old during a carjacking in December.
According to the Wayne County Prosecutor's Office, Hudson was arguing with the 22-year-old mother of his child at an apartment complex in the 10430 block of Whittier on Saturday evening. Authorities said during that argument, Hudson punched the woman, knocking her to the ground.
When the victim's 42-year-old mother tried to intervene, Hudson allegedly punched her in the face and body several times. 
He then is accused of pouring multiple cleaning products on the face and body of the 22-year-old victim. She was taken to a hospital by medics.
Hudson was on a tether at the time of the alleged assault after using a bail bondsman to post a $250,000 cash or surety bond to get out of jail. He was arrested in connection with a shooting and robbery at a Detroit gas station Dec. 21, 2022. In that case, Hudson allegedly stole 19-year-old Kyla Moore's necklace and shot her in the neck before fleeing.
Later, police learned that Hudson had also allegedly beaten and shot an 18-year-old woman the day before Moore was shot.
Hudson's bond was revoked Wednesday.