Bond revoked for suspect in carjacking, shooting after man accused of beating child's mother
DETROIT (FOX 2) - A Detroit man was accused of shooting a woman in the neck at a Detroit gas station is now back in jail without bond after the Wayne County Prosecutor said he beat the mother of his child while out of jail.
Torrion Hudson's initial bond was $1 million after the Dec. 21 crime. However, it was lowered to $250,000 cash or surety. He used a bail bondsman to post bond and has been out of jail on a tether on house arrest since Jan. 11.
The 22-year-old returned to court on Wednesday as the Wayne County Prosecutor made a plea to keep him locked up after he allegedly attacked three women.
"We believe that he poses a danger to the community and now (has a) continued history and track record of assaultive behavior," the prosecutor said on Wednesday.
The judge agreed and revoked his bond, meaning he'll stay in custody now.
Since being out on bond, the prosecutor said he beat a pregnant woman, described as his child's mother this past weekend. She's listed in serious condition.
Meanwhile, the mother of the 19-year-old allegedly shot by Hudson, Keta Moore, says her daughter has undergone four lung surgeries as a result of being shot in the throat.
"Why would you shoot an innocent 19-year-old girl for no reason," Keta said. "He is violent. Why would you let him out, he did exatly what we knew he was going to do."
The day before she was shot, Hudson was accused of another attack, this time against an 18-year-old woman who he allegedly beat and shot at. She was apparently too scared to pursue charges.
This whole situation is something Detroit Police Chief James White has been warning about: violent offenders who are released on bonds, only to reoffend.
SOT Chief James White, Detroit Police
"He should have not been on the street. This is now three people that we know he has assaulted. He's a violent offender. Under no circumstances should be allowed on the street," White said.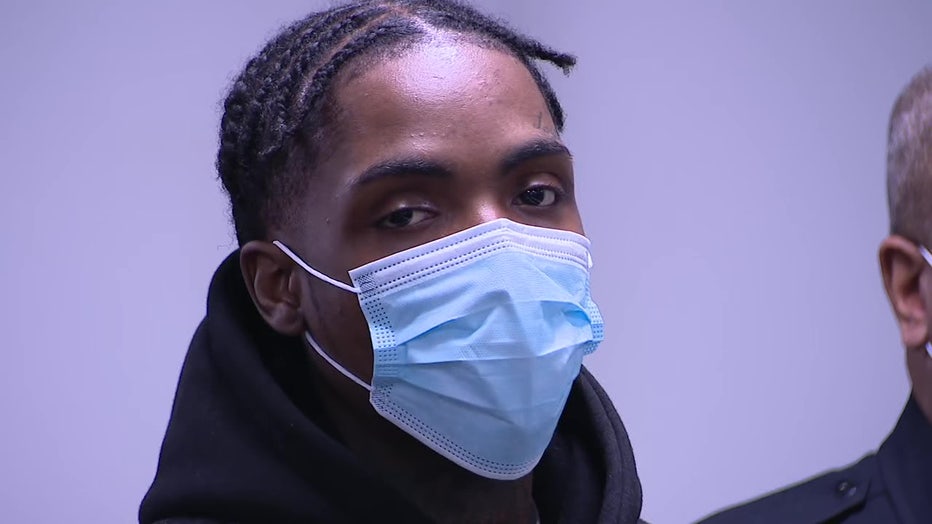 Terrion Hudson appears in court for an emergency hearing on bond. He was arrested after police said he shot a 19-year-old during a carjacking in December.