Detroit store owner arrested for assault that left woman bloodied
DETROIT (FOX 2) - The co-owner of Brandon's Liquor Store on Puritan and Coyle has been arrested by Detroit police for allegedly assaulting a 48-year-old woman on Friday.
Phone video of the aftermath showed Andrea Warren on the floor bleeding profusely after the altercation with co-owner Bassam Yatooma.
Yatooma told FOX 2 that the woman had been panhandling for hours and refused to leave when asked. He said she had spit in his face before he grabbed her.
Police say Yatooma can be seen on the store video assaulting Warren. Sources say he is seen dragging Warren into the store, punching her twice and standing over the top of her.
An officer close to the investigation said they found the video footage of the altercation disturbing.
DPD told FOX 2 that the case was under review by the Wayne County Prosecutor's Office. He could be charged with assault.
Yatooma has denied punching Warren.
"I did not punch her," said Bassam Yatooma. "She spit in my face - and my mother and father not even a year ago, died two months apart from Covid, so I'm paranoid. When she spit in my face, I grabbed her by her collar and took her to the ground to avoid getting spit on again."
FOX 2: "The video (shows) she's bleeding profusely from her mouth, how does that happen if you just (grabbed) her?"
"I grabbed her and she was bleeding, I was shocked myself she was bleeding," Yatooma said. "I didn't mean or intend for any of that to happen."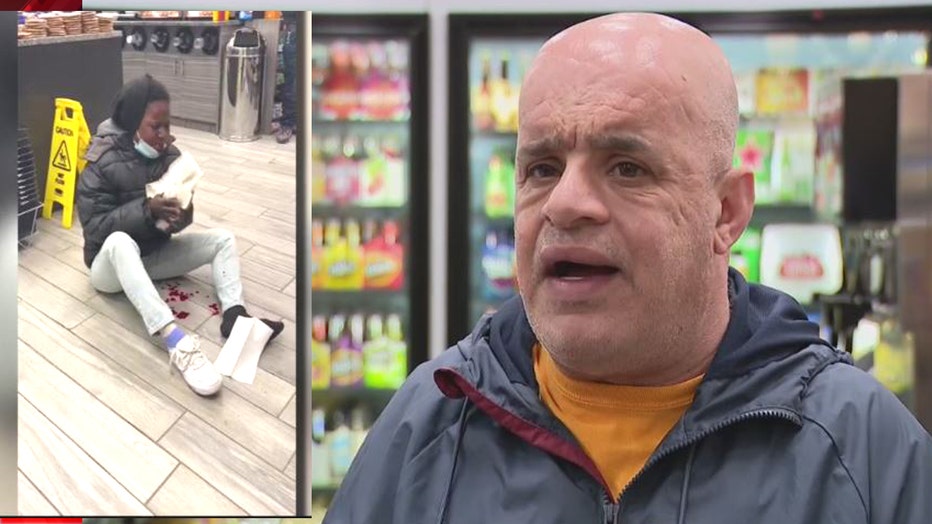 Inset: Andrea Warren; store co-owner Bassam Yatooma.
Video of the aftermath spread across social media sparking outrage and calls for a boycott of the store. Numerous community organizers and activists gathered outside of it Tuesday demanding justice, including Warren and family relatives. 
The store closed early on Tuesday as a result and remained that way Wednesday.
According to the city of Detroit, the liquor store does not have a certificate of compliance or a cigarette license. The building and safety department will be issuing tickets for those violations. 
FOX 2 contacted the Yatooma family Wednesday and they declined to comment until Friday when they say there will be a counter-protest in support of their business.