Detroit's poor air quality could be worsening the city's COVID-19 outbreak
DETROIT - Theresa Landrum was on her way to Gleaners Food Bank on April 9 when she got a call. It was a friend who had just gotten back from two funerals - a mom and her daughter who had both died from COVID-19 related illnesses.
It's not the only person she knows has been affected by the pandemic. Her brother's wife had been infected. Her niece's aunt and another friend had been diagnosed with COVID-19. Another friend was sent into kidney failure after contracting the virus. 
There are the two Detroit lawmakers that Landrum knows who caught COVID-19 - Rep. Tyrone Carter who was diagnosed with the disease on March 26 and has said he's "physically fine," and Rep. Isaac Robinson who died from a suspected coronavirus infection on March 29.
"We're seeing death every day," Landrum said. "In the black community, we're seeing and hearing death every day."
Apart from the exposure to the coronavirus that binds all of these neighbors, friends, and family members together is another silent affliction wreaking havoc on the lungs of Detroit's most vulnerable populace: the city's air quality.
Landrum has been a longtime critic of the government and industry levers that have placed the state's poorest residents in the crosshairs of constant air pollution. As a resident zip code 48217 - Michigan's most polluted zip code - she's dealt with it her whole life.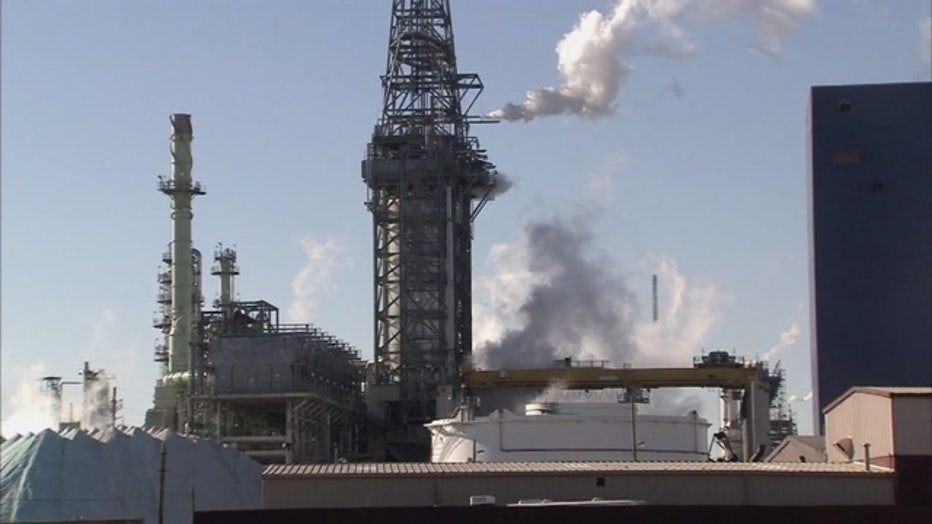 Over the years, the effects of chemicals that have polluted Detroit's air quality, like Ozone, nitrogen oxide, sulfur dioxide, and carbon dioxide, have been studied individually. However, the cumulative risk that multiple exposures to multiple chemicals at the same time isn't as well understood.
"Isn't that a danger? It's not like one negates the other," Landrum said. "So when you have a community full of vulnerable people with asthma, diabetes, lupus, things attributed to pollution, you're going to have serious health impacts."
So what happens when a viral pandemic with no vaccine, outbreaks in that community? Detroit might be finding out the hard way.
RELATED: Detroit Health Department heatmap shows coronavirus hotspots in city
"There's evidence that people who get COVID and have those conditions experience much greater severity and are much more likely to be hospitalized and much more likely to die," said Amy Schulz, a University of Michigan professor who has monitored Detroit's air quality through years. "As we've been putting together the pieces of this puzzle, that's the story that's beginning to emerge."
There's a lot of reasons Detroit's population is more at risk than other demographics. Many residents work in occupational roles like the service, manufacturing or transportation industry and are potentially more likely to be exposed to the virus. Households with lower incomes must make more trips to grocery stores to pick up foods because they lack the resources to buy in bulk.
There's also the issue of access to clean water. Many homes didn't have their water turned on prior to Michigan's COVID-19 outbreak, which may have inhibited residents from washing their hands enough. Shortly following the city's first cases, Detroit Mayor Mike Duggan said the water department would start turning resident's water back on for $25 a month. 
"If you overlay all those factors that can increase risk of exposure to COVID with pre-existing conditions that increase severity of disease once people are exposed, the combined effects create a double jeopardy for people residing in some Detroit communities," said Schulz.
The health effects of Detroit's air pollution are well documented. The Community Action to Promote Healthy Environments (CA-PHE) reports the harmful chemicals put out by factories and vehicles in the city's air has contributed to 554 deaths, almost 65,000 lost workdays, more than 10,000 fewer years of life, and hundreds of thousands of exacerbated asthma cases annually.
It's tricky to determine what kind of impact air quality would have on Detroit's COVID-19 outbreak as the virus's introduction onto the global stage has been fast and research doesn't move as quickly. For insight, public officials have looked at other countries already reeling from the pandemic's impact.
RELATED: One month since Michigan's first case, a glimmer of hope in COVID-19 fight emerges
"What we can do is look at Italy," said Sean Hammond, policy director for the Michigan Environmental Council. "Based on people tested and confirmed deaths, it's significantly worse in heavy manufacturing regions. As we go forward, you'll see pockets of this in most of the manufacturing areas around the state, country, and world."
"This is the result of systematic pollution in poor communities," he added.
One of the first national studies looking at the association between COVID-19 and air pollution found that small increases in fine particulate matter - a form of air pollution - are associated with a 15% increase in the COVID-19 death rate, 
Currently, Wayne County is above the federal standard set for ozone and sulfur dioxide, two air pollutants associated with asthma and other respiratory disorders. Charts using data tabulated by the Michigan Air Reporting System (MAERS) from 1999-2014 show emissions from power plants, vehicle exhausts, and airplanes were abundant in Wayne County's air - the same pollutants known to aggravate lung and heart diseases. Wayne County also has the highest concentration of facilities in Southeast Michigan that emit more than one ton of the same chemicals every year.
Meanwhile, as of April 14, the city of Detroit and Wayne County have reported 11,648 cases and 760 deaths, near half of the state's total for both. African Americans make up 33% of all cases and 39% of all deaths, despite making up only 14% of the state's total population.
RELATED: Detroit and Wayne Co. make up half of Michigan's coronavirus cases – here's why it's the epicenter
The disparity has prompted Lt. Gov. Garlin Gilchrist to oversee a task force to investigate the reasons widening the gap. 
Ironically, much of the coverage looking at the environmental effects of COVID-19's outbreak have assessed how air pollution has declined around the world. Fewer cars on the road means metro Detroit residents are breathing cleaner air these days. 
But a lifetime of breathing in dirty air has made it harder for many Detroit residents to mitigate some of the worst symptoms of COVID-19.
"So the vulnerable communities like mine and black and brown communities across the U.S. are going to have more health impacts and more people are going to die because their body cannot fight off (the virus)," Landrum said. "It's already been weakened by chemicals they have been exposed to for years."
Jack Nissen is a reporter at FOX 2 Detroit. You can contact him at (248) 552-5269 or at Jack.Nissen@foxtv.com