Detroit's violent weekend: several dead, dozens hurt in shootings across city
DETROIT (FOX 2) - Detroit Police Chief James White held an update on Monday after a violent weekend in the city that ended with two people dead and dozens hurt dating back to last Thursday.
White called a 2 p.m. press update from Downtown and was joined by Mayor Mike Duggan as they addressed six shootings, five of which happened in Greektown on the riverwalk.
Calling the work by Detroit officers 'remarkable, Duggan said the attitude downtown was mostly joyful. But then things all changed as the day went on. Duggan said he can't understand why Greektown has been selected as the location for where arguments are being settled.
"From the standpoint of the loss of life, it was tragic. Our hearts go out to every one of the victims," he said. "You shoot a gun in Greektown – with police, cameras, and citizens – it's virtually 100% that you'll be arrested and serve a great number of years in prison."

White said that the police department will change strategies by implementing summer deployment now, which will increase the number of officers on the street and will focus on curfew enforcement, open containers, and noise levels, among other issues.
"People want to enjoy the city, have a good time, and they don't want to be involved in these types of incidents," White said.
The violence started before the weekend when police were investigating a shootout between neighbors last Thursday when the wrong delivery for a pizza order ended in five gunshot victims.
RELATED: Pizza delivered to wrong Detroit house leads to shootout that injured 5, including 2 teens
Over the weekend, there were six more shootings that left at least two people dead. 
One of them was a security guard at a Greektown store. According to Chief White, a dispute over someone cutting another person in line escalated before the guard was killed.
"Officers were in front of the location and on the corner. An officer walks by as the conversation between the suspect, girlfriend, citizen, and (the security guard) was happening. There was no confrontation or argument. The suspect pulls a small caliber weapon, fires a shot to his chest, unprovoked," White said.
The guard walked back into the business where he collapsed and ultimately died.
Duggan described the video as shocking, saying there was no explanation for what happened.
"To see the video of a man standing calmly on the street and to see someone walk up and just shoot him in the chest and kill him. No explanation for it," he said.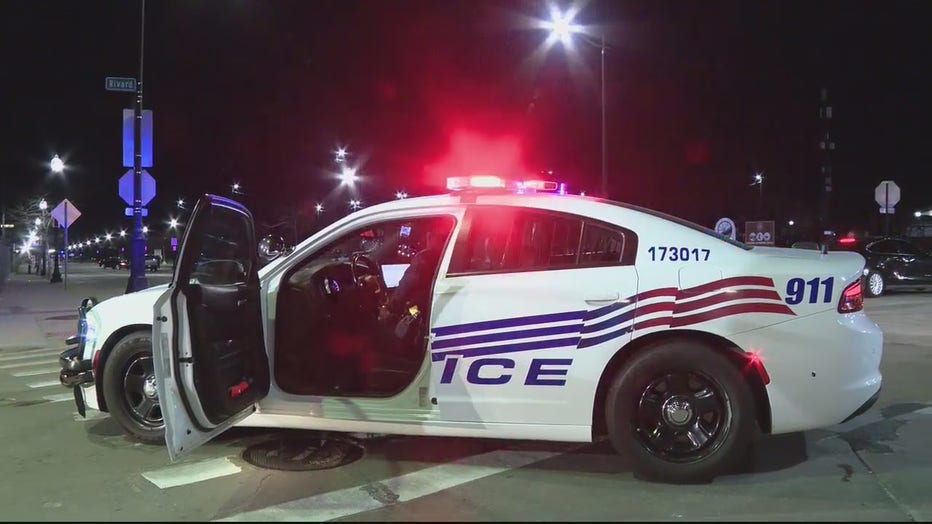 White warned parents not to drop off children under the age of 15 downtown unless they're staying with them. That's one of many things they'll be enforcing downtown as they work to curb the violence – not because the children are doing anything wrong but so it will keep them out of harms way.
"We've got a very detailed strategy, without giving it away, and I'm very confident that Detroit will be a very welcoming downtown area," White said.
On Friday night, four people were shot and one person died. The suspect in that shooting was eventually struck by police after pointing a gun at them. He was arrested and taken to the hospital a short time later. 
White said the incident was tied to a dispute about someone cutting in line. The suspect was arrested immediately.
"You've got cameras all around here, we've got the eagle eye in the sky on this area - so we're literally seeing all the movement down here," he said.
The violence prompted police to order a curfew for downtown Detroit, requiring minors 15 years and younger to be accompanied by an adult or be off the streets by 10 p.m. Saturday. Minors ages 16 and 17 had until 11 p.m.
'We ask you not to bring a weapon'
Before the weekend had even begun, Detroit police had asked people to avoid bringing firearms to the city's downtown area.
Anticipating a busy nightlife as temperatures rose to their warmest of the year, DPD Commander Melissa Gardner said there would be 100 officers strategically placed to help maintain peace. "Most of the venues downtown, we don't allow weapons. We ask you not bring a weapon. We do not find a weapon secured in a vehicle as truly secure," she said.
Those requests went unheeded as police said they'd be enforcing a curfew downtown after a quadruple shooting Friday night. 
While in the area of Randolph and Monroe in Greektown, Detroit police heard gunshots from a nearby parking structure before observing people fleeing the area.
Three people had been shot, police learned, before they spotted the suspect who was armed with a handgun and pursued him. After the suspect pointed the gun at them and tried fleeing in a car driven by another sedan, police fired a single shot and struck him.
Later, the wounded suspect was located at a local hospital and taken into custody.