Felon accused of posing as therapist at Michigan autism treatment center ordered to trial
OAKLAND COUNTY, Mich. (Fox 2) - An Oakland County woman with a felony record who is accused of faking her credentials to work as a therapist for children with autism is headed to trial.
Kimberly Casey Coden-Diskin is accused of lying about her education and certifications to get a job at Oxford Recovery Center in Brighton in 2018. Her existing criminal record includes identity theft and larceny from a building.
Authorities said she was never licensed by the State of Michigan. She used professional business cards, verbal statements, and written documents to pose as a licensed medical professional. She also presented university degrees that she is alleged not to have earned and utilized the certification number of another state-certified therapist. That doctor said that Coden-Diskin has used her number three times, and records confirmed this.
A FOX 2 story about Coden-Diskin posing as a Board Certified Behavioral Analyst led Michigan Attorney General Dana Nessel to investigate.
"Regrettably, employers can't always rely upon what an applicant may represent to them. In many cases, due diligence requires verification of legally necessary qualifications," Nessel said. "When circumstances arise that someone misrepresents themselves as a medical professional, my office stands ready to intervene." 
Coden-Diskin was charged with sixteen counts of unauthorized practice of a health profession and two counts of identity theft. She was also charged with one count of witness intimidation for her alleged communications with a witness in the original case.
READ: Woman running autism programs is convicted felon, has fake credentials
What happened
Kim Harden sent her 10-year-old daughter, Kennedy, to the Oxford Recovery Center in Brighton. She had been making great progress through a specialized therapy but she suddenly began to regress. Then Kim learned she wasn't the only parent of a child with this issue. And then it got worse.
Leaving your child in the care of someone else is hard enough. Now imagine your child is non-verbal and needs a specialized therapy program.
"Not being able to communicate with me, it scared me to send her away somewhere and not know what her day is like - and what was going on," Kim said.
When Kennedy came home upset with unexplained injuries, Kim's fears became a reality.
The woman who ran the program, Casey Diskin, was a convicted felon and a fraud who had stolen medical credentials of another certified behavioral analyst for years.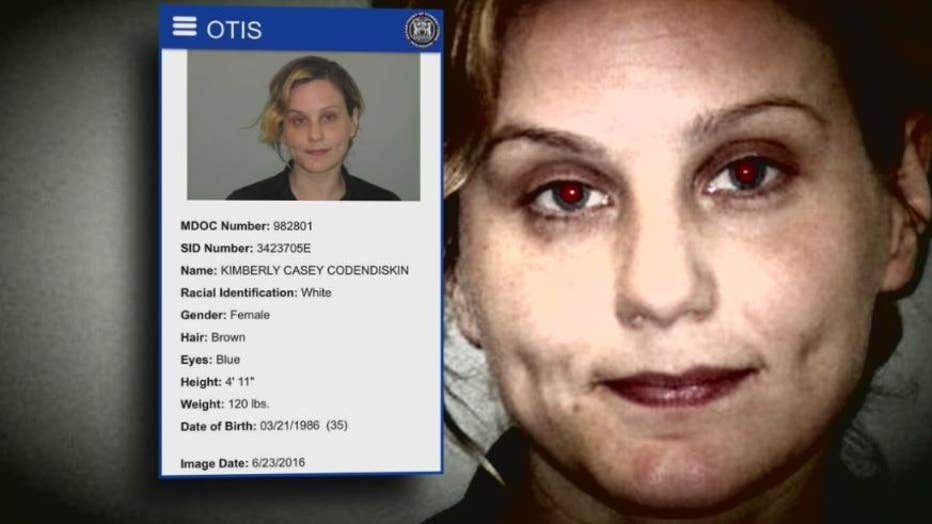 Kim admits she's always been overprotective of Kennedy, who was first diagnosed with autism around 18 months.
"She is pretty severe. She just recently was potty trained - within the last year. The communication's not there - she's non-verbal," Kim said.
In the beginning, Kennedy's therapy was done in the comfort of her own home using Applied Behavioral Analysis (ABA) therapy. A Board Certified Behavioral Analyst (BCBA) assesses children with severe autism and uses science in an individualized way to improve behavior, communication, learning, and social skills.
And it was working.
"It was going well. She was able to start reciting her name, her address, her age, family members, so we thought this was perfect," Kim said.
It was going so well, the Harden family reached out to Oxford Recovery Center in Brighton, which offers specialized testing and therapy that could further her progress.
That was a decision she's come to regret.
"I get several calls from Casey Diskin who introduces herself as the director of the arts program certified as a BCBA, who studied over in Australia," Kim said.
Diskin gave them a business card that said she was the director of ABA and a BCBA. It was listed on her bio with countless health facilities that focus on autism. She was even featured in a video on the center's website with the founder and CEO, Tami Patterson, where she described her techniques.
But Kim learned Diskin is not a Board Certified Behavioral Analyst. She says Diskin isn't qualified at all. In fact, she said she found out she was using someone else's credentials - a BCBA named Dr. Kimberly Peck.
We caught up with Dr. Peck who said this isn't the first time she's used her information.
"This is her third job using my certification number. I have reported it a number of times to multiple regulatory (bodies) in the state of Michigan and other agencies to the point my certification board has reassigned me a new number," Dr. Peck said.
Dr. Peck is a Board Certified Behavioral Analyst at the doctorate level and a licensed behavioral analyst. She first learned of the identity theft when a medical facility contacted her years ago.
She said Diskin used the name Kimberly Coden and submitted her certification number to apply for a job.
"The story she tells Kimberly Peck is her maiden name - from a messy divorce or something to that effect," Dr. Peck said.
Even though she used Peck's information, she didn't that job. But in 2015, she used it again, this time using her National Provider Identifier (NPI) that allows her to bill insurance companies. Diskin started her own health care organization called Children's Alliance of Metro Detroit.
It was based in downtown Detroit at the Madison building. FOX 2 learned that she doesn't live there anymore and was kicked out because she was running the business and charging insurance companies from her home.
Records show she worked at multiple health providers that focus on autism and did so using Peck's certification number, NPI, and a fake license number. One of those locations was Centria Autism in Novi, which acknowledged she worked there for 90 days but they were unaware.
"If you don't know what you are doing and assessing those things - even from the jump it can be so dangerous. I just can't express enough how concerning it is that someone would feel so empowered to do this," Dr. Peck said.
Even more disturbing is that Diskin, who has worked with the most vulnerable children, is a convicted felon. She's listed as Kimberly Casey Coden Diskin and convicted of two cases of identity theft and larceny from a building.
Police reports from West Bloomfield Township detail that she stole thousands of dollars and credit cards from her mother's cousin. Then she did the same to her mother-in-law and stole jewelry and then her identity to open credit cards and access her bank account a year later.
Court records show that her family convinced Diskin to commit herself to a psychiatric hospital. She pleaded no contest to the charges, spent a day in jail, and then two years on probation.
"I guess the biggest question I have - what is it going to take, for someone to take this seriously," Dr. Peck said.
For years, Dr. Peck has been dealing with her stolen credentials and says it's been reported to the state, Diskin's parole agent, and the BACB, the national board that issues certifications.
Diskin's name is listed on the board website that she's falsified her credentials.
Despite all of that, she was still able to land a job at Oxford Recovery Center in 2018.
FOX 2 went to Oxford Recovery Center to find out more. We saw Diskin arriving to start her day but it's what's behind the closed doors that is concerning, including the resignation of several employees including medical director Dr. Christian Bogner.
The center, which is in the process of building a new autism center in Brighton, knew of Diskin's past. CEO Tami Peterson confirmed that in an email she sent to FOX 2's Taryn Asher: "We are aware of Ms. Diskin's past. As an organization founded by Christians, we believe in forgiveness and redemption."
She also said Diskin was "an exemplary employee since she was hired."
Even though she's not certified, Diskin created and directs Oxford's autism services ARTS programs, an integrative approach the center claims can lead to recovery.  
Kim Harden said Diskin convinced her that it was the best treatment for her non-verbal daughter. But Kim noticed a major change in the wrong direction.
"When I sent her there she was happy, she was smiling all of the time. When we left there, she can't even hear their names," Kim said.
Kim said Kennedy did well at first. But in February 2020, she came home with bruises and marks on her body. Through the pandemic, Oxford's services continued, but Kennedy was regressing.
Kim reached out to autism support groups and learned about Diskin's criminal past and falsified credentials.
"So I am panicking - completely panicking," Kim said.
Harden learned she wasn't alone and that several families had the same concerns. Those families also had non-verbal children who came home with the same marks and bruises. They also believed that Diskin, who created the autism programs and was expected to help their children, was a fraud.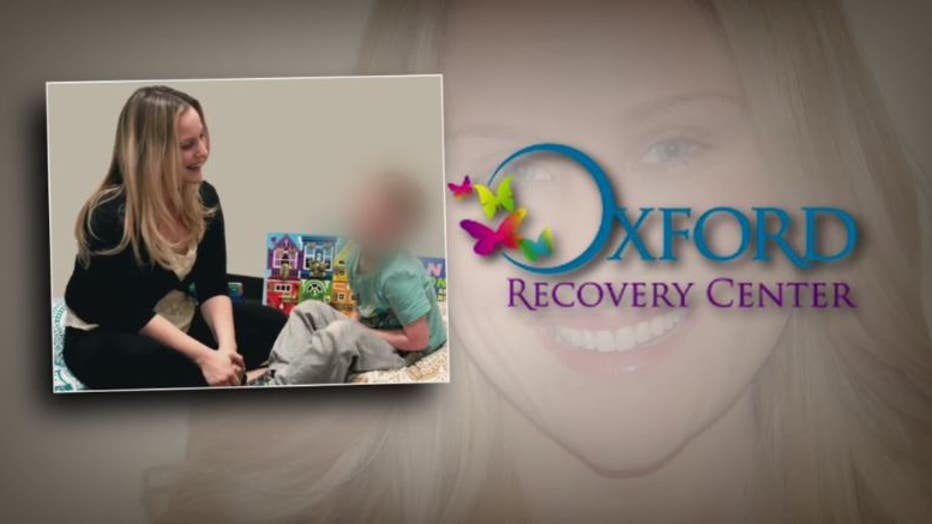 "I trusted these people, and she is not who she claimed to be. And I don't know what type of interventions were taken on my daughter because I don't know her training now. I mean, I don't know," Kim said.
In 2020, several concerned parents went to Michigan State Police and filed their complaints.  FOX 2 obtained the police reports that claimed mistreatment of their children. Investigators spoke with an Oxford employee, child abuse expert, and the only verbal child who described being locked in a 'calm down room' and put in a four-point restraint for more than three hours.
MSP also interviewed Peterson who claimed the allegations were false, especially because it wasn't caught on their surveillance cameras. We asked MSP about the investigation and Lt. Erik Darling told FOX 2, they could not establish a crime occurred.
When FOX 2 went to Oxford Recovery Center, we were told to make an appointment to discuss the allegations - which we had tried to do on multiple occasions.
There is more about what's happening inside the center. Sources in Oxford's billing department said Diskin would write assessments for children, which she's not legally qualified to do. The sources said she would use the names and certification numbers of other behavioral analysts or doctors needed to bill insurance companies, even when they billed clients for cash.
The licensed professionals, who didn't want to be identified because they already have another job or were afraid of retaliation, said they were not aware their names were being used to bill insurance companies or clients.
Ned Cook, who works in marketing at Oxford, was shown some of the documents.
"One of the things I see from what you just showed me is, yes, we were aware in the past she may have done ... falsified the license. But since she's been here she's not done that.," he said.
Peterson responded via email and called the accusations false. She claimed Diskin has never engaged in improper billing and, although she is on video with Peterson and talking about creating programs and working directly with children, Peterson claims Diskin's position was only managerial and administrative - which doesn't require a license.
"I think it is unethical at the least, terrifying for people like Ms. Harden as you have seen because people are going to her in desperate situations. Parents are seeking behavioral treatment for their children, trust where they are going - and it can lead to dangerous consequences if people are not properly trained and not using evidence-based, safe practices," Dr. Peck said.