Fleeing suspect tried disguising himself as Walmart worker, state police say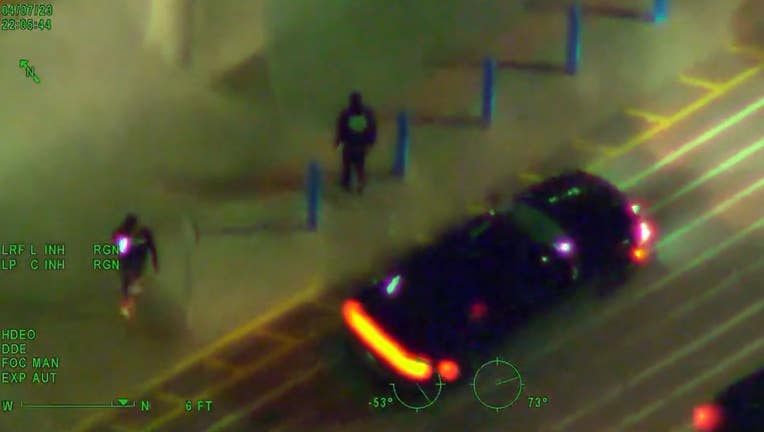 article
DEARBORN, Mich. (FOX 2) - The pursuit of a reckless driver lasted almost an hour before concluding at a Dearborn Walmart where the suspect attempted to disguise himself as an employee.
He was eventually arrested after trying to flee the building, according to state police.
In a thread posted online, Michigan State Police said a vehicle that would later be identified as stolen was observed driving dangerously at a high rate of speed on some Metro Detroit freeways. 
MSP's helicopter unit spotted the Dodge Charger traveling before pointing them out to a patrol vehicle. Multiple attempts were made to pull the vehicle over, which instead ignored the traffic stop requests and fled. 
The helicopter followed the suspect vehicle all over Wayne County for 45 minutes before a police sergeant was able to get a reading on the suspect vehicle's plate when it slowed down for congestion. 
That's when police learned the vehicle was stolen. 
MORE: Detroit Police: Man found deceased with possible gunshot wounds Easter Sunday
The helicopter eventually followed the vehicle to the Walmart on Ford Road and Mercury Drive in Dearborn. According to police, the suspect fled inside and "attempted to disguise himself as a Walmart worker."
Police found the suspect in the stockroom, which prompted him to try and flee again. He was taken into custody at the front door. 
MSP said the suspect was a 20-year-old male from Redford Township. 
"This suspect pretty much checked all the boxes for what we have been seeing lately." said First Lt. Mike Shaw. "Reckless driving, failing to stop for police and having a stolen car. But again you can't outrun a helicopter, so now he is in jail."
Charges are currently being reviewed by the county prosecutor.