Watch: Gov. Whitmer announces plan to roll out COVID-19 vaccine in Michigan
SOUTHFIELD, Mich. (FOX 2) - As Michigan's COVID-19 cases have started to plateau after the spike in mid-November, Gov. Gretchen Whitmer announced she would speak for the second time this week about COVID-19 in the state and announced the plan to roll out the COVID-19 vaccine, once it is approved and distributed to states.
The governor announced a 1 p.m. press conference set for Thursday and was joined by Michigan Department of Health and Human Services (MDHHS) Chief Medical Executive Dr. Joneigh Khaldun.
Whitmer announced a bipartisan commission within the MDHHS to raise awareness of safety and effectiveness of the vaccine. The state laid out the plan for vaccine distribution on Dec. 1, saying that hospital workers and other essential workers will be the first to be vaccinated.
"Right now, we are on the brink of great breakthroughs when it comes to a safe and effective COVID-19 vaccine, and we must begin to educate Michiganders about how important it is that we all get vaccinated so we can eradicate this virus once and for all. That's what the Protect Michigan Commission is all about," said Governor Whitmer. "This bipartisan group of leaders is uniquely equipped to help reinforce the importance of everyone getting vaccinated. Until we eliminate COVID-19 once and for all, we must continue to wear masks, practice safe social distancing, and wash hands frequently. Let's all continue to do our part." 
The commission will be chaired by Lt. Gov. Garlin Gilchrist, Former Lieutenant Governor Brian Calley; Chief Medical Executive and DHHS Chief Deputy for Health Dr. Joneigh Khaldun; Detroit Pistons player Blake Griffin; Dr. Mona Hanna-Attisha, MD, MPH, FAAP, Associate Professor of Pediatrics and C.S. Mott Endowed Professor of Public Health; SER Metro CEO Eva Dewaelsche; Soumit Pendharkar, MHA, FACHE, Health Administrator for the Grand Traverse Band of Ottawa and Chippewa Indians; Spectrum Health President & CEO Tina Freese-Decker; and Jamie Brown, Registered Nurse and President of the Michigan Nurses Association. 
This was the second time Whitmer and Khaldun spoke this week. On Monday, Whitmer announced the state's health department was extending the pause for another 12 days.
The MDHHS gave their weekly data update on Wednesday and said health officials have "cautious optimism" about the state of the pandemic right now.
Dr. Sarah Lyon-Callo, the Director of the Bureau of Epidemiology and Population Health, said officials are starting to see a decline in case rates across the state and a plateau in hospitalizations. But she said the percent positive rate is concerning because it's going up and the number of tests is going down, which indicates we may not be catching all of the virus that's out there.
In the past week, the average number of cases has fallen from 610 cases per million to 514 per million. Additionally, there are some declines in hospitalizations and we're still far from our peak in the spring at 90%.
Whitmer and Khaldun said on Monday we won't know the full scope of how Thanksgiving traveling impacted the virus until two to three weeks after the holiday.
Whitmer and the MDHHS announced that the three-week pause, which was previously set to end on Wednesday, Dec. 9, will be extended until December 20 to restrict indoor gatherings and other group activities. At the end of day 12, Whitmer said the state would proceed on a 'pathway to cautious reengagement.
On Wednesday, the MDHHS released new data about the progress of trying to slow the spread of COVID-19 over the past few weeks.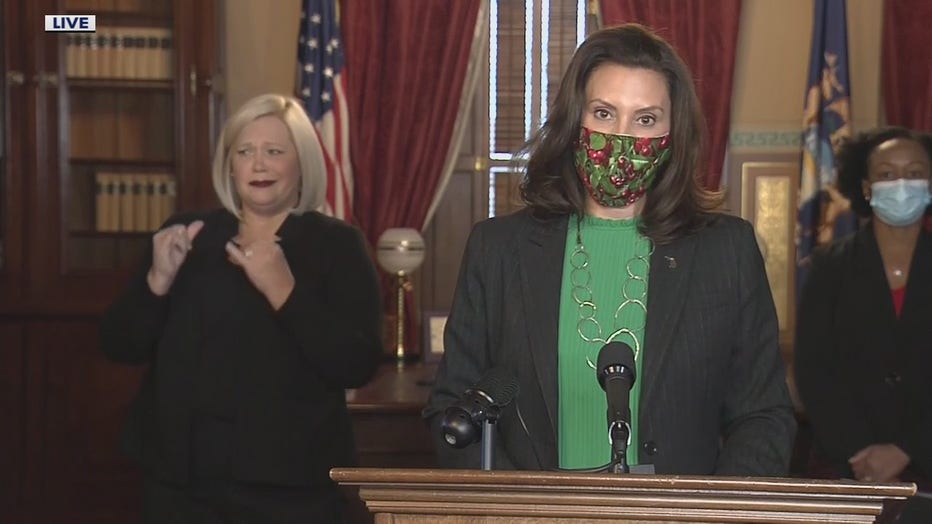 Michigan Gov. Gretchen Whitmer gives an update on COVID-19 from Lansing on Thursday, Dec. 10, 2020.
Under the order, the closures will continue through December 20 and the order does not include a blanket stay-home order that was in place in the spring. Employees who work jobs that must be performed in person can still go to work. Outdoor gatherings, dining, and parks are still open, as are other individualized activities like working out at a gym. 
Whitmer said the extension announced was due to large amount of Americans who traveled over Thanksgiving weekend.
Under the original three-week pause, implemented on November 18, the Michigan Department of Health and Human Services announced restrictions to try to slow COVID-19. This order is coming from the health department, which has issued all orders since the state Supreme Court ruled Whitmer did not have the authority to do so.