Highland Park activist 'Mama Shu' up for $100K in 2023 CNN Hero of the Year award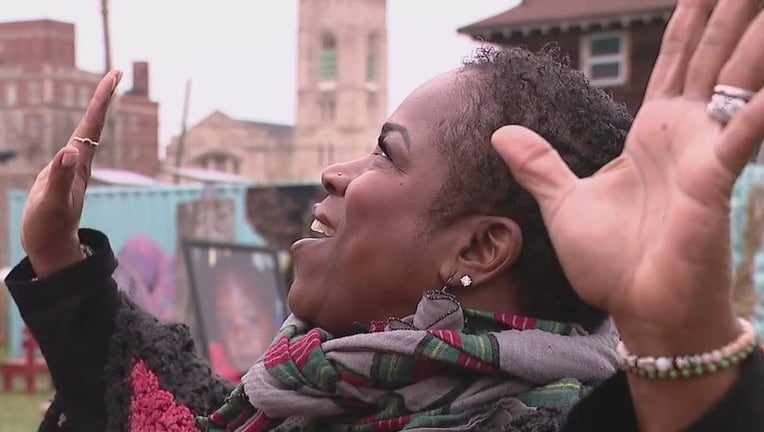 article
HIGHLAND PARK, Mich. (FOX 2) - After several hardships and years of giving back to her community, a Highland Park activist has been named one of the Top 10 CNN Heroes.
Shamayim Harris, better known as Mama Shu, is the founder and CEO of Avalon Village and The Homework House in Highland Park.
She said receiving this recognition makes her feel "totally elated," and honored for an opportunity to show more people "how you can actually transform blight to beauty."
After the tragic hit-and-run death of her 2-year-old son Jakobi in 2007, Mama Shu took action to transform her struggling neighborhood. Purchasing 45 surrounding lots of land, she created The Avalon Village – a sustainable eco-village that provides its residents with resources, youth programming, gardens, small business support, activities and more. 
In 2021, tragedy struck again. Mama Shu's 23-year-old son, Chinyelu Humphrey, was shot and killed in front of their home. Despite her providing an eyewitness account, no arrests have been made in connection with the murder.
"Working on Avalon Village has been really healing," Mama Shu said. "When Chinyelu got killed I had considered – like you know, what I'm just so tired of this. …I just remembered how the vision years and years ago was set on my heart."
Now, she needs the public's vote to win the 2023 CNN Hero of the Year award and secure an additional $100,000 for her community. 
The prize money would aid Avalon Village in expanding the activities section of The Homework House. Originally scheduled for demolition, this house was transformed by Mama Shu and volunteers into a safe place for children to do their homework after school.
"Everybody's rooting for us. Everybody is voting and voting and voting," Mama Shu said. "They want us to win the $100,000 prize so that I can add to my work."
To vote for Mama Shu and Avalon Village, click here. You can vote every day through Dec. 5.
To further support the community, a GoFundMe account has been organized by the Avalon Village team.