Life-saving rescue of electrocuted boy by Warren police officers: 'I gotta get him'
WARREN, Mich. (FOX 2) - Two children come into contact with a live wire in Warren - one of them seriously hurt. The officers who saved an 8-year-old's life last year, were honored for their valor today.
The police officers rushed in, close to a live wire to save the child. The boy may not be alive today if they didn't put their own lives on the line. New video released by Warren police shows the dramatic moment officers dragged the boy from the charged line.
On Wednesday Corp. Det. Daniel Rose and Officer David Chapman were honored with the Valor Award for their heroism.
"Okay bud," Rose says to the boy who is breathing - but labored. "What's your name? I'm with you buddy."
The officers that responded to the scene found the 8-year-old clinging to a wire. They then jumped into the police vehicle and rushed to the hospital.
"Luckily we were there already for a prior incident," said Corp, Det. Daniel Rose. "And when you heard them call 'Priority' and I turned the corner and I saw the boy laying there. I don't know what goes through your mind. Having kids, and you just get scared, and you have to react."
Rose and Officer David Chapman were honored with the Valor Award for their heroism.
"We, don't know what we're going into, we just know that we have to do something," Chapman said. "If we don't, nothing gets done."
Rose can be heard talking to the boy riding in the back of a squad car cradling that terrified 8 year old child in agony.
"Severe burns to his hands." Rose says on the bodycam.
The boy can be heard screaming as he regains consciousness.
"I know, I know brother, we're going to the hospital," he says.
They rushed him to the hospital in the back of a squad vehicle - getting him there in four minutes flat. They worked collaboratively to load the child in, with units blocking traffic on their route, to save the child's life.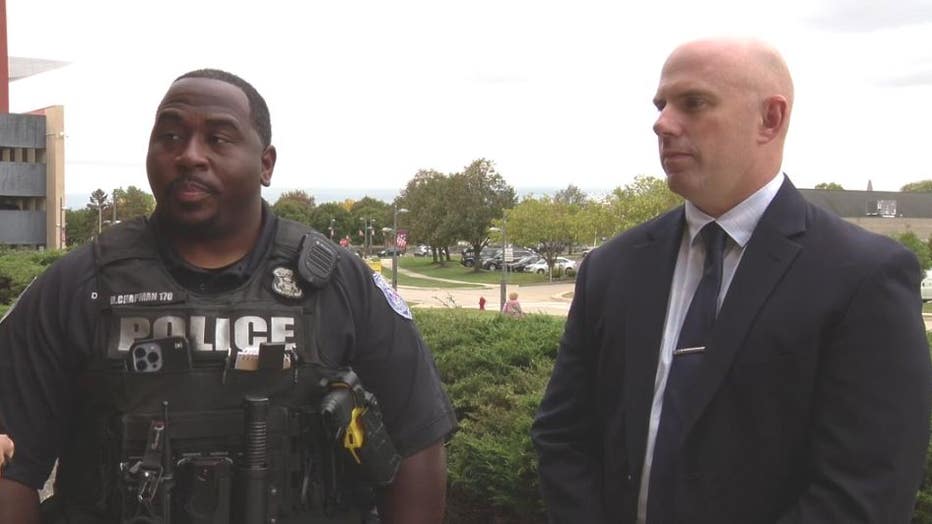 Warren Police Officer David Chapman and Corp. Det. Daniel Rose
"It's not only writing tickets, it's not going to actual crimes, it's serving the public - making sure people are safe," Rose said. "That, in essence, wasn't a police matter but the police were there - and thank goodness we were able to react and save a life. and that's the stuff that happens every day that people don't know about."
Related: 2 children hospitalized after touching downed wire at school playground in Warren
Police video shows the boy's crying 10-year-old brother who was comforted by Officer Chapman as all of them hoped for the best outcome.
"When I picked him up first and brought him over he was shaking, you could feel him shaking," Chapman said. "And that was when I went back under, or over, and that's when I see him and me and him,  we went over and brought the other one back out."
All of it begins with these officers running toward danger - thinking not of themselves - but of the people they serve.