"It's going to be a tough winter," Whitmer enacts new restrictions for 3 weeks in Michigan
SOUTHFIELD, Mich. (FOX 2) - As Michigan faces its toughest test amid COVID-19's skyrocketing resurgence, Gov. Gretchen Whitmer delivered a return to statewide restrictions more like what residents bore through earlier during the pandemic.
With a more intentional and guided plan for restrictions, indoor gatherings, restaurant operations, in-person learning school, and organized sports will all experience some kind of policy change for the next three weeks.
The laws were enacted by the Michigan Department of Health and Human Services, whose director said it could enforce the new regulations based on what the state legislature passed during the Spanish flu pandemic a century ago
"We cannot control the fact we're seeing a surge in cases, we can control how we combat our common enemy," said Whitmer during a virtual Sunday night press conference held in Lansing.
Beginning Nov. 18 at 12:01 a.m., indoor gatherings will be limited to 10 people, and small outdoor gatherings will be limited to 25 people. The order will last until Dec. 9. Among Michigan's record-increase in new cases, health officials like Chief Medical Executive Dr. Joneigh Khaldun said crowds of small and medium sizes were among the primary factors driving the spike.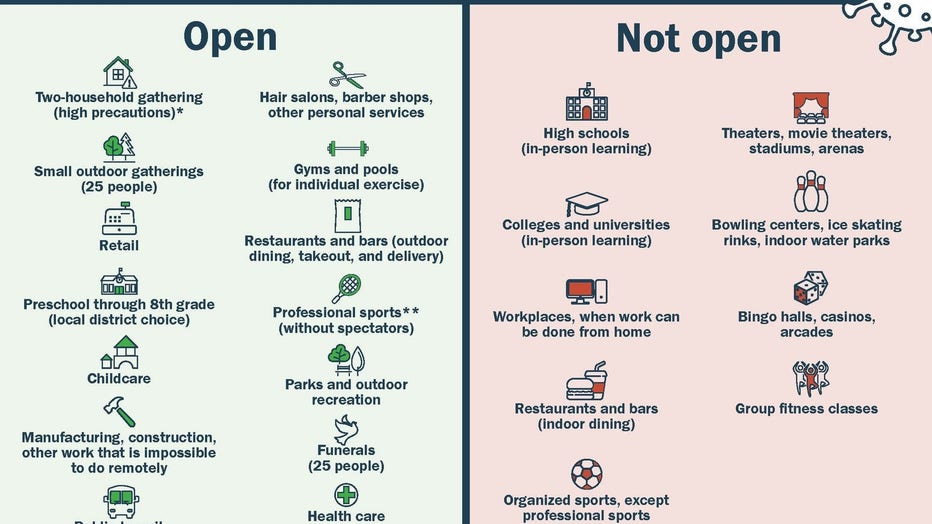 The Michigan health department's newest set of restrictions for the state.
With Thanksgiving right around the corner, the timing could not be worse, Whitmer and Khaldun have mentioned in recent days. While strongly recommending people avoid travel for the holiday, the governor and Director Robert Gordon both said gatherings could be limited to include one additional household for any holiday visits.
Equally pointed were the new restrictions on schools. While in-person learning for grades kindergarten through 8th grade will remain, it will be suspended for high schools. Khaldun said the nuance of the rule is due to more than half of the outbreaks identified by the state at educational centers that were linked to high school students. Two-thirds of the cases in those outbreaks were also among high school students.
RELATED: Whitmer administration issues new restrictions to slow spread of COVID-19
"The thing is, this is preventable," Khaldun said. "That is what gives me hope. There are concrete things we can do it."
Concerns over Michigan's coronavirus spread were amplified over the past week after several daily COVID-19 reports broke single-day records. Hospital CEOs also sounded the alarm on Thursday when leaders from Beaumont, Henry Ford Health Systems, Spectrum, and several other health systems voiced worry about a near capacity for beds and staff.
As the numbers stand, Michigan has reported 251,813 total cases and 7,994 total deaths. Over the past seven days, more than 44,000 people tested positive, while another 416 died. 
Across the state, 512 cases per million were being confirmed, for a positivity rate of 12.5%. The positivity rate was lowest in the Traverse City range and highest in the Upper Peninsula. 
Khaldun also mentioned a health model that estimated if the state kept on this track, it could report an additional 20,000 deaths by Feb. 15, 2021.
RELATED: Michigan health leaders warn of "exponential increase" in COVID-19, sound alarm on hospital capacity
The arrival of new rules also means the end of some high school sports as playoffs arrive for fall competition. Fall tournaments for girls volleyball, girls swimming & dive, and football were all suspended, the Michigan High School Athletic Association said. All winter practices and competitions that were scheduled to begin until the next three weeks were also paused.
"We understand the need for action, and we will explore all options to complete our Fall tournaments when restrictions are lifted. We will assess everything over the next three weeks relative to Fall and Winter sports and come up with a plan that keeps us connected to our goal, for months, of having three seasons that are played to their conclusions," said executive director Mark Uyl.
Among the newest issues that health officials are mitigating that wasn't present during the state's first surge is a staffing shortage. Whereas cases were spiking in isolated spots around the state in March and April, COVID-19 is now spreading indiscriminately across the state. Nurses and doctors are now needed at all hospitals, limited where more can be allocated.
So far, the state is tracking 980 total outbreaks, the bulk associated with long-term care facilities, k-12 schools, manufacturing, health care facilities, bars, and restaurants, as well as social gatherings.
Among the industries likely to see a setback as it struggles to clawback economically is the restaurant sector. All indoor service at eateries and bars will be suspended for three weeks. Outdoor service, as well as delivery and pickup, will still be available. 
In a statement released Sunday evening, the CEO and President of the Restaurant & Lodging Association chastised MDHHS for the move.
RELATED: Michigan Republicans rip state's new COVID-19 orders
"We recognize that there are no easy decisions right now and so we have an appreciation of the challenge before Director Gordon and all Michiganders as we continue to fight against COVID-19," said Justin Winslow. "That said, we are profoundly disappointed by his decision to shutter restaurants or a second time this year - this time with now safety net of federal stimulus dollars to soften the blow to already ailing operators and employees."
Acknowledging that dynamic, Whitmer also directed a plea to the federal government to pass an additional stimulus package to help boost individuals and struggling small businesses.
"I know that the action of my administration today will save lives and will have a positive impact on families and front line workers, and ultimately our small businesses will be impacted," she said. "Through these tough times, we need more leadership at the federal level so we can make it through this winter."
"It's going to be a tough winter."