Michigan State Union reopens as gathering place for students after shooting
EAST LANSING, Mich. (FOX 2) - The Union, one of the buildings where a shooter opened fire at Michigan State University in February, reopened Monday.
Students and faculty were welcomed by therapy dogs as they returned to the building. 
"I live right across from the Union, and I was walking right past the Union when it happened, so it was a very scary moment in my life," freshman Lucas Lynch said. "You just never expect to go through something like that in your life, but there's better days ahead, so it's good that we're kind of getting into a normal phase of things."
Read Next: MSU shooting victim shares emotional story of survival at March For Our Lives rally
Three students were killed and five were hurt in the shooting that took place in both Berkey Hall and the Union. Berkey Hall will remain closed for the rest of 2023.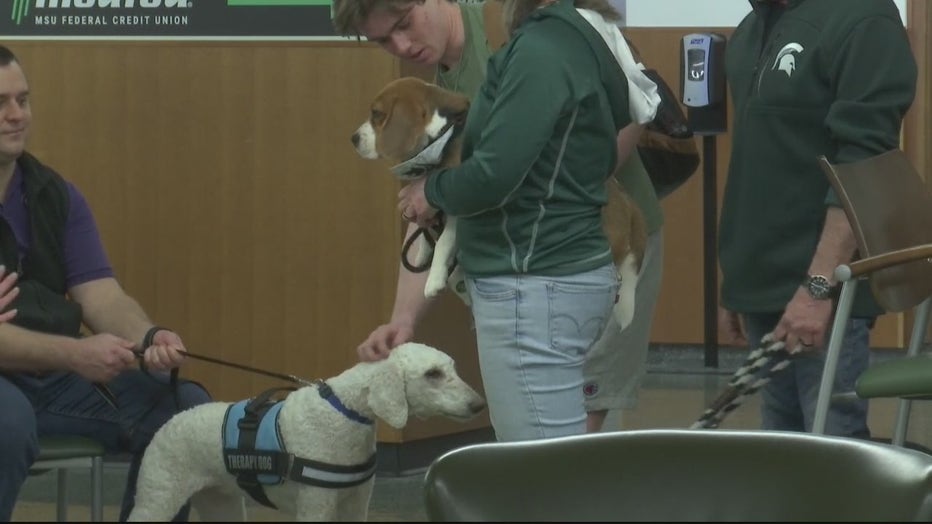 Therapy dogs were at the MSU Union on Monday as the building reopened for the first time since the Feb. 13, 2023 shooting on campus.
"It is kind of an eerie feeling being in here, and even like looking at the cafeteria doors and looking at those and knowing what happened those and what the kids in there went through," freshman Cameron Dunsmore said.
The food court is still closed, but the gathering place is now open.
"Our hope is that students come back to the space when it's right for the. Whether or not that's today, tomorrow, or next semester - we'll stand here ready and willing to welcome them to the doors of the Union, the living room here of campus," MSU spokesperson Dan Olsen said.
Stronger security is in place both at the building and around campus.
"Some of our exterior doors are locked 24 hours a day, seven days a week now," Olsen said. "We also have the building access restriction, so similar to what you're seeing across campus where we restrict access from 6 p.m. to 7:30 a.m., that will be applying here at the Union as well, so after 6 p.m. you'll need keycard access to get into this space."