Morgue worker allegedly stole from deceased's home • Dana Nessel targeted • MSU's security upgrades
THURSDAY NEWS HIT - Police say an employee working for the Wayne County Morgue used his position to stake out potential victims and even had a cover story in the event he got caught.
On February 15th, Huron Township police respond to a break-in, in progress.
"I saw them shoulder shrug the door open, and I called the cops," said neighbor Megan Michaels.
Officers arrested two suspects, Carnell Franklin-Smith and Benjamin Pearce, both from Detroit.
"We were able to see what we perceived as stolen property in plain view in the vehicle." said Chief Everette Robbins.
Robbins, the director of public safety for Huron Township said officers knew it was stolen, because it looked very familiar.
"We recognized that it was house we were at, the day before, for a death investigation," said Robbins.
The day prior, Valentine's Day, police were there, a home at the Huron Estates Mobile Home Park for a death due to natural causes.

That wasn't the only thing that seemed familiar, it turns out Franklin-Smith tells police he was also at this house on Valentine's Day.
"He works for a company that subcontracts with the Wayne County Morgue. That company he is subcontracted to comes in and respectfully removes someone who is deceased, and transports them to the Wayne County Morgue."
Knowing that no one was home, police say he and his accomplice used that to their advantage.
"What more a crime of opportunity, to be able to have access to a home, know the resident is deceased," said Chief Robbins, "interview and talk to the family and ultimately be able to scope out inside the residence, to see what you want to come and take the next day."
"I was wondering how they had heard about it because the cops had told me they didn't live around here," said Michaels.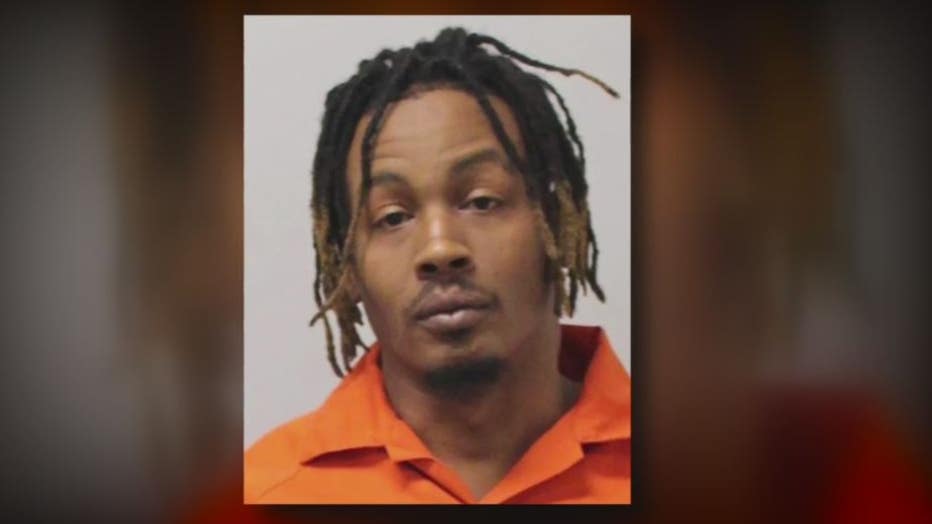 When confronted the two suspects allegedly told police a different story, they owned a business called "No Evidence" and they were there to clean up the house. Police say that simply wasnt true.
"They had no cleaning supplies, there was nothing to indicate he was there to do anything besides break in and steal," Robbins said.
"I watched them take things out of his house and put in their car," Michaels said.
They were arrested for home invasion and weapon charges and appeared before Judge Brian Oakley and then released on a personal bond. But there is concern other victims are out there.
"I would believe this wasn't his first time especially with him coming up with a company that he used to mask what he was doing," Robbins said. "So I have to believe there were other victims."
Dana Nessel targeted by man plotting to kill Jewish elected officials
The FBI has arrested a man who threatened to kill state Attorney General Dana Nessel and other Jewish officials elected in Michigan. Jack Carpenter III, a resident of Tipton, Michigan, was reportedly a former employee at the University of Michigan.
His arrest follows a Feb. 17 tweet that he was "heading back to Michigan now threatening to carry out the punishment of death to anyone that is Jewish in the Michigan govt if they don't leave, or confess."
He's been charged with transmitting an interstate threat since he was living in Texas at the time of the tweets. He had previously been arrested on assault charges. He also stole a handgun from his girlfriend and was reportedly in possession of several more firearms. 
Thursday morning, Nessel tweeted "The FBI has confirmed I was a target of the heavily armed defendant in this matter. It is my sincere hope that the federal authorities take this offense just as seriously as my Hate Crimes & Domestic Terrorism Unit takes plots to murder elected officials."
MSU adding more security upgrades after mass shooting 
Just over two weeks since the mass shooting shook Michigan State's campus, the university has announced new safety measures it plans to implement in the next few weeks. Additional door locks, stricter key card access, and expanded security camera coverage are all on the list, as is mandatory active violent intruder training.
"I think generally yes. I already genuinely do feel pretty safe on campus," said Gabriel Wiechert, a freshman from Shelby Township. The school also plans to seek an independent after-action evaluation of the shooting incident to see what worked and what didn't work. 
Door locks are expected to be added to 1,300 classrooms on campus. Meanwhile, accessing buildings on campus will require more security protocols as students will need to use a key card to get into a building after 6 p.m. and before 7:30 a.m. - around the same time campus shuts down and wakes back up.
They're good fixes, Wiechert said, but he also sees a need for a greater response to violence on the scale seen in East Lansing on Feb. 13. "I think it's great they're adding extra security stuff like the locks on the door, however as a society I think we should address some of the underlying issues like mental health," he said.
Guns, abortion, civil rights in Lansing
It was a busy day in Lansing where lawmakers voted on and held hearings for several hot-button issues that Michigan Democrats had targeted for months since taking over both legislative chambers. 
The night before, the Senate approved a tax package without $180 rebate checks. The next morning, lawmakers discussed a bill that would repeal the 1931-era abortion ban. At the same time, lawmakers approved an expansion to the Elliot-Larsen Civil Rights Act to include employment protections for LGBTQ+ people.
But the hearings that drew the biggest crowds were for a serious of gun reforms. The House Judiciary Committee held a meeting to discuss several bills that deal with background checks, safe storage, red flag laws. 
Those same bills will now get a hearing in the Senate Committee on Civil Rights, Judiciary, and Public Safety. 
Read more about the day's hearings here.
No suspects in custody a month after rappers found murdered
A month after three missing rappers were found murdered in an abandoned Highland Park apartment building, police are working to catch the people responsible.
Armani Kelly, 38, Montoya Givens, 31, and Dante Wicker, 31, were slated to perform at Lounge 31 on 7 Mile near Gratiot on Jan. 21. However, the event was canceled, and the men disappeared that night. 
Police in Detroit, Warren, Melvindale, and Oscoda were all searching for the men. Kelly was from Oscoda and traveled to Detroit for the canceled performance. On Feb. 2, investigators found the bodies of the men in the basement of an apartment at McNichols and Log Cabin in Highland Park. They had been shot multiple times.
Michigan State Police said Wednesday that investigators were still examining evidence that was found at the scene, which was rat-infested. Sources told FOX 2 after the bodies were found that a person of interest was in custody. However, MSP says they do not have any suspects in custody. Investigators have said that the murders were not random.
Live on FOX 2
Daily Forecast
Thursday will bring slightly-less pleasant conditions than Wednesday, with temperatures a bit cooler and clouds a bit more full. 
What else we're watching
The icy conditions that froze the region this past week are also a hazard for us at FOX 2. Particularly when ice builds up on the radio tower next to the station. When it begins to melt, all that ice comes crashing down onto the building and parking lot. Here's the science behind falling ice.
Could Jalen Ramsey be the solution to the Lions' secondary needs? The Los Angeles cornerback is one of the best in the league and Detroit could surely find room for him. What's more, he's also been lobbied by other players to come to the Motor City. 
Wyandotte schools agreed to allow T-Mobile to put a cell tower on top of an elementary school., Residents aren't too happy about it and are planning to meet Thursday to discuss their concerns with the infrastructure.
Oakland County is investing $5 million in senior centers across the county. Some 29 facilities will get some funding courtesy of the American Rescue Plan Act.
Oral arguments for a significant court case involving Michigan's Auto no-fault insurance are set to begin to day. Attorneys will argue before the state Supreme Court about whether those who are catastrophically injured in a car crash should get continued care.
Look outside! Jupiter and Venus meet for rare conjunction
No, they're not aliens. At least – from what we know – the two shiny dots in the sky Wednesday night are the conjunction of Jupiter and Venus.
The two planets made their closest approach March 1, with Venus slowly shifting towards Jupiter and passing each other just half a degree apart, NASA explained on its website.
According to the National Weather Service, the next time Venus and Jupiter will be this close together will be February 7, 2032.