Oxford seniors denied cord request • Inkster searches for 'public enemy No. 1' • Troy updates math curriculum
WEDNESDAY NEWS HIT - As Oxford High School seniors prepare to walk across the stage and graduate this week, they want to wear cords honoring the victims of the 2021 school shooting, but the district won't approve it.
The students decided to wear orange cords. The color is a nod to the national Wear Orange campaign supported by Everytown For Gun Safety and Moms Demand Action as a way of honoring survivors of gun violence while pushing for gun reform. 
Sources said some viewed the cords as being too political. 
"From my understanding, 175 seniors ordered the cords on their own online to be delivered to their homes, and then when they asked towards the end of the year they were told by administration that they wouldn't be permitted," parent Marisa Prince said.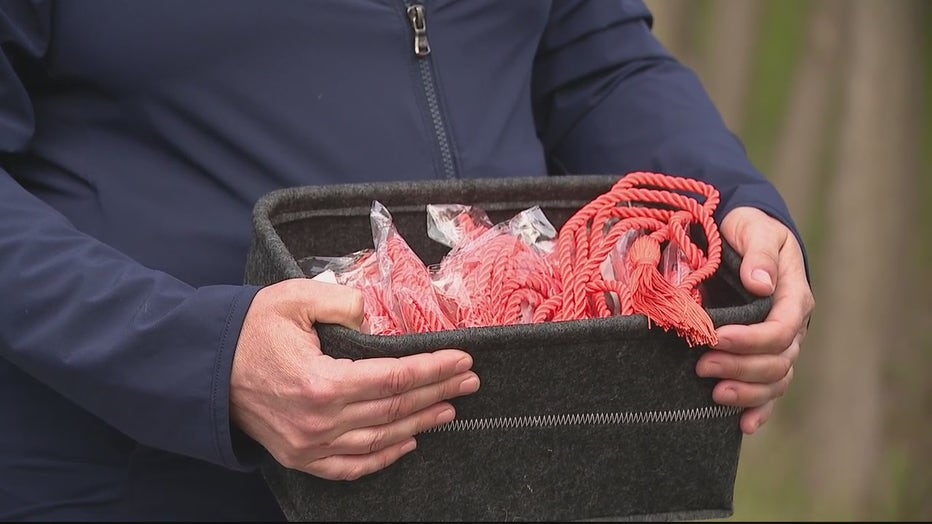 When she heard this wasn't allowed, she ordered her own boxes of orange cords for seniors to wear with their caps and gowns. 
"I think the orange cord is a subtle way for students to show what they've been through on their graduation day in front of their loved ones," Prince said. "The student that was killed from this graduating class just touched a lot of lives and so had friends all over his grade, and I think a lot of people are just even treating the cord as a way to remember him."
Tate Myre, one of the four students killed in the Nov. 30, 2021, shooting would have graduated this year.
The superintendent sent a letter out to parents saying in part: 
"The reason I am not approving or endorsing the orange cord that is being distributed by an outside organization is because the tradition of Oxford High School's graduation has been to keep the focus solely on students and their accomplishments. My endorsement of other symbolic graduation wear would set a precedent that could erode that tradition and more importantly the focus on students and their accomplishments. I personally endorse many worthwhile public and charitable agendas, but I do not do that within the scope of my duties as Oxford Community Schools superintendent."
The district came up with an alternative way of showing support. It approved a navy and gold Wildcat honor cord as part of the graduation wear, a tribute to the "resilience and strength these students have had to find within themselves" according to another statement sent out to the community.
"I was surprised that the district took such a hard line on this," Prince said.
She said she is expecting even more students to go their own way on this one.
"I was just shocked that we can't show some compassion and show some understanding and try to listen to the students. Try to allow them to express what they need and try to come together with some compromise," she said.
Inkster police search for 'Public enemy No. 1'
It all started as a very minor fender bender – a man was riding with his mom when they were rear-ended in Inkster – but now Inkster Police are searching for a man they say is their most wanted man in the city after he shot at a woman and her daughter.
It's been nearly a month since 20-year-old David Copeland was riding as a passenger in his mom's car. The young man, according to Inkster Police Chief Bill Ratliff, was mad when they got into a minor crash – so he jumped out of the SUV that his mom was driving, pulled a gun, and fired five shots at the driver and passenger.
"The video says it all. You have a man who is wearing a cast running across Inkster road with a gun in his hand the same time a school is getting out 100 yards away," Ratliff said. "He felt it was ok to shoot that woman's car up and by the grace of god he missed her."
The woman wasn't hit by bullets but did suffer minor injuries. Now, there's a ten-count felony warrant for Copeland's arrest for the man who wasn't even on their radar. But now he is and so is everyone else helping him hide. "He is public enemy number 1," Ratliff said.
Troy school board votes to change middle school math track
Some parents are unhappy about the upcoming changes to the middle school math track in Troy. The school board voted to do away with the honors track for math in favor of a single track for all students. Dozens of parents and some students spoke against the changes at a school board meeting Tuesday.
"You will be telling them that they do not have unique needs, and you'll be telling them that a one size fits all curriculum is all that they are worthy of," one person said. More than 2,800 parents signed a petition echoing similar concerns about going to single track model, saying they would like to see more data to prove that it works. 
"Without a strong foundation in middle school, SATs and high school become more detrimental not only on the student's life but also on their mental health," another person said at the meeting.
The district says proposed changes to the 6th and 7th-grade math structure are designed for preparation for all students in advanced mathematics in high school and beyond. Other parents expressed openness to giving the option a try. Some teachers also expressed support for it. 
New E.V. corridor from Kalamazoo to Quebec City announced
In a unique partnership between the United States and Canada, a massive project between the two nations will build an extensive network of electric charging stations spanning more than 850 miles.
U.S. Transportation Secretary Pete Buttigieg joined Canadian Minister of Transport Omar Alghabra, Michigan Governor Gretchen Whitmer, Detroit Mayor Mike Duggan, and IBEW Member William Baisden to announce the first Binational Electric Vehicle (EV) Corridor, which will stretch from Kalamazoo, Michigan, to Quebec City, Canada.
The corridor will feature fast chargers every 50 miles – or every 80 KM in Canada – as the two nations work to build a stronger network of EV charging standards.
The unique project was announced at the Detroit Wayne County Port Authority and is part of the Biden-Harris Administration's investment to clean energy. Michigan is receiving $110 million from the Bipartisan Infrastructure Law which will include $7.5 billion in federal funding to build a national network of half a million public EV charging stations.
Detroit zoo moving inseparable polar bear cubs
The Detroit Zoo will say their goodbyes to two of its polar bear cubs after it was agreed they should be transferred to another zoo across the U.S. Astra and Laerke will move to the Point Defiance Zoo & Aquarium this spring to ensure the best outcome for both of the cubs. 
The bears have been an inseparable duo ever since they were reunited earlier this year. Astra and Laerke were born in November 2020 to mother Suka and father Nuka. However, two days after her birth, Laerke suffered a medical emergency, the Detroit Zoo said. The required care separated her from her sister and left her weak and in need of constant care.
However, she has rebounded and since then her and her sister have been very close. They've also put on a show for the lucky visitors of the Arctic Ring of Life exhibit, frolicking and playing frequently.
At their age of 2 years old, both are old enough to be living on their own in the wild. The zoo said the natural next step is to move them to help maintain a varied and genetically diverse polar bear population.
Live on FOX 2
Daily Forecast
Temperatures will take a sizable dip after several warm days in May as conditions struggle to hit 60 on Wednesday. This all precedes what could be a wet Friday with potential for a thunderstorm or two.
What else we're watching
A new voting initiative is kicking off by the Detroit Association of Black Organization and Mothering Justice. Several advocates including a former Ohio State Senator will be announcing the new program.
The Detroit Pistons' didn't fair great in the latest NBA Draft Lottery, earning only the fifth pick. It could mean another long season for Pistons' fans.
Afrobeats is launching in Detroit on August 19 and 20 by the partnership between Bedrock and Afro Nation. The music festival will kick off at the real estate developer's Douglass site. An event planner for the event said Detroit was a clear choice.
Operation Safe Neighborhoods has led to the apprehension of 389 firearms from 3,400 check-ins with felony offenders, the governor's office said. Guns have become one of the most frequent components of violent crime this year.
Washtenaw Community College says it has launched a semiconductor training program. It'll aid both the automotive industry and other fields that foresee electrification in the coming future.
USDA considers chocolate milk ban in school cafeterias
A popular beverage on school lunch menus may no longer be available in cafeterias.
The United States Department of Agriculture (USDA) is considering a chocolate milk ban in elementary and middle school cafeterias based on its added sugar content, according to the Wall Street Journal.
In February, the USDA announced the proposal as an update to nutrition standards set by the department for healthy school meals.