In-person eviction hearings resume • Michigan wildfire • Guns and drugs found during traffic stop
MONDAY NEWS HIT - Detroit's 36th District Court will resume in-person hearings for eviction cases on Monday, June 5.
The amended policy means that any tenant involved in an eviction case must appear in court, or it could result in a default judgment and risk being evicted. 
The rule change ends the virtual hearings option that tenants could use to appear in court, enabling them to attend hearings remotely from work or home. The city of Detroit says its working to create as seamless a transition for both the courts and those with scheduled hearings. 
The change is meant to address an influx of filings. 
"As we all work together to provide access to legal representation for tenants in Detroit, we want to stress to residents that they need to make every attempt to appear at court," said April Faith-Slaker, executive director of the City of Detroit's Office of Eviction Defense.
"If residents fail to appear, a default judgment could be made which will lead to an eviction order. This adjustment requires us to be patient with the process. Residents should do their due diligence to stay up to date on their court details. Once you appear in-person, our Right to Counsel attorneys are ready and waiting to help."
Some officials are concerned the ending of the policy could make it harder on tenants to appear for court. Many defendants work or have kids which makes appearing before a judge more difficult. 
The virtual option removed the barrier for some to appear in court. 
Free legal service remains available through the COVID-19 Emergency Rental Assistance program for those who had already submitted an application. For those who haven't secured legal representation, attorneys will be in the courtrooms and in hallways to help, the city said. 
Look up the timing of your hearing here. 
Visitors should keep in mind the following expectations in preparation for their in-person hearings:
The courthouse opens at 8:00 a.m.
Arrive early to pass through security and find your assigned courtroom
Cell phones are allowed in the courtroom, but many items are prohibited, such as cords/chargers, food, beverages, and weapons.
NOTE: If a tenant does not appear, a default judgment and ultimately an eviction order could be issued in their absence, so we strongly recommend showing up to court
Michigan wildfire '90%' contained
With the help of out-of-state DNR officials, the Michigan Department of Natural Resources says a wildfire near Grayling is 90% contained.
The progress follows a fast-moving fire that spread from a private campground where wind over the weekend and a lack of rain the past month both contributed to dangerous conditions for fire officials. Evacuations were soon ordered after the fire spread thousands of acres.
A total of 10 firefighters from Wisconsin brought fire engine for tractor plow dozers and to assist in fighting fire. They arrived early Sunday afternoon. Preliminary estimates show that the fire threatened 35 residences, 38 vehicles including 23 campers and three boats, and 58 outbuildings. Three outbuildings were lost.
The fire started at around 1 p.m. Saturday and burned through jack pines, mixed pine and oak forestland. Crews battled the blaze through the night and into the next day under hot, dry conditions.
Guns, drugs found during traffic stop
A traffic stop for someone not wearing a seatbelt ended with the seizure of multiple loaded weapons early Monday morning. Two men were arrested during the investigation, which also yielded the discovery of crack cocaine and heroin.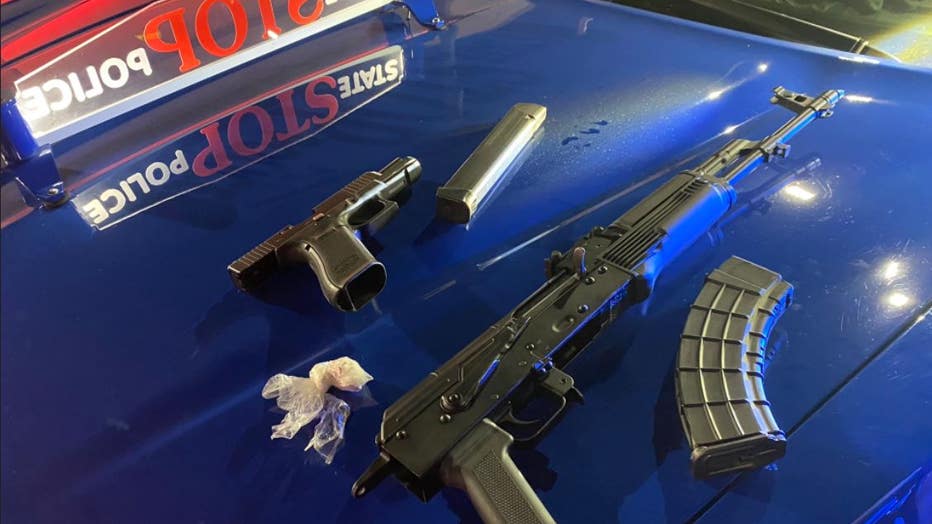 "Our troopers will continue to look for illegal guns during all of our patrol activities. It is our goal to get these guns off the street along with those suspects carrying them," said 1st Lt. Mike Shaw.
Around 2:30 a.m., patrol units on Davison near Lawton in Detroit noted a driver and passenger not wearing their seatbelts. When they came into contact with the vehicle, police noted a .40 caliber handgun with an extended magazine and 20 rounds of ammunition around the passenger's feet. 
Beneath the floorboard, police also found a fully automatic AK-47 loaded with 31 rounds of ammunition, as well as a magazine. The driver, a 19-year-old from Canton, also tossed a bag of drugs under the police car - which police later said contained 15 packs of suspected crack cocaine and 12 packs of heroin that was likely for sale. 
Belle Isle beaches closed for E. Coli
High levels of E. Coli have shut down beach access at Belle Isle Monday, the second day in a row the bacteria has limited recreation at the popular location. Access to Belle Isle remains, but any visitors will be asked to avoid going in the water to avoid risking any contamination.
While the Michigan Department of Environment Great Lakes, and Energy keeps track of bacteria levels around the state, the only closure in effect is down in Southeast Michigan. Testing is expected to continue and results could come as soon as later Monday.
According to BeachGuard, EGLE's online tracker that records test results of water around the state, the closure order was issued after testing done by the Detroit Health Department. It started noticing heightened levels of E. Coli on June 1.
The last time beach access was limited at Belle Isle was in 2021 due to high levels of bacteria.
Alex Palou wins Detroit Grand Prix
Alex Palou started and finished first in the Detroit Grand Prix on Sunday, winning his second IndyCar race in less than a month and the sixth time of his career.
The Spaniard, who won the Indianapolis Grand Prix, led 74 of 100 laps on Detroit's new street course and went ahead for the last time on lap 77. He stayed in front after Will Power made a move that didn't pan out as he made contact with Scott Dixon on lap 91.
After a seventh yellow flag, Palou pulled away in his Honda with five laps left and beat Power's Chevrolet by 1.1843 seconds. Flex Rosenqvist finished third, followed by Scott Dixon and Alexander Rossi. The race got off to a rough start, a day after Palou said there would be excessive traffic on a track too tight and short for IndyCar.
The start was waved off because there wasn't enough space between cars. When the race resumed on the second lap going into Turn 3, Callum Ilott damaged Kyle Kirkwood's wing by running into him in the middle of the 27-car pack.
– Courtesy of the Associated Press
Live on FOX 2
Daily Forecast
Expect temperatures to hit warm-but-not-too-hot levels Monday with a high of 82 degrees and sun in the first half of the day before clouds move in. We're looking at a more mild week with even some rain potential next weekend.
What else we're watching
Detroit officials intend to kick off Gun Violence Awareness Month on Monday with a press conference at Gordon Park and feature victims of gun violence.
Gas prices have dropped down by 8 cents since last week, meaning Michigan drivers are paying $3.53 a gallon.
It's also Pride Month. Check out FOX 2's guide to all things pride going on this June, from parades and drag shows, to film nights, and food truck rallys.
The Detroit USPS Grand River station is getting a new name Monday. It'll be renamed the Rosa Louise McCauley Parks Post Office. The change comes following a bill-signing by president Joe Biden and legislation from Congresswoman Rashida Tlaib.
A traffic stop Monday morning yielded more than just someone not wearing their seatbelt. Police also nabbed multiple armed weapons and hard drugs that were prepared to be sold.
Loud boom noise heard in DC area came from F-16 scrambled to investigate wayward aircraft
At around 3:15pm, reports began to come into the FOX 5 DC newsroom as well on Twitter of an explosion (or what sounded like one), as far away as Annapolis, including DC and Northern Virginia.
According to FOX News, an F-16 fighter jet was "cleared supersonic to respond" to unknown Cessna ignoring radio queries flying on "strange flight path" outside nation's capital, officials say. According to the FAA, a Cessna aircraft reportedly crashed near Staunton, Virginia which was reported earlier to FOX 5 DC.