Rain-starved Michigan ripe for more fires, Whitmer urges no outside fires
SOUTHFIELD, Mich. (FOX 2) - As Michigan continues its weeks-long dry spell, a warning has been issued by the governor urging people not to have fires outside. This caution comes after a campfire sparked a large wildfire in Grayling that burned thousands of acres.
"The conditions are prime for this to happen again right now as I'm talking to you," said Laurie Abel, Public Information Officer for the Department of Natural Resources (DNR).
The wildfire in Grayling started with a campfire on private property that quickly got out of control and burned around 2,400 acres. It's now about 95 percent contained, meaning it is no longer spreading.
According to Abel, the fire has required significant resources, with the DNR, US Forest Service, State Police, and dozens of local fire departments working to extinguish it. At one point, 300 residents in the path of the flames were evacuated but were able to return to their homes within hours.
"Just because it's no longer orange and flaming doesn't mean it's not hot and dangerous," said Abel.
As a result of the wildfire and the dry conditions statewide, the DNR has issued a burn restriction, which prohibits open outdoor burning. Governor Gretchen Whitmer has also stressed the importance of refraining from outdoor fires at this time. In specific cases, such as on Grosse Ile, a burn ban is in effect until further notice.
"The conditions are prime for this to happen again right now as I'm talking to you," reiterated Abel.
Abel explained that the lack of substantial rainfall in the past 30 days has led to the dry conditions. Combined with humidity and gusting winds, it has created the perfect storm for wildfires.
"We are working on this fire and trying to get it to a point where we can hand it to locals to free up resources because the next one could be happening right now," warned Abel.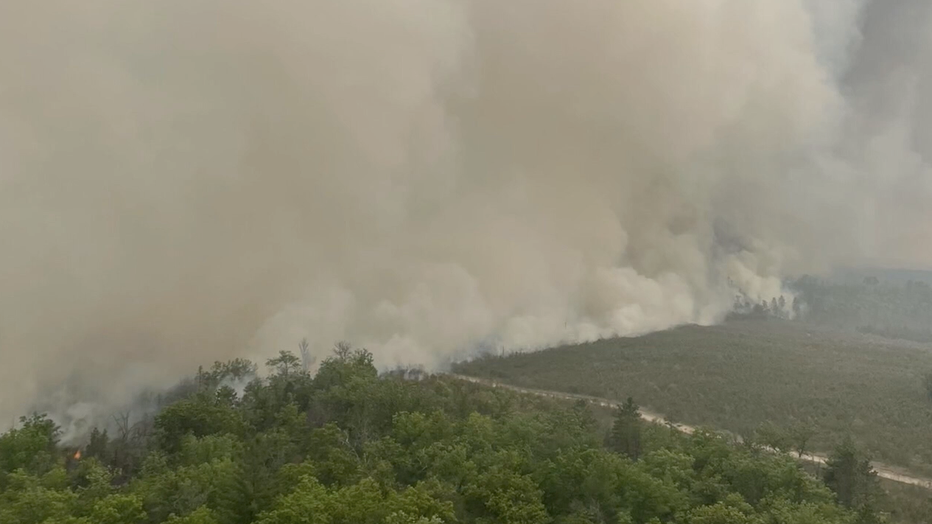 The entire state of Michigan has been dry for weeks, prompting the DNR to issue a burn restriction.