Suspect wanted for murdering his mother put behind bars after Domino's order in Detroit
DETROIT (FOX 2) - A Detroit police officer on patrol in downtown walked into a Domino's location - and spotted a wanted murder suspect.
The officer noticed 25-year-old Joshua Hill - that's when he moved in, for the arrest.
"He saw him downtown buying a pizza," said Chief James White.
Technically, it was an order of stuffed cheese bread. Hill casually placed the order Sunday - while he's wanted for murdering his mom.
"If you will kill your mother, you'll do anything," said Inkster Police Chief Bill Ratliff.
That has been the fear of Inkster police and Michigan State Police since Hill's mom, a 64-year-old woman was found shot multiple times at her home off Glenwood, near Middle Belt in Inkster.
Since last Monday – there has been a manhunt for Hill, who has been on the run.
"He recognized him from the media reports the pictures and then the intel pictures we had," said White.
The Detroit police chief gave his officer major kudos for the keen eye - and for how he handled the arrest.
"He did not have to engage in a use of force with him, someone who obviously has very little to lose and was, in fact, armed," White said.
We are told Domino's employees – were instructed to get back as the officer moved in and took Hill into custody - then, handed him back over to Inkster.
"Now the people of Detroit and the people of Inkster can rest easy, knowing the subject is not out there with a gun going to hurt someone," Ratliff said.
Joshua Hill will face those charges out of Inkster and it sounds like he will have some additional charges here in Detroit for having a gun.
That arraignment is expected in the next couple of days.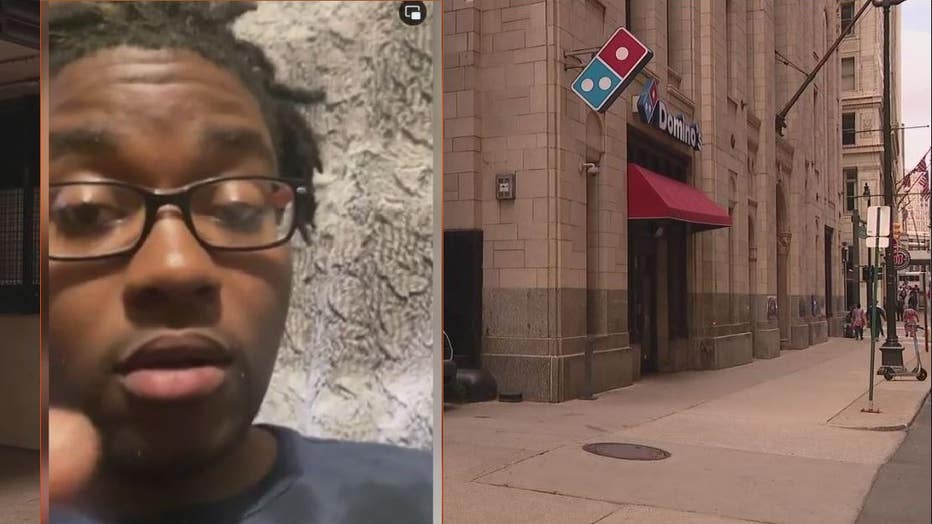 Murder suspect Joshua Hill, left, the Domino's where he was found by a police officer.