Suspects in Dan 'Hutch' Hutchinson homicide arraigned on murder charges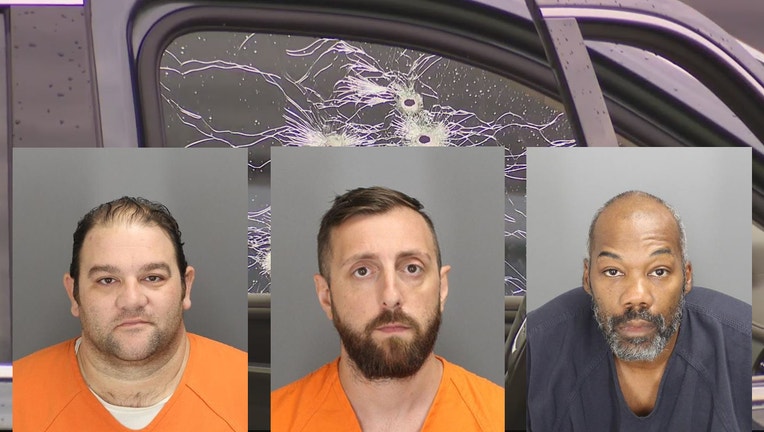 article
(FOX 2) - Marco Bisbikis, Angelo Raptoplous, and Roy Larry were all arraigned on charges of murder and conspiring to commit murder in the death of an Oak Park jeweler this week. 
The three defendants were bound over for trial following a five-day examination in court that looked at if Bisbikis, Raptoplous, and Larry could have murdered Dan 'Hutch' Hutchinson following the well-known jeweler's death in June 2022.
The defendants were arraigned in circuit court in front of Judge Nanci Grant on Wednesday. 
In addition to first-degree murder and conspiracy to commit murder, they also face counts of assault with intent to murder, and felony firearm. 
"The evidence at the preliminary examination revealed a complex and shocking case involving an attorney who allegedly had his own client murdered. I applaud the hard work of the prosecution team, the Oak Park Public Safety Department, the FBI, and the other agencies that gathered the extensive evidence in this case," stated Oakland County Prosecutor Karen McDonald. 
"We will continue working around the clock to make sure we present the strongest possible case to the jury as we pursue justice for the victim and his family."
During the preliminary exam in district court, several details came out from a witness who testified against the three men, alleging the plan to murder Hutchinson spiraled from a wider orchestration to keep him and his wife from testifying against Bisbikis in an unrelated case.
"I find probable cause and Marco Bisbikis most likely committed this offense, all these matters are bound over," said 45th District Judge Michelle Appel on May 26.
Darnell Larry, cousin to Roy and a friend of Bisbikis, claimed in court that Bisbikis needed the Hutchinsons dead by a certain date. He also alleged that Bisbikis, who is an attorney from Southfield, had told him he was a member of the mob.
More Coverage:
From that motivation came a plan for Roy Larry to kill the Hutchinsons after receiving a firearm from Darnell.
Darnell Larry, who has since plead guilty, was cross-examined during the prelim. 
Among other details from the case was a plan by Bisbikis to write himself into the will of the Hutchinsons as a seedy business relationship with the couple that included off-the-book financial transactions.