Suspects sought in brazen attack on Detroit officer • A new LGBTQ+ Commission • AI comes to Woodward
MONDAY NEWS HIT - A $5,000 reward is now being offered for information leading to the arrest of two men behind a brazen assault of a uniformed police officer at a Detroit gas station this weekend.
At one point during a struggle with the suspects, they got ahold of the deputy's gun before he managed to regain control. Both men eventually fled the gas station.
Security footage at the gas station captured high resolution images of both men involved in the attack. Police hope someone who sees the images will give them a call.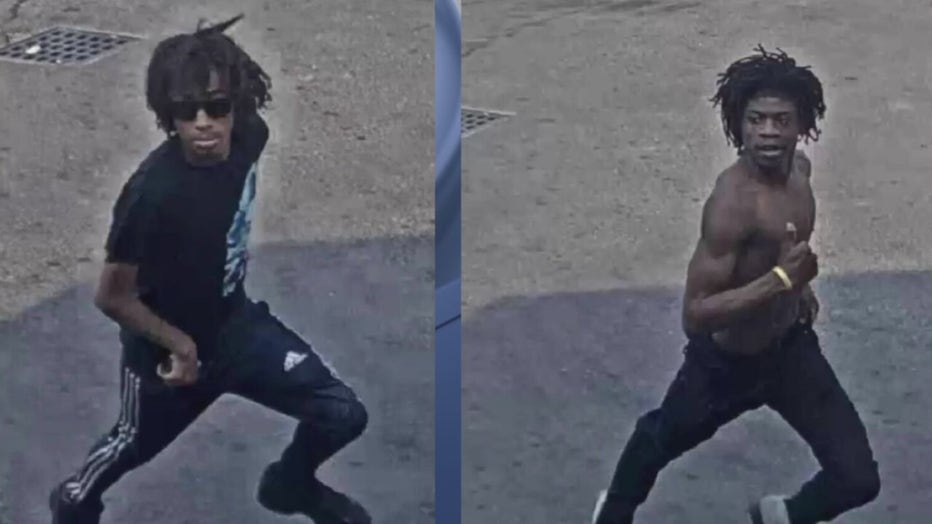 The attack happened at a BP gas station located near the Southfield Freeway and Joy Road early Saturday evening.
The officer, who was wearing his Detroit police uniform but was off-duty, was gearing up for a shift at the Taylor Swift concert downtown. Around 5:30 p.m. he was paying for his fuel inside the station when the two men attacked. 
One of the suspects was armed with a 9 mm Glock hand gun. 
After the attack, Chief James White at the Detroit Police Department said no shots were fired. The deputy did not fire his weapon because of the presence of other customers coming in and out of the gas station.
"There's no way I can explain the mindset of someone who would do something like that, but the one thing I can explain is if they would do that to a uniformed police officer, can you imagine what they would do to a regular citizen?" said Commander Arnold Williams. 
New LGBTQ+ Commission announced at Motor City Pride
Months following the expansion of Michigan's civil rights law to include protections for LGBTQ+ residents, the governor announced the state's first-ever commission to continue to address issues the community faces.
Making the declaration at the Motor City Pride parade in Detroit, Gov. Gretchen Whitmer said she was establishing a LGBTQ+ Commission that would "focus on health, safety, economic opportunity, and talent retention for the LGBTQ+ community."
The commission's primary task will be to advise the governor and Department of Labor and Economic Opportunity on policy matters that impact residents that identify as gay, lesbian, queer, bisexual, transgender, or non-binary.
It will improve protections of health and safety for the community while promoting culture, history, and economic contributions made by LGBTQ+ residents. The commission will also look for ways to attract potential and future residents.
Here's what officials had to say about the new commission
AI coming to Woodward Avenue
A Michigan-based software company is bringing some of its new technology built for mobility and traffic control to Woodward Avenue as part of a new partnership with state and federal transportation agencies.
Bosch says it is part of an $11.5 million project to deploy an "intelligent transportation network" along the M-1 corridor for services such as pedestrian detection, wrong-way driving warnings, real-time video monitoring. 
The technology will use artificial intelligence to help it collect data from its equipment. It could also prioritize signal timing to help make traffic flow easier through the busy roadway.
The project is funded with $5 million from the federal government. It includes partners in the City of Detroit, Federal Highway Administration, and Wayne State University
Man killed at Milan Dragway
A man was killed Saturday when a vehicle malfunctioned at the Milan Dragway.
The crash happened around 5:30 p.m. at the show held at the Milan Dragway (10860 Plank Rd, Milan Twp). Investigators say Nicholas J. Tilley, 31, from Holland, Mich. was driving a blue Chevrolet Camaro, Z28 Funny Car in reverse on the drag strip.
The engine malfunctioned causing the car to accelerate at a high rate of speed and the driver to lose control of the vehicle, the Monroe County Sheriff's Office said. The car struck Keith C. Hallett, 78, from Waterford who was standing behind it, and struck another Funny Car that was staging before coming to a rest, police said.
Hallett was transported to Trinity Health Hospital in Ypsilanti where he was pronounced deceased, police said. Investigators said Tilley was wearing safety apparel at the time of the crash and alcohol is not a factor. Members of the Huron Valley Ambulance, Monroe County Ambulance and the Milan Area Fire Department assisted the Monroe County Sheriff's Office at the scene.
Tigers drop 9th-straight game against Diamondbacks
Christian Walker hit a go-ahead double with two outs in a four-run ninth inning, and the Arizona Diamondbacks beat Detroit 7-5 on Sunday for a three-game sweep that extended the Tigers' losing streak to nine games.
Detroit led 5-2 in the eighth before Corbin Carroll doubled, stole third and scored on Lourdes Gurriel Jr.'s RBI grounder. Jason Foley (2-2) gave up a one-out single in the ninth to Emmanuel Rivera and walked Ketel Marte.
Arizona had been 0 for 7 with runners in scoring position before Carroll had an RBI single for his third hit. Walker doubled to left on a 1-2 slider that scored Marte, and Carroll came home for a 6-5 lead when left fielder Kerry Carpenter allowed the ball to skip off his glove for an error. Geraldo Perdomo followed with a run-scoring single.
Detroit is on its longest losing streak since dropping nine from Aug. 11-20, 2020.
Read the game's full recap here.
Live on FOX 2
Daily Forecast
After finally getting a round of rain that Michigan desperately needed, Metro Detroit could be in for more showers this week. Scattered conditions this morning will become more widespread Tuesday while temperatures will remain quite cool.
What else we're watching
The city of Detroit has created a new agency to help those at risk of being displaced from their homes. The Housing Services Department will operate with help from the $20 million in funds from the American Rescue Plan, Crain's Detroit reports.
The Grosse Pointe School Board is meeting Monday night to discuss expected budget cuts to the district. A previous meeting went on into the early hours of the morning after residents made hundreds of statements.
A fatal crash at Gratiot and Hazel Ridge in Detroit left a pedestrian dead early Monday morning. A black Jeep was detained at the scene, which has suffered significant front-end damage.
Gas prices rose 12 cents since last week and Michigan drivers are now paying $3.65 a gallon. Price increases were capped last week despite an announcement from OPEC that it would keep its oil production reduction agreement through the rest of the year. 
So far 50 firearms have been taken from flyers at Detroit Metro Airport this year. The TSA is warning flyers about the dos and don'ts as it looks ahead to summer travel. 
24 Hours of Le Mans: Ferrari topples Toyota after 50-year absence
Ferrari ended a 50-year absence from the 24 Hours of Le Mans by toppling mighty Toyota in the centenary running of the most iconic sports car race in the world.
Ferrari last competed at Le Mans in 1973 but returned to Circuit de la Sarthe this year as part of a new hyperclass category that features hybrid technology.
The hyperclass came from a rules convergence that both allowed competitors from the United States' sports car series, IMSA, to compete at Le Mans, and also created an enticing platform automakers viewed as an opportunity to showcase their street car technology.