Victim dies after being pulled from fiery crash on Eight Mile in Southfield
SOUTHFIELD, Mich. (FOX 2) - Despite efforts of bystanders and Southfield police to save a victim from a fiery crash over the weekend, one person died.
VIDEO: Southfield police officer pulls victim from burning SUV
An SUV was in flames after two vehicles collided on Eight Mile near Northland around 11:30 p.m. Saturday.
Mister Jackson was on his way home when he saw the fire and rushed to help.
Read: Detroit man helps rescue victims of fiery car crash
"All I could do was maybe go run, and get a fire extinguisher," he said. "So I went to the quickest gas station I could find and when I got to the gas station I asked the owner could I see the fire extinguisher. I got that, and I shot back across the street to where it was at, and I started putting it out."
With the help of others, Jackson got the driver out. When police arrived, they saw a passenger in the burning vehicle.
"My immediate response was to grab the fire extinguisher to make my way to the engulfed car to see if everyone was outside of the vehicle," Officer Patrick McCormick said.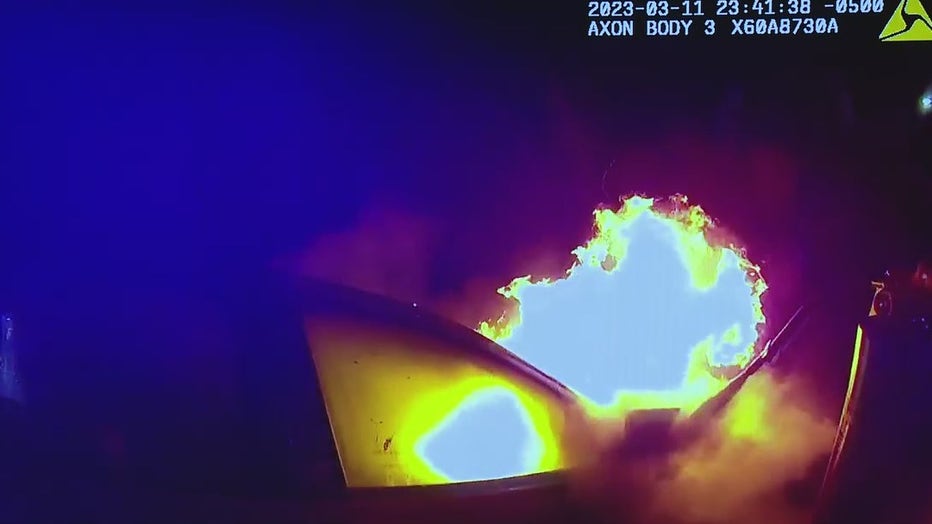 A view from Patrick McCormick's body cam as he used a fire extinguisher on the SUV
Jackson, and others, including a Southfield police officer, worked to rescue the occupants. As Jackson sprayed the vehicle with a fire extinguisher, McCormick also used an extinguisher on the vehicle and then pulled a male from the SUV. 
The victim died the next day.
Southfield Police Chief Elvin Barren said they are planning an awards ceremony to honor some of the people who helped.
McCormick was also given awards from the police and fire departments for his heroic efforts.  
"At the end of the day, it's just me doing my job like any other officer would," McCormick said.