VIDEO: Southfield police officer pulls victim from burning SUV after high-speed crash
SOUTHFIELD, Mich. (FOX 2) - A Southfield police officer's body camera captured tense moments as he worked to extinguish a burning vehicle enough to rescue a passenger Saturday night. 
Police Chief Elvin Barren said the driver of a red Ford Edge was speeding on Eight Mile when they ran a red light around 11:30 p.m. and hit a silver Ford Edge that was crossing Eight Mile to Northland. The red Edge burst into flames, trapping the driver and passenger.
Bystanders, including a Detroit man named Mister Jackson, rushed to help. Jackson ran to a nearby gas station for a fire extinguisher and worked to get the driver out of the red Edge.
Read: Detroit man helps rescue victims of fiery car crash
Officer Patrick McCormick then showed up, grabbed a fire extinguisher from his patrol vehicle, and ran to the flaming vehicle, where he saw there was a passenger trapped.
"That night I just did what any other officer would have done. I saw a person in need of help and all I could think about doing is to try to get to him and to pull him out of the car as fast as I could so that I could give him some chance at life," McCormick said.
McCormick sprayed the flames with the extinguisher to tame them enough that he could get the door open. He can be heard on camera coughing from the smoke as he opened the door and pulled the victim out.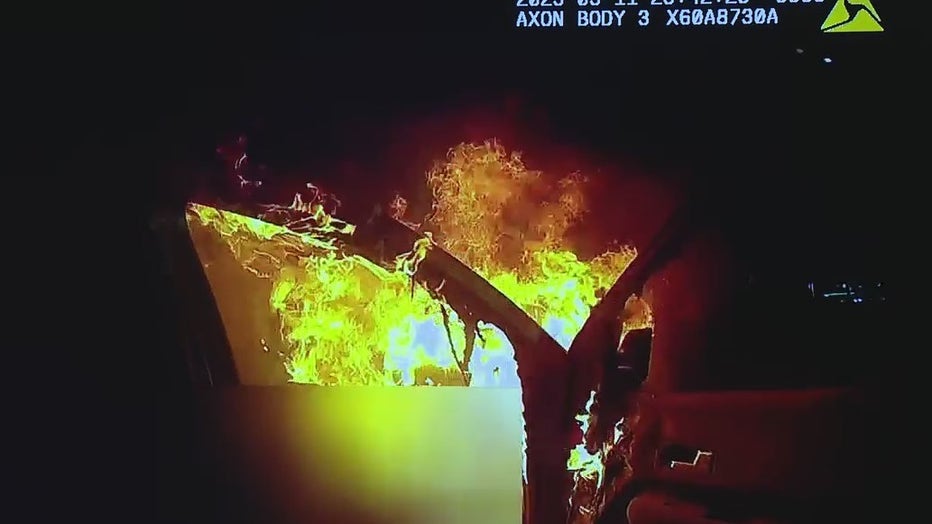 Body cam footage as Officer Patrick McCormick pulls the victim from the burning SUV
"I'm going to describe him at this time as a hero," Barren said, noting that McCormick risked his own safety to try to save someone else. 
Once the victim was out of the vehicle, Barren said bystanders used their clothing and a fire extinguisher to smolder the victim, who was on fire. 
"At the end of the day, it's just me doing my job like any other officer would," McCormick said.
Both the driver and passenger were taken to hospitals. The passenger died Sunday. Barren said the exact cause of the victim's death isn't known, but he did suffer smoke inhalation. 
The driver of the silver Edge was trapped as well. They survived and are listed as stable.
McCormick was honored Tuesday with awards from the Southfield fire and police departments. Barren said the department also got the names and contact information of some citizens who helped, so they can be honored later.