Winter weather in Michigan • Rapper murdered in ambush, family says • District Detroit community benefits
WEDNESDAY NEWS HIT - A plethora of advisories and warnings are posted across Southeast Michigan - from ice storm and winter storm warnings to gale warnings and hazardous weather outlooks.
They all go into effect at noon today and expire at 4 a.m. tomorrow.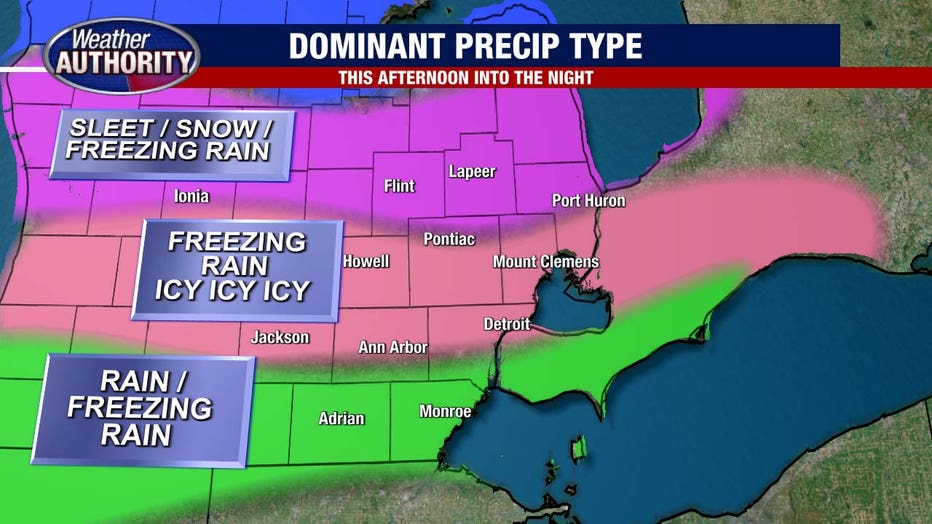 Rain, freezing rain, sleet and snow are all in the cards. 
Here's a look at your predominant precipitation type by region. Remember those in the icy zone will probably have sleet and snow mixing in at times too. 
Those in the icier zones will not only contend with tough travel today, but the potential for ice to accumulate between a quarter and a half inch on tree branches and power lines, leading to some power outages. 
Snow totals locally range from under an inch to three inches with a foot possible by the time you make it to the tip of the thumb.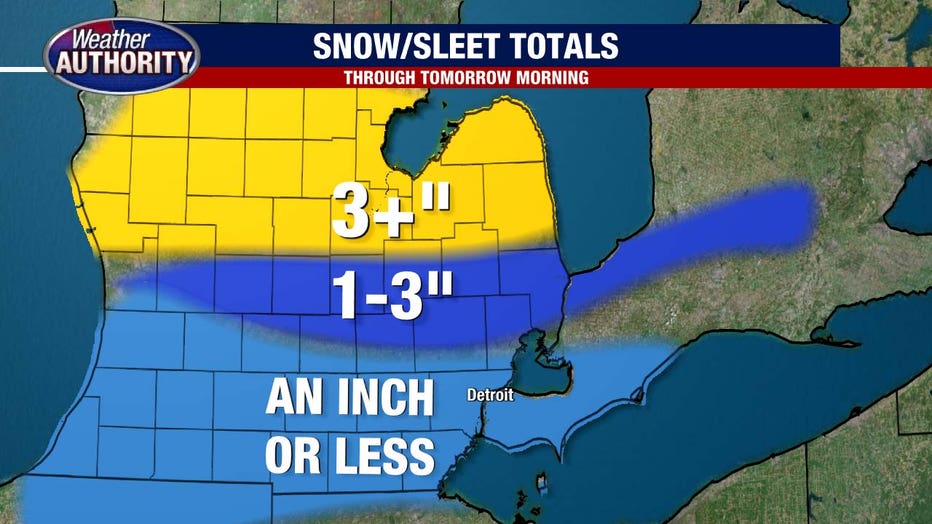 Our southernmost areas, Lenawee and Monroe counties will have tough travel, but wind up with the least amount of freezing rain and snow as temperatures may nudge up just above freezing this evening. 
If we're lucky, maybe even some "warmth" may sneak into Wayne County as well. 
By the middle of tomorrow morning, we're back above freezing, allowing the ice to melt. 
Check out more of today's forecast here.
Hip-hop artist's family says he was murdered in ambush
It's been one month since a Detroit mother lost her son in a violent robbery - and she thinks someone targeted him because he was a successful rapper. Tuesday is Deandre Young's birthday, and he should be celebrating with his kids and his mom. The hip-hop artist would've turned 40.
Last month, someone robbed and killed him on the 16000 block of Prest Street. Now, his face is on t-shirts made by the family to honor him. "Everybody is sad," his mom Darlene Strougher-Carey said. "It's hard to believe that he's really gone, because he was not really a violent-type person."
Strougher-Carey says on January 15, someone called Deandre Young to Prest on Detroit's northwest side.  That was where Young was robbed and shot to death. His mother believes it was a setup.
Loved ones describe Deandre, whose nickname was 'Joy Road,' as a loving, caring family man.  He leaves behind four children. Strougher-Carey says someone targeted her son because he was a successful rapper. If you have any information about who or where they are, call Detroit police or Crime Stoppers at 1-800-SPEAK-UP. You can earn a $2,500 reward, and you will remain anonymous.
Read more about the fallen rapper here.
District Detroit project gets approval from community benefits volunteer group
The massive build-out of District Detroit in midtown that comes with multiple new and refurbished structures for apartments and retail got the green light during its final community benefits meeting Tuesday.
The nine-person volunteer group called the Neighborhood Advisory Council negotiated with both Ilitch-owned Olympia Development and Related Cos, which is owned by Stephen Ross. It was approved 8-1, though some discontent could be heard among the guests at the meeting.
It approved a package of benefits that included millions for the city's apprenticeship training program, hiring minority businesses for consulting on the project, and funding for business tenants that move into District Detroit locations. 
The city council still needs to take up the deal before it gets final approval from Detroit. 
Warning issued for unlicensed MSU apparel hitting the market
Some Michigan State University hoodies - like the ones that say "Always a Spartan" look nice, and are even sympathetic, but not right. The MSU Alumni Association is sending out a warning that some are trying to make a buck by selling unlicensed merchandise.
"It's not right. They're making a buck off a tragic situation," said Jenny Symansic, general manager at Fanatic U. "It's tragic, actually. They should be going through the right channels, contacting Michigan State, and getting licenses just like everybody else has to."
In fact, Michigan State has a list on its website of specific companies that are licensed to use the Spartan logos on merchandise. Greg, who owns Fanatic U locations in Garden City and Taylor was required to go through the proper channels to sell licensed MS material.
Some of Fanatic U's sales will go to the school for the victims. 
Genesee County man caught on camera beating his puppy
A 1-year-old puppy named Pluto survived some horrific abuse - but he wasn't alone. According to the Genesee County Sheriff, the dog became the target of a domestic abuser who became upset after he chewed up two pictures.
Eric Sevela, 36, was caught on camera beating the dog. Sheriff Chris Swanson said Sevela had previously beat his 37-year-old girlfriend while she was pregnant. "The violence shifted from the female in the domestic to the dogs," he said.
Both the former girlfriend and the dogs were were hit by Sevela are now safe. The suspect, who was given a $25,000 bond after he was arrested. However, Swanson said he's already out of jail and committed another crime in Livingston County.  
"I'm asking and begging you as the sheriff, if this is going on in your house - don't wait until it escalates, because it will escalate," he said. The 24/7 National Domestic Violence Hotline is in English, Spanish and 200+ languages through interpretation service Learn more, 800-799-7233. The state of Michigan has a resource page for domestic violence HERE.
Live on FOX 2
Daily Forecast
Winter weather warnings will be in effect for the entire day, starting at noon Wednesday and lasting until Thursday. After that, expect temperatures to swing up to 44 Thursday, back down to freezing Friday and then into the 40s by next week.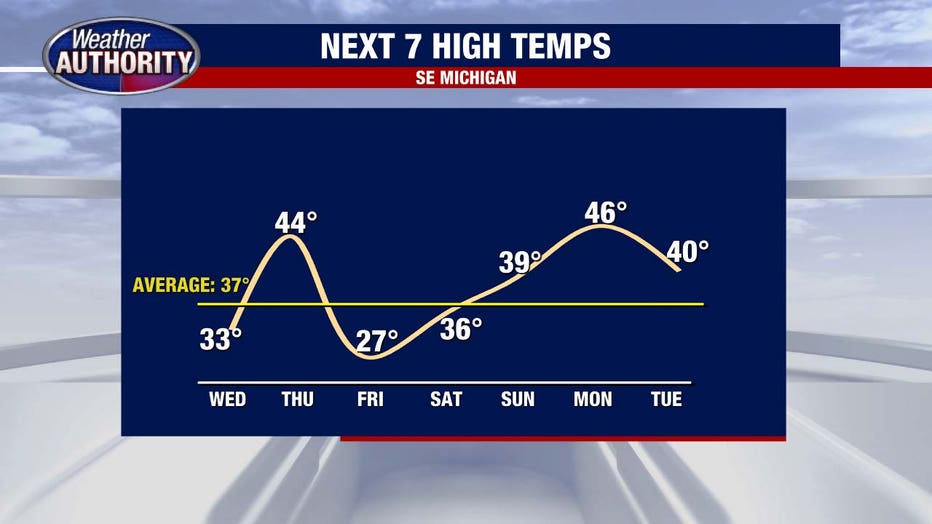 What else we're watching
The Detroit City Council approved a land swap with the Moroun family that exchanges 3.8 acres of property for millions of dollars in improvements to the Riverside Park. Read the backstory on this controversial deal with the owners of the Ambassador Bridge here.
A Detroit man was listed in temporary serious condition after being stabbed on the freeway Tuesday night. He was stabbed over a lottery ticket, police said.
JuJuan Parks, 28, who was convicted of murder after killing a 46-year-old Detroit police officer, is expected to be sentenced Wednesday.
Legislation targeting gun safety has been introduced in the state senate. It includes background checks for every firearm sold in Michigan, which closes a loophole that blocks criminals from purchasing other of firearms besides handguns.
The Great Lakes Water Authority wants to raise its rates by 2.75% for both water and sewer usage. The fiscal plan for 2024 will be debated during Wednesday's public hearing.
Heinz wants to catch up with man who survived a month at sea with nothing but ketchup, seasonings
Heinz is trying to track down the man who survived for nearly a month at sea on nothing but ketchup and seasonings. In a recent Instagram post, the company said they wanted to buy 47-year-old Elvis Francois a new boat, but they have been unable to locate him. 
"So, we're setting this message adrift into the sea of the internet, because if anyone can help us find him, its you," Heinz wrote. "If you or anyone you know can help us get in contact with Elvis Francois, please drop us a DM." 
The company encouraged readers to share the post with friends "so we can #FindTheKetchupBoatGuy."