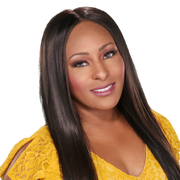 "There's no town like Motown," like Dororthy from the 'Wizard of Oz' I feel like I have been clicking my heels and trying to get to The Motor City for years - and now I am finally here!
I have been visiting friends and family in Metro Detroit for years and now I feel like I am home.I am Maurielle Lue, an Emmy Award-winning reporter, host on The Nine and morning anchor on the FOX 2 News Team.
I made my way to the "D" from WEWS, the ABC Affiliate, in Cleveland Ohio. While In Cleveland I had the chance to work on some truly unforgettable stories. I spent many days and nights reporting on the front lines of Imperial Avenue - the home of the so called, "Cleveland Strangler," a man convicted of killing almost a dozen women and hiding their bodies inside of his home.
I was also in the Cleveland when the unimaginable happened .... Yes, I'm talking about the departure of LeBron James. I reported for ESPN when the king took his talents to South Beach and stood by as Clevelanders burned their No. 23 jerseys and dragged them behind their cars. While at WEWS, I served as a General Assignment Reporter, Breaking News Reporter, Traffic Reporter and Morning Anchor.
If you ask me when I knew I wanted to be in this business, the answer would date all the back to elementary school. I remember watching the news with my family every night and thinking "That's going to be me someday!!" My parents signed me up for every oratorical contest at school and church as soon as I learned to talk.
I grew up in Atlanta, Georgia. My journalism career started long before I even graduated from high school. I got my first on-air gig at the age of 15, anchoring and reporting for "Brookwood Upclose," a syndicated series focusing on local events and issues impacting Atlanta's youth.At 16, I won my first international journalism award for a documentary I did on a local shelter for troubled youth.
I am a proud member of Alpha Kappa Alpha Sorority, Inc., and a member of the National Association of Black Journalists.
I graduated with Honors from Hampton University's Scripps Howard School of Journalism and Communication. After college, it was off to the big leagues. My first real TV job took me to the hills of West Virginia, to NBC station WVVA. While in West Virginia, I did it all. I reported during the week, and anchored, produced and reported for my own newscast on the weekends.
I interviewed several notable icons, including Dr. Phil and Homer Hickam, former NASA engineer and inspiration for the 1999 film, "October Sky." I reported shoulder-to-shoulder among the nation's best during the Virginia Tech massacre, delivering live reports for MSNBC and local station WVVA.I know a lot of news is negative - that's just part of the business, but my true joy comes from bringing positive stories to the viewers.
I want to tell the stories that make people smile, laugh and maybe even forget about the rough times - even if it's just for a few minutes.
Follow me on social media in the buttons at the top!
The latest from Maurielle Lue