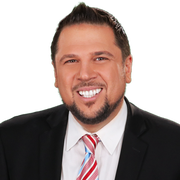 Hi everyone! Where to begin? I'm a Dad, a space enthusiast, a Superman maniac and I've wanted to be a radio D.J. since I was 5. I began my broadcasting journey at the age of 14 years old at WJRZ in Toms Rivers, New Jersey. 
When I turned 18, I landed my first full time radio show in Atlantic City at WAYV and then at Boss 97. I left the Jersey Shore shortly after my 20th birthday and became one of the youngest Program Directors in America at WMAX in Grand Rapids. One year later I helped launch 93.1 WDRQ here in Detroit. 
In the summer of 1997, I was called back to the east coast to serve as Music Director and afternoon host at Q102 in Philadelphia, but felt such great attachment to the city of Detroit, that I returned to 93.1 DRQ in 1999 to host "Jay Towers and the Morning Revolution" until 2005.  
I spent the next four years at 97-1 The Ticket hosting the "Jay & Bill" show with Bill McAllister before making 100.3 WNIC my final radio stop in 2010. I continue to host "Jay Towers in the Morning" on 100.3 WNIC every morning with Allyson and Chelsea.
Oh, how could I forget? A funny thing happened back in early 2004. I was in the lobby of the Fisher Building on a Saturday Morning to promote WDRQ's 'Lion King Musical' Contest. It was the first day tickets went on sale and I was waiting to be interviewed by a Fox 2 reporter about our contest, but she never showed up. The photographer gave me an earpiece and I talked back to Deena Centofanti in the studio about all of the excitement in the lobby while interviewing the people in line. The producer asked me to do it a few more times that morning. The following Monday I received a call from the News Director asking me if I would be willing to fill in for the next 2 weeks until they hired a new feature reporter and I've been at Fox 2 ever since. From Feature Reporter to Weekend Anchor to Morning Anchor, I've been having the time of my life. 
The question I'm asked most often is how I do both Morning TV and Radio Together every day. Thanks to such a good partnership between iHeart Radio and Fox 2, I'm lucky enough to have my WNIC radio studio with Allyson and Chelsea just a few steps away from the Fox 2 News Studio. When you don't see me on Fox 2 News Morning for a few minutes, chances are I'm in the studio next door talking on the radio. 
If you didn't know, the 1978 Film 'Superman The Movie' was my earliest childhood memory and my favorite. I'm a complete Superman nerd and not afraid to admit it. My super-obsession even got the attention of Director Zack Snyder and he put me in 'Batman v Superman' back in 2016 playing a Metropolis TV Reporter. In 2018, I hosted and produced a TV special on the 40th Anniversary of 'Superman the Movie' that received an Emmy Nomination. I also started 'The Caped Wonder Superman Podcast' with Superman Historian Jim Bowers. You can find it on iHeart Radio, iTunes, or wherever you listen to podcasts. 
Radio and TV have blessed me with the opportunity to have a very big platform every day in Detroit. I'm honored to be a part of countless charity events throughout the year, but wanted to really use my voice to do something personal to me. In 2014, I created the "Jay's Juniors" program on WNIC. The goal was to create a magical escape for children in Metro Detroit who suffer from chronic or terminal illnesses, by taking the entire family on an all-expenses paid trip to Walt Disney World in Orlando, Florida. Since we started Jay's Juniors, I've been fortunate enough to take over 100 families on trips at Christmas time. Although some of our Juniors have sadly passed away, our families hold on to some of the most special memories ever from our time together.  
In 2017, after a surgery to fix an aortic aneurism, my father went into Septic Shock due to an undiagnosed bladder infection. He came as close to death as you can get and is without a doubt a living miracle. My dad is back to killing bugs with our family business and is always my first phone call of the day at 3 a.m. when I leave for work. Sepsis kills 270,000 Americans each year, at any age, any time. If you know what to look for you can help save a life. Please go to sepsis.org to learn more. 
The latest from Jay Towers