2022 Detroit City FC women's schedule released -- See it here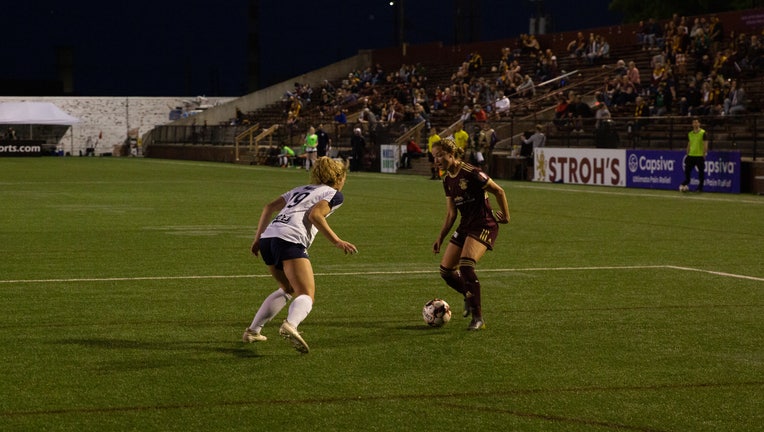 HAMTRAMCK, Mich. (FOX 2) - The 2022 Detroit City Football Club women's schedule is here.
See the full schedule below.
The 12-game season kicks off May 7 at home against Kalamazoo FC.
This season is the second season to watch the women's team played in person – the team started play in 2020, but those games did not have live audiences due to the Covid pandemic.
Read: DCFC supporters maintain community during pandemic
The men's season starts on the road March 12 before their March 19 home opener.
VIEW: DCFC Men's Schedule
Season tickets are available now, including a women's season pass that includes a ticket to the men's home opener as well as entry to all the women's matches.
2022 DCFC Women's Schedule:
Detroit City FC Vs Kalamazoo FCSaturday, May 7 At 7:30 Pm Et @ Keyworth Stadium, Hamtramck, MI

Detroit City FC Vs Racing LouisvilleThursday, May 12 At 7:30 Pm Et @ Keyworth Stadium, Hamtramck, MI

Racing Louisville Vs Detroit City FCSunday, May 15 At 1 Pm @ Lynn Family Training Facility, Louisville, KY

Midwest United Vs Detroit City FCThursday, May 26 At 7:00 Pm Et @ Aquinas College, Grand Rapids, MI

Flint City AFC Vs Detroit City FCSunday, May 29 At 4:00 Pm Et @ Atwood Stadium, Flint, MI

AFC Ann Arbor Vs Detroit City FCWednesday, June 1 At 7:30 Pm Et @ Tbd

Detroit City FC Vs Kings Hammer FCSunday, June 5 At 4:00 Pm Et @ Keyworth Stadium, Hamtramck, MI

Detroit City FC Vs AFC Ann ArborWednesday, June 15 At 7:30 Pm @ Keyworth Stadium, Hamtramck, MI

Kalamazoo FC Vs Detroit City FCFriday, June 18 At 7:00 Pm @ Mayor's Riverfront Park, Kalamazoo, MI

Detroit City FC Vs Midwest UnitedTuesday, June 28 At 7:30 Pm Et @ Keyworth Stadium, Hamtramck, MI

Detroit City FC Vs Indy 11Friday, July 1 At 7:30 Pm Et @ Keyworth Stadium, Hamtramck, MI

Indy 11 Vs Detroit City FCSaturday, July 9 At 2:00 Pm Et @ Carroll Stadium, Indianapolis, IN