1 dead in triple shooting • Man behind weed vending machine pleads guilty • Transit Center breaks ground
WEDNESDAY NEWS HIT - A triple shooting on Detroit's west side left one person dead after all three victims were found in a vehicle Tuesday night. 
Detroit Police got a call around 10:30 p.m. on May 2 about gunshots being fired in the 11700 block of Lauder near Greenfield and Plymouth.
When officers arrived, they found two men and one woman inside a vehicle with gunshot wounds.
The condition of the two non-fatal shooting victims is unknown as of Wednesday morning. Detroit police plan to released more details later today.
They spend much of the evening interviewing neighbors and gathering doorbell camera footage for any evidence into the suspect. 
No other information has been released.
Man behind weed vending machine pleads guilty
A Detroit man pleaded guilty to a firearms charge after a weed vending machine at his home led to a search. Marcellus Cornwell, 44, pleaded guilty this week to a charge of felon in possession of a firearm.
Last year, authorities received an anonymous tip about a marijuana vending machine attached to his home in the area of Mettetal near Fenkell.
Agents surveilled Cornwell's home and purchased weed twice from the vending machine before searching the home and interviewing Cornwell. According to feds, Cornwell told the agents that he has operated the vending machine for four years, and he makes about $2,000 a day from it. 
After an investigation, authorities searched the home found discovered ammunition, marijuana, and 18 firearms in a basement gun safe. Cornwell had been previously convicted of identity theft, felony firearm, being a felon in possession of a firearm, and armed robbery. Three of the guns that Cornwell possessed had been reported as stolen, authorities said.
Breaking ground on new Detroit Transit Center
A building once used to house cattle will soon be the site of a modern and sleek new transit center in Detroit. The State Fair Transit Center will service riders on both SMART buses and on the Department of Transportation at its location near Eight Mile and Woodward.
The root of the transit center's construction goes back to Amazon's plans for a distribution building in Detroit, which was about three years ago. Since then, crews have cleared out the interior of the massive building in preparation for a new state-of-the-art facility.
"You may just see bricks and mortar, but I see a vision for the future of public transportation," said DDOT Director Mikel Oglesby. "When you go inside, you're going to possibly get a cup of coffee, go and take a look at a big screen to find out when your bus is coming."
The site is expected to be completed in 2024.
Possible street racing incident on Southfield Freeway ends in fatal crash
Someone suspected of street racing in Metro Detroit before they struck a public bus was found dead inside their vehicle after it caught fire late Tuesday evening. Crews were dispatched to the wild scene on the Southfield Freeway just north of Eight Mile Road following reports of a car blocking the middle northbound lanes.
As they were traveling to the scene, more reports came in that the car was on fire. When the Southfield Fire Department arrived, they put the blaze out before extracting a body. 
Witnesses told police the person driving the vehicle was traveling at a high rate of speed before crashing into the back of a SMART bus. The bus driver told police that he saw more than one car traveling at a high rate of speed.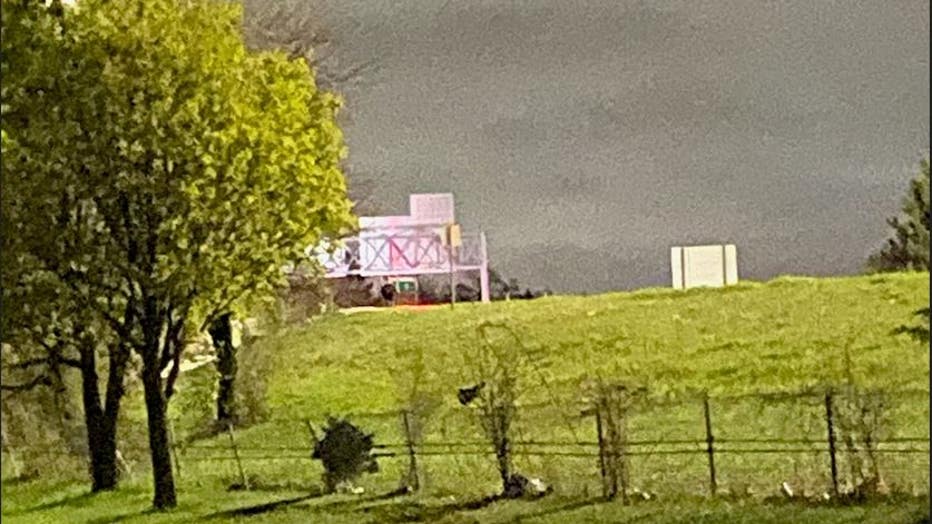 According to Michigan State Police, the bus driver believed they were possibly racing each other when one crashed into the bus. The identity of the deceased driver is unknown and an autopsy is scheduled for later Wednesday.
Attorney: Only state determines if city can set gun-free zones
The Detroit City Council met Tuesday and on the agenda was the controversial topic of gun-free zones. The proposal is to have the zones in a number of areas downtown including Greektown, the Riverwalk, and Hart Plaza. 
The council was in session and it was thought that it would vote on the proposal, championed by member Mary Waters - but did not take any action on the measure. The city of Detroit's law department weighed in on the proposal saying state law comes into play with what the city can do, creating gun-free zones.
Back in 1990, the state legislature created gun-free zones. The most popular areas being private spaces like sports arenas, hospitals, bars, and the statute says that only the state - not local municipalities - can create gun-free zones, said Charlie Langton, FOX 2's legal analyst and reporter.
The proposed action would be setting designated outdoor public spaces as gun-free zones. Some city officials would like a proposal that encourages the state to get rid of the 1990 law and replace it with a law that would allow local cities to create gun-free zones.
Live on FOX 2
Daily Forecast
Temperatures turn up slightly as the great spring warm-up is upon us. It'll get into the low 50s Wednesday with heavy clouds and light rain.
What else we're watching
The Healthy Heart Project is back. FOX 2 is teaming up with Ascension Hospitals to offer extensive free screenings for a variety of tests like BMI, blood pressure, and even an EKG. One-on-one doctor visits are also available. Learn more here.
A 16-year-old has been charged in two non-fatal shooting cases in Detroit along the city's Riverwalk. The teen was arrested this week and has been designated an adult.
Cocktails to-go forever? The Michigan legislature could be on the precipice of relaxing rules around where booze can be consumed in public.
The Wayne County Sheriff Office's Marine Unit will show off its new dock as it prepares for another season of summer fun in the sun along Lake Erie and the Detroit River.
Ford posted strong returns in its first quarter of revenue this year. However, steep losses in the electric vehicle portion of the company underscores the challenges ahead.
Why do dogs panic during storms? Here's how to help your best friend weather their fear
A booming clap of thunder often sends man's best friend into a panic. Some will hide under the couch, while others begin a barking frenzy. Some even engage in destructive behavior.
This fear is called thunderstorm phobia, according to Dr. Jessica Vogelsang, a veterinarian and chief medical officer at the Animal Hospital Association of America. She noted that thunderstorm phobia is common in dogs without any differentiation between breeds or sizes.
Despite this ubiquity, scientists haven't yet pinned down what exactly causes dogs to freak out during storms. However, there are a few theories.