5-year-old dies after wandering from home • When snow starts falling • Royal Oak's parking problem
TUESDAY NEWS HIT - A dark playground set became the scene of an investigation early Monday morning after a child that had wandered from its home in Clinton Township was found not breathing. The flashing lights of the Clinton Township police were seen at 6 a.m. 
According to police the child had wandered away from his home from the nearby Saravilla apartments. 
Police say when they found a 5-year-old boy they rushed him to hospital but it was too late. FOX 2 has learned where he was found, but there are many unanswered questions that remain. 
At the Saravilla Apartments in Clinton Township, a terrible sound was heard by some around 6 a.m. this morning.
"I woke up and heard screaming," said a neighbor. "I came outside and there were police everywhere. So I just walked my son to the bus and then I went to work."
The timing of the scream the neighbor heard is when police found the body of a 5-year-old boy. The discovery made at a playground just down the road from where the child lives.
"So close to home, and it's a tragedy that no one wants to endure," said resident Gabrielle Thacker.
"I see him get on and off the bus all the time. He is a cute little boy," the neighbor said.
Those closer to the playground say the police spent hours at the scene trying to determine what happened.
"They were taking pictures, investigating the playground over here," Thacker said.
However, details of what exactly happened, remain few at this time.  Police are not saying what time the child wandered from home, or how he was able to get out.
The family of the little boy was overcome with grief to talk about what happened.
"It's really sad. Obviously, no one wants to lose a child," the neighbor said.
Clinton Township police did not indicate anything in their initial news release that the death was suspicious however the case remains open and active at this time.  
Read more about the story here. 
Metro Detroit Weather: 3-6 inches of snow expected - here's when it will start falling
The snow is set for Wednesday, but today it's the chill. You'll feel some gusty winds thanks to a west breeze kicking our chill values down into the 20s for the morning.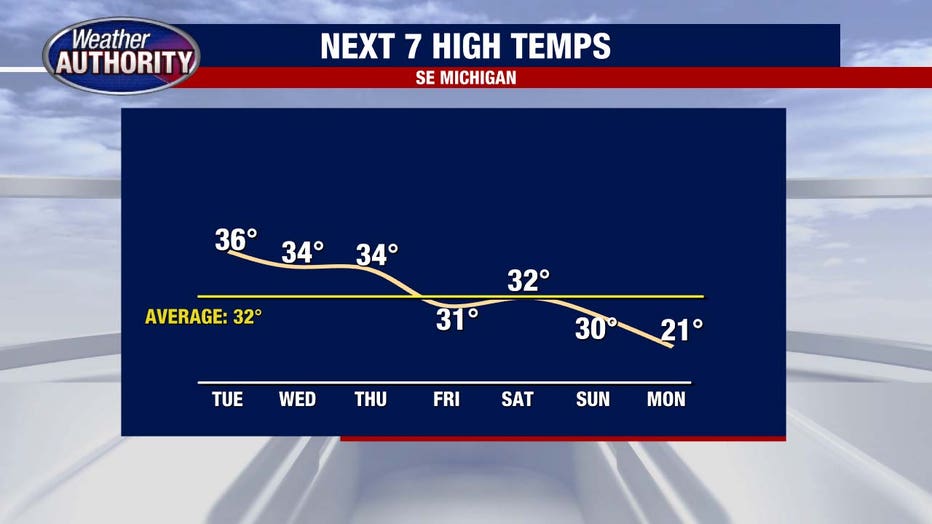 Our Wednesday snow will kick off over the course of the morning commute, starting between 5 and 9 a.m. Any accumulation over that time will remain minimal. It will be snowing more on than off the rest of the day before tapering off during the evening. General snow totals should range between 3-6 inches
As always with a prediction of the future there is some uncertainty and while 7 or 8 inches isn't likely, it remains within the realm of possibility for some of our eastern and southern areas. 
A couple weaker systems try to slip in on Friday night and Sunday bringing with them the potential for more snow. In the meantime, our temperatures turn colder. And then colder. 
Royal Oak worried about high parking violation rate
Royal Oak residents want the city to do something about its high parking violation rate.
A study of parking enforcement in the city found that 43% of all visitors that used on-street or meter parking downtown were ticketed. That number of tickets comes with a pretty penny for the city budget - but some are worried it's giving Royal Oak a bad name.
The study, which was commissioned by a parking consultants company for the city was released earlier in January. It found that a majority of those ticketed for parking had either violated the five-minute grace period offered to anyone parking on-street or were parked for an hour longer than the allowed time.
Royal Oak issues 32,500 tickets a month on average. At about $20 a ticket, that comes out to about $3.5 million in parking fines annually. 
Redford gas station clerk charged with murder after shooting
A Redford gas station clerk is facing murder charges after a fatal shooting inside the business on Telegraph on Friday.
Russell Tyshaun Briggs Jr., 18, was arraigned Monday on charges of second-degree murder and felony firearm.
Police said last week that they were called to the Marathon gas station at 13550 Telegraph Rd. for a shooting around 3:30 a.m. after a man got into an argument with a clerk. 
Two clerks were arrested after the shooting, and the other clerk hasn't been identified. 
Activist questions MDOT cameras after body's discovery on Southfield freeway
Questions continue to circulate over the discovery of a 22-year-old man's body found dumped on the side of Southfield Freeway Monday morning. It's not clear if the victim was shot and killed on the highway or if his body was dumped there.
For Pastor 'Mo' Hardwick, it doesn't matter if he was shot or dumped because the cameras that should be monitoring the site aren't doing enough to deter crime. "You're not going to do that in front of a bank. I know you're not, because the cameras are right there, rolling," he said.
MDOT has 300 cameras monitoring Metro Detroit freeways, though it isn't staffed to oversee all cameras at once. Dianne Cross of MDOT said only four people monitor them for training purposes. And while they can pick a certain camera to record from, they would only know to do so if state police tipped them off to something going on.
"When MSP may say to us 'Hey we got a call about a shooting on a freeway,' we will immediately look to those cameras to see if there is anything that can be seen," she said. "So while it is a great system it is obviously not perfect for every situation and if money were not an issue, obviously we might do things differently."
Live on FOX 2
Daily Forecast
Before the snow will come the cooling temperatures. We're back in the swing of some frigid winter temperatures that are expected to stick around for much of this week and next. 
What else we're watching
Tuesday is part 2 of a demolition project at the blighted Packard Plant. The City of Detroit plans to announce the demolition of the parcel at 9:30 a.m. on Grand Boulevard.
A research watchdog is accusing the University of Michigan of falsifying data, asking the school to refund millions of dollars in federal grands that supported nine years of research. The school has admitted wrongdoing after an internal investigation. 
The Oakland County Federal Aid Committee is meeting Tuesday in Farmington Hills to review potential road projects for 2026 and 2027. In total, it has approximately $43 million in funds to hand out. 
The Detroit City Council is meeting today, which a significant tax break being considered for the Ilitch Family and proposed development downtown. In total, the company is seeking $800 million.
An art collector who has accused the Detroit Institute of Art of holding onto a stolen Van Gogh painting isn't giving up his mission. The case has moved to federal court. 
Half Moon Bay shootings leave 7 dead; suspect in custody
At least seven people were killed in a pair of shootings in Half Moon Bay on Monday, authorities said.
The suspected shooter turned himself in at a sheriff's department substation where he was taken into custody around 4:40 p.m., the San Mateo County sheriff's office said.
He was identified as 67-year-old Chunli Zhao of Half Moon Bay. A semi-automatic handgun was used in the shootings and was located in Zhao's car, authorities said.