Snow moves out, cold winds settling into southeast Michigan
SOUTHFIELD, Mich. (FOX 2) - A Winter Storm Warning has ended as the snow is pushing out but the cold is sticking around for a while with the cold wind whipping the air around, making it feel even colder.
Steady snow started falling around 6 p.m. on Monday before blanketing Southeast Michigan all morning on Tuesday. Many cities reported reduced visibilities at less than a mile due to blowing snow. The snow ended around midmorning Tuesday, but the cold remains. Bitterly cold wind chills will linger with some in the sub-zero range.
We had projected about 5-8 inches of snow and that's exactly what we got. Most of us got about 7 or 8 inches of snow but it was Port Huron that picked up more than a foot.
Snow is nothing new around Michigan but how rare is it to get a storm like this with seven inches or more? Very.
Over the past five years, it's happened just twice: once in 2017 and again in 2018. 
This brings our February total to 15.5 inches of snow and brings our season total to 35 inches.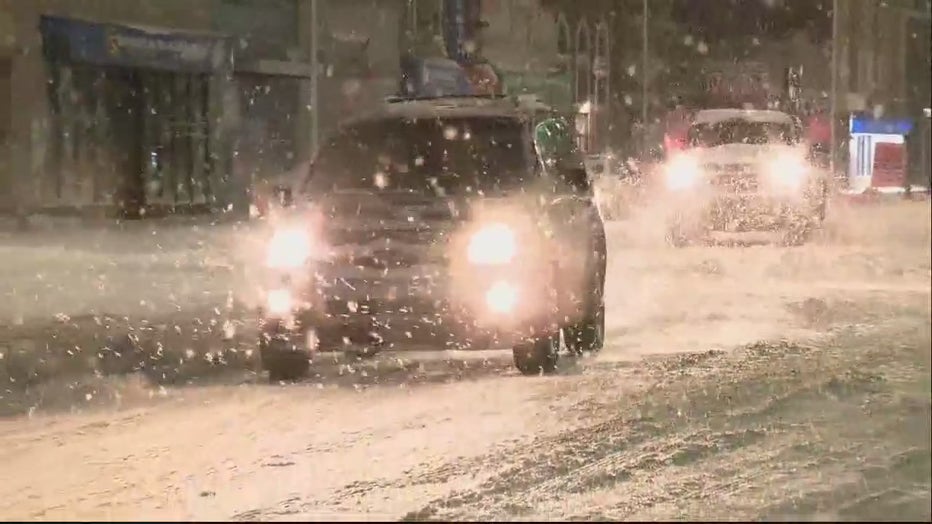 A driver navigates a snowy road in Southeast Michigan on Feb. 15, 2021.
Download FOX 2's free weather authority app for the latest weather and live radar
MOST SNOW IN THREE YEARS
The snow will taper off by sunrise on Tuesday but it may take us a while to dig out! When you add in the Monday morning snow with the Monday night/Tuesday morning snow we are going to see some spots that are near double digits totals.
That would be the most snow in one single snowstorm in three years, since February 9, 2018! Make sure you help your neighbors, take plenty of breaks, and don't overdo it. In this cold and snowy weather, bring your pets inside.
Some isolated areas to our south could receive double-digit totals.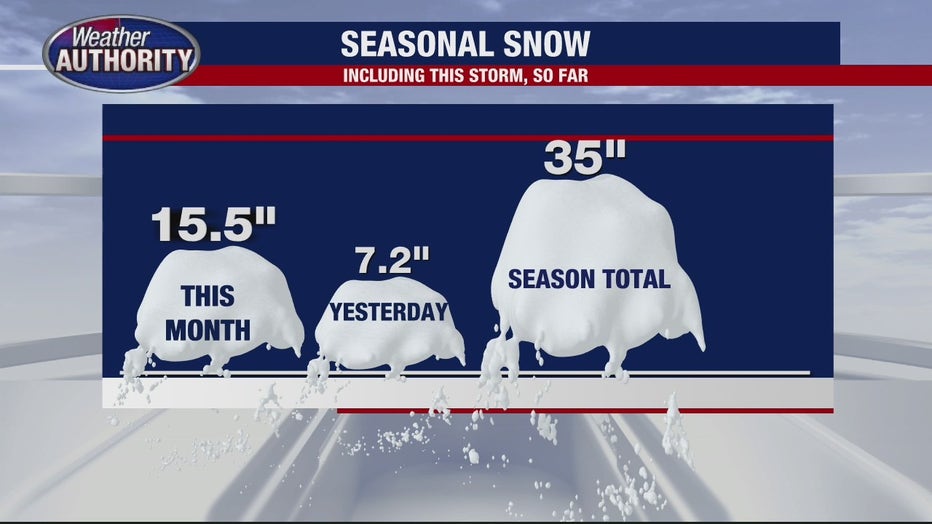 MORE SNOW COMING
With this snow system finally done with Southeast Michigan, we look towards Thursday where another snowmaker is possible. The good news is that appears to be staying south of the metro Detroit area.
What's not going to be enjoyable, however, is the temperature. It's going to drop to -2 degrees with a wind chill of -15.
There is finally a warmup in sight with 35 degrees expected by next week.