Comerica Park bag policy: What you can and cannot bring to Detroit Tigers Opening Day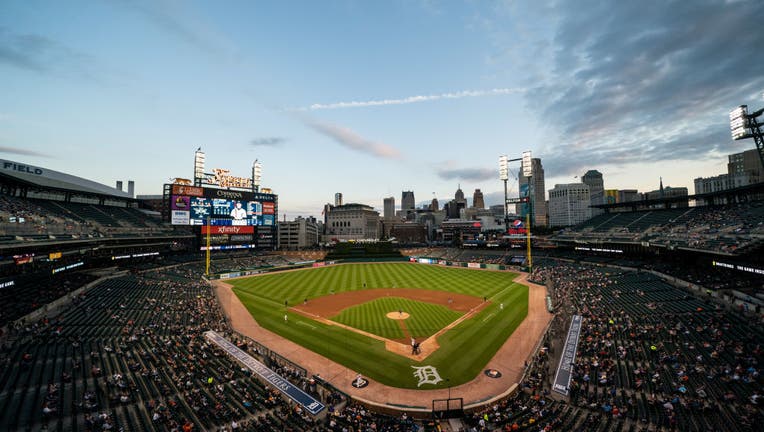 article
DETROIT (FOX 2) - If you're headed to Detroit to catch Tigers Opening Day at Comerica Park on Thursday, be sure you don't have any prohibited items to make getting inside less of a headache.
All items will be inspected before you enter the ballpark, and some items, such as bags, must meet certain guidelines. For example, single-compartment bags, wallets, and clutches that are smaller than 4 inches by 6 inches by 1 ½ inches, with or without a handle or strap, are permitted. Bags, purses, and clutches larger than this are not allowed.
Related: Wallside Windows offering 50% off Lyft rides home from Comerica Park
You'll have the option to bring items that aren't allowed back to your vehicle. Just be sure you're back before 1:15 p.m. to catch the first pitch against the Boston Red Sox.
Need something to do before the game? Check out our Opening Day party guide.
Items allowed at Comerica Park
Binoculars
Blankets
Point-and-shoot camera (Professional &/or commercial cameras with interchangeable or detachable lenses are not allowed)
Juice boxes, only if you have children in your party or for medical needs
Headphones
Knitting needles
Only medical bags and diaper bags. All bags, purses, backpacks, (except medical or diaper bags) are prohibited.
Only plastic baby bottles if you have a child in your party
Seat cushions
Signs and banners (any wave flags, banners, signs, or other items that are affixed to any pole or stick made of wood, metal, plastic, or any other hard material and that is more than 11" x 17"in length are prohibited)
Single-compartment wallets smaller than 4" x 6" x 1.5", with or without a handle or strap are permitted.
Small radios
Battery-operated/ rechargeable, handheld fans
Battery-operated coats, gloves, and vests
Baseball mitts/gloves
One factory-sealed clear plastic bottle of unflavored water per guest
Strollers (umbrella-type that folds up and will fit underneath the seat, large strollers may be checked at Guest Services)
Only small collapsible umbrellas (Umbrellas with metal tips and large golf umbrellas are prohibited)
Items not allowed at Comerica Park
Aerosol cans (hairspray, mace, pepper spray, etc.)
Marijuana or illegal narcotics, including accessories or paraphernalia associated with marijuana or illegal narcotics use.
Animals (except approved service animals or service animals in training)
All bags, purses, backpacks, (except medical or diaper bags). Single compartment wallets smaller than 4" x 6" x 1.5", with or without a handle or strap are permitted.
Noisemaking devices: air horns, fog horns, bullhorns, thunder sticks, cowbells, bells, horns, kazoos, whistles, vuvuzelas, didgeridoos and other noisemakers
Beach balls or other inflatable itemsBeverages (except juice boxes with children in your party or for medical needs)
Bottles and liquid containers (glass, plastic, and aluminum)
Coolers
Smoking of any kind (cigarettes, e-cigarettes, vaping, etc.)
Fireworks or any types of explosives
Laser pointers, any device that could create an optical illusion, or any similar devices
Professional &/or commercial cameras with interchangeable or detachable lenses
Baseball bats, hockey sticks, clubs, poles, brooms, selfie-sticks, fishing nets or poles, signs attached to signs, missile-like objects that can be thrown
Video and/or sound recording devices including laptops, tablets, iPads and/or Go Pros
Skateboards, scooters, rollerblades, hover boards or any personalized recreational vehicles
Weapons of any kind (including firearms, pocketknives, pepper spray, mace), toy or fake weapons (including squirt guns or super soakers)
Frisbees
Small Unmanned Aircraft Systems (Drones): Use of small Unmanned Aircraft Systems (collectively, "Aircraft Systems") at the venue, including the surrounding parking areas, is strictly prohibited at all times without prior written approval from Ilitch Sports + Entertainment/313 Presents. Violations of this policy will result in possible arrest and/or confiscation of the
Unmanned Aircraft System
Large Banners and Flags: guests are not permitted to use or wave flags, banners, signs, or other items that are affixed to any pole or stick made of wood, metal, plastic, or any other hard material and that is more than 11" x 17"in length.
Outside food
Umbrellas with metal tips and large golf umbrellas