Detroit Kia, Hyundai thefts prompt giveaways of steering wheel locks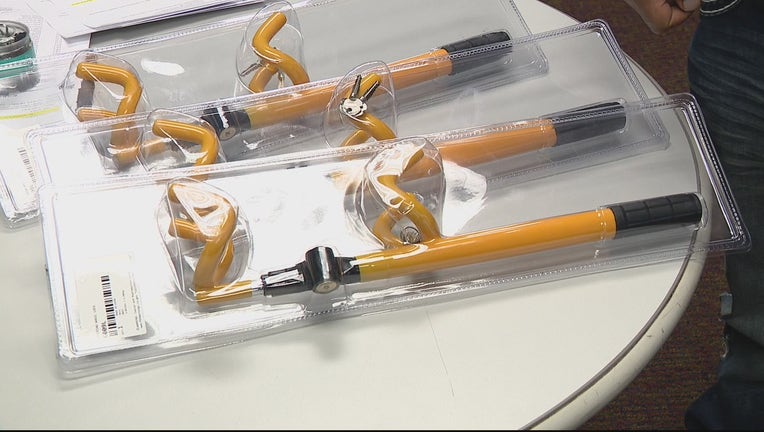 article
DETROIT (FOX 2) - Detroit police are giving out The Club steering wheel locks to owners of Kia and Hyundai vehicles after a rash of thefts.
Kia and Hyundai vehicles with keyed ignitions lack an immobilizer. This makes them easy to steal with a USB cable, leading to a spike in thefts.
Read: Police warn Kia, Hyundai owners to stop leaving USB plugs in cars
The thieves, who are often teens and children who joyride in the cars, refer to themselves as the Kia Boyz and post their crimes to TikTok. Videos showing how to steal the vehicles quickly spread online and the trend made its way around the country. 
In Detroit, thefts of these car brands jumped from 59 in 2021 to nearly 500 in 2022, prompting a need to help owners make them harder to steal.
Hyundai provided the Detroit Police Department's Commercial Auto Thefts Section 200 of the locks to give away for free.
More: 4 kids arrested trying to steal Kia connected to string of Eastpointe thefts
To get a lock, contact the neighborhood police officer at the DPD precinct closest to your home. You must provide proof of vehicle ownership.
According to the National Highway Traffic Safety Administration, the missing security feature impacts nearly 3.8 million Hyundai vehicles and 4.5 million Kia vehicles.
The automakers have also finally rolled out a fix for the problem – software updates. 
This updates the theft alarm software logic to extend the length of the alarm sound from 30 seconds to one minute and requires the key to be in the ignition switch to turn the vehicle on.
Hyundai's updates began last month, starting with a million model year 2017-2020 Elantra, 2015-2019 Sonata, and 2020-2021 Venue vehicles. The software upgrade is scheduled to be available for the remaining eligible vehicles by June.